Common Ground offers live medical Spanish classes online and in traditional classroom format throughout Colorado.
These medical Spanish classes are perfect for Nurses, Doctors, PAs, PTs, Nutritionists, and other healthcare workers with a clinical focus who want to learn medical Spanish terminology.
In every class session you will practice common patient scenarios with other like-minded healthcare workers under the guidance of professional instructors trained in teaching Spanish as a second language.
See Open Classes & Register Today!
Why learn medical Spanish?
Apart from the fact that it makes a huge difference in the lives of your Spanish only patients when you can connect with them in their language (even if you only know basic medical Spanish phrases), there are several other reasons to learn medical Spanish in Colorado (and across the USA):
You can physically see the sighs of relief when you use your medical Spanish with patients to establish a positive rapport and understand their situation.
You have more confidence and insight on patient conversations when you're using your clinic or hospital interpreters when you know some basic medical Spanish and common medical Spanish phrases for high frequency ideas that you need to communicate.
Many nursing jobs prefer candidates with some level of bilingualism, and most nursing schools (in Colorado at least) don't have space in their schedules to provide medical Spanish courses.
Common Ground's Spanish teachers are extremely engaging and fun to learn medical Spanish with. Our classes are low-stress and high-impact.
A few quick notes about our Medical Spanish classes:
These classes are more than medical terminology courses. We teach your how to communicate in Spanish with your Spanish-only patients.
Most employers are reimbursing course tuition for these medical Spanish classes – don't forget to ask your supervisor or employer!
A certificate of completion will be issued to every student who attends at least 75% of the class meetings
Nursing CEU credits are included at no additional cost!
Onsite Medical Spanish Classes in Colorado:
Read the medical Spanish course descriptions below to find the class that fits your level and format best! If you need help selecting the best level for you – take this Spanish placement test.
---
Beginning 1
Start using your new Spanish vocabulary after your first night of classes! This Beginning I Medical Spanish Class helps you learn medical Spanish basics; becoming comfortable with medical Spanish phrases and medical Spanish vocabulary. You will learn greetings and goodbyes, patient introductions, basic interview skills, common cold and flu symptoms, body parts, pain and injuries, vital signs, basic medical vocabulary, numbers, telling time and units of measure. A great place to start learning!
This Medical Spanish class is great for students who…
Have little or no experience with Spanish–OR
Aren't currently using their Spanish because they have never been comfortable enough to try and use the Spanish language they know.
Know a little general Spanish, but would like to start learning Medical Spanish vocabulary and phrases.
---
I have learned an extensive amount of medical vocabulary. I feel that I can communicate with Spanish speaking patients. With simple conversations, I am now able to meet my patients' needs without having to use the interpreter phone.
---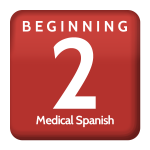 Beginning 2
If you are beyond needing to learn basic medical Spanish, join the Beginning 2 class and take your Spanish to the next level! The Beginning II course is a continuation of Beginning I or a great place to start learning if you already have some experience with Spanish. We will bring you to a point of further knowledge and comfort with the Spanish language in the medical context. You will begin with a review of Beginning I material such as common cold and flu symptoms and how to talk about pain and body parts using present tense verbs. Then you will learn how to take a family medical history, give pharmacy and dosing instructions for common medications as well as explaining their possible side effects, and learn how to recommend lifestyle changes regarding diet and nutrition, including special diets for patients. You will review regular and irregular present tense verb conjugations, learn preterit tense verbs, and speaking about the future.
Great for students who…
Maybe have some high school experience with Spanish –OR-
Can get through a basic interaction with patients,but really need to focus on some grammar and specific medical vocabulary to help be more efficient.
Know the present tense and are able to use it, but get lost when it comes to past tense.
Completed Beginning I
---
The course was very laid back and non-intimidating which made it easy to ask questions. Also, the material that was covered was relevant to my profession.
---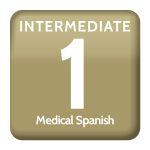 Intermediate 1
Increase your Medical Spanish proficiency! The Intermediate I course is appropriate for students with some significant Spanish experience and if you've already been learning medical Spanish on the job or studying medical Spanish. We assume you are comfortable with present tense verbs, and have studied the past tense before. For the first few weeks we will review basic body parts and internal organs, symptoms and pain, the pharmacy (giving patient instructions and side effects), and diet and nutrition (recommending certain diets). You will then learn how to conduct a physical exam in Spanish, how to explain tests and procedures to patients, and how to take a detailed medical history. Grammar topics will include strengthening how you communicate in the past tense with patients, learning how to give commands, and learning how to use direct and indirect object pronouns.
Great for students who…
Are very comfortable with the present tense, are pretty comfortable with the past tense. Maybe had a few years in high school.
Currently speak Spanish as much as possible with your patients.
Want to focus on learning medical vocabulary & get a lot of time to practice in the classroom setting.
Completed Beginning II
---
I liked how the information was relevant and the interactions helped us learn the material better."
---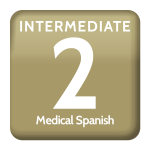 Intermediate 2
You already speak medical Spanish relatively fluidly, but you need to fine tune your medical Spanish terminology! The Intermediate II course is a continuation of Intermediate I or a great place to start if you already feel comfortable with medical Spanish vocabulary and can speak Spanish well using present, past tense, and the command form of verbs. Course content will include a comprehensive review of medical vocabulary, patient interviewing skills, and verbs. You will focus in on topics such as the Physical Exam, learning how to take a complete Medical History, talking about hospitalizations, dentistry and mental health, as well as pediatrics and maternity. Grammar topics included are, an introduction to the subjunctive, using direct and indirect object pronouns, commands and the imperfect and preterit verb tenses. You will also have the opportunity to give a presentation in Spanish to the class about a specific topic that relates to your patients and/or specialization.
Great for students who…
Consider themselves very proficient with Spanish, but need to focus on more medical terminology
Currently use Spanish all the time with patients.
Want to focus on medical vocabulary & get a lot of time to practice in the classroom setting.
Completed Intermediate I
---
I loved this class. I had such a good time. Learning was pertinent and intriguing. I was able to apply what I was learning in the hospital.
---
Medical Spanish Certification Prep Classes
The Medical Spanish Certification Prep class helps healthcare professionals and students prepare for medical Spanish competency testing. This course is intended to help you successfully pass your organization's Qualified Bilingual Spanish or other 3rd party tests to verify language competency and the responsible use of Medical Spanish with patients. The course focuses heavily on proper medical terminology and professional tone in Spanish. This is not a healthcare interpreters training course – we will not be training you in accuracy for oral interpretation, written or sight translations. This is the right course for those who are wanting to gain medical Spanish "certification" or approval from their employer. Many students will receive bonuses from their employers for successfully passing their language competency testing. In this class you can expect to:
Improve your listening comprehension of native speakers
Increase your speed and improve your accuracy using high level grammar
Expand your understanding of subtle nuances in general vocabulary and medical Spanish terminology
Expand your precision and accuracy with medical Spanish vocabulary in your everyday work contexts
---
My medical Spanish instructor was entertaining, patient, and explained things well. I really enjoyed the different learning activities.
---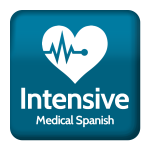 Intensive Medical Spanish & Local Immersion Classes
A few different times a year, we offer intensive medical Spanish classes. These classes are usually similar in content to the medical Spanish classes described above, but packaged and delivered in an intensive format. Instead of meeting for 1.5 hours a week, these intensive medical Spanish classes will meet for extended periods of time, and often multiple days in a week. If we are actively registering any intensive medical Spanish classes, you will find them listed on our courses page.
A few of our standard intensive medical Spanish courses are:
Weekend intensive medical Spanish courses: These classes usually meet on Friday and Saturday (sometimes Sundays as well) for a total of 12 hours of class. These classes are the ideal format for bringing medical Spanish classes to your community that is located outside of the Denver Metro area. If you'd like to invite Common Ground to teach a weekend intensive medical Spanish class in your community, we'd be happy to work with you! Please Contact Us to get the process started.
Local medical Spanish immersion courses: Since 2008 Common Ground has been offering local Medical Spanish immersion courses to healthcare students who are unable to travel on our international rotations in Costa Rica. These local immersion rotations include intensive medical Spanish classes and precepted local clinical placements that guarantee Spanish speaking patients. While these are "for credit" courses though local healthcare training programs, the class portion is open to public registration. We usually meet for 3-4 hours several mornings a week for the course of a month.
Please see the Our Courses Page for any medical Spanish intensives that are currently open to the public for registration.
---
It was fun to show up and use my right brain! The class was very conversational- different than any other Spanish course I have taken.
---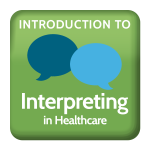 Introduction to Interpreting Spanish in Healthcare
This interpreter training course has 2 primary objectives – to help students prepare for the nationally recognized Bridging the Gap interpreter training course and to help students prepare for the national certification as a Spanish interpreter in healthcare.
In this medical Spanish interpreter training course you will:
Refine your Spanish medical terminology and the English equivalents needed for precise interpreting
Refine your tone and register levels in Spanish & English to ensure that you're communicating appropriately with varied audiences
Learn concentration and memorization tricks to interpret with higher accuracy
Practice interpreting Spanish in a variety of common clinical and customer service scenarios to gain confidence as a Spanish interpreter in healthcare
Learn and commit to abide by the national standards of practice for interpreting in healthcare
Learn and commit to abide by the national code of ethics for interpreting in healthcare
Please see the Our Courses Page for any medical Spanish interpreter training courses that are currently open to the public for registration.
Btw: If you're working on learning Spanish for your healthcare career, we have the medical Spanish you need!
---
Medical Spanish FAQs
Do I have to start at the Beginning I level of Medical Spanish courses if I already know some Spanish?

No, and actually we don't advise that you take a class lower than your grammar and communication ability. Even if your medical Spanish vocabulary is weak, we suggest that you start with a level that is better suited to your grammar and conversational ability.


How do I know which level of Medical Spanish course is the best for me?

Take a look at our course descriptions found on our Medical Spanish page, and that should help. If you're still uncertain about what course is best for you, feel free to give us a call. We would be happy to help you get placed into the correct level. (303) 684-5557.


Are there any tests in these Medical Spanish classes?

Not usually. Sometimes when we're offering a medical Spanish class for a university program there are some quizzes in the class for grading purposes, but there is no nasty final to worry about.


What if my schedule changes and I can't finish the course?

Not a problem. We are happy to transfer your registration (or a pro-rated amount of your registration) to another course. In this case, there is just a $25 transfer fee to postpone and transfer your registration. If another night of the week works better for you within the same session as your original registration, we […]


Is there University Credit offered for these Medical Spanish courses?

There is if you're a university student, and your program has contracted directly with us to offer you an elective medical Spanish course. Most of our public medical Spanish classes are not university accredited. However, they are all CEU accredited for nurses and the Beginning I and Beginning II level courses are typically CME accredited […]


Can you host your Medical Spanish courses at my hospital/clinic?

Absolutely, all we need to do is arrange room space through the appropriate channels at your healthcare facility, and we'll work with you to help spread the word amongst your co-workers to get a Medical Spanish class started.


Do your Medical Spanish courses certify me to be an interpreter?

No, and you'll actually sign a student agreement that states you understand that these regularly scheduled Medical Spanish courses are not interpreter training courses. Our courses are meant to be communicative in nature, and help you establish a better working relationship with your patients. That being said, medical Spanish interpreting is a completely different field, […]


I want to take an upcoming Medical Spanish class, but I can't afford the full payment up front, can I break up my payments to you?

Of course! We ask that at a minimum you make a $100 deposit to reserve your space in an upcoming class. We're happy to work out a payment plan with you for the remaining balance that fits your work and paycheck schedule. Unfortunately the online registration system doesn't allow you to make partial payments…so just call the […]


I can't take a Medical Spanish class now, but I want to make sure that I keep receiving your information about upcoming courses, how can I get on your mailing list?

You can do one of 2 things: call us and request that we add you to our mailing list or send us an email asking to be added to our list. Contact us!


Would you ever consider customizing a Medical Spanish course for a particular specialty?

Of course, we customize Medical Spanish courses all the time for groups of healthcare workers that all work in the same field. Give us a call, and we'll work with you to tailor a Medical Spanish course that fits your needs and current Spanish level specifically.


When is your next Medical Spanish session in Colorado?

Typically we offer 8 week courses year-round. The fall session is usually mid September – mid November. The winter session is early January – early March. The spring session is early April – mid May. And the summer session is mid July – early September. Contact us if you'd like to be added to our email list […]

---
Common Ground's Medical Spanish classes are accredited for nursing CE credit on a per-hour basis. Students must attend at a minimum 75% of the course to receive a certificate and related Continuing Education credit. Additional fees apply if requesting CME credit, and request must be made upon registration. Usual Class Locations: University of Colorado (Anschutz Medical Campus), Denver Health Medical Center, The Medical Center of Aurora, Littleton Adventist Hospital, Swedish Medical Center, Presbyterian St Lukes Medical Center, Lakewood Kaiser Permanente, Rock Creek Kaiser Permanente, Community Hospital (Grand Junction), Medical Center of the Rockies (Loveland).