Common Ground International's Spanish immersion volunteer programs are the best Spanish Immersion trips for Students, Professionals, Adults & Families.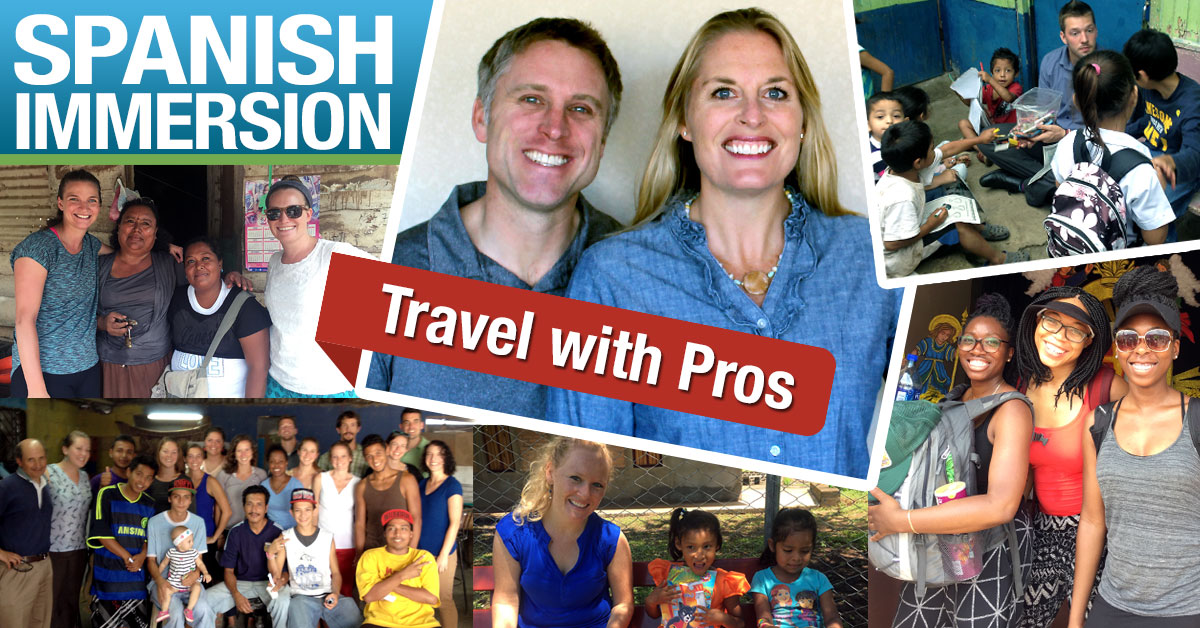 Our programs are designed to help you learn Spanish while you volunteer in the community and have fun exploring. These trips are led by Spanish teachers focused on helping you speak more Spanish! We provide a small team of coordinators & Spanish teachers who are always available for you while you're on immersion. We're intentional on programs about everything we do, and we'd love to share a trip with you.
Join a Spanish immersion info meeting to learn more about…
Register here for 2024 Spanish Immersion Info Meetings:
High School Spanish Immersion Info Meeting Ecuador & Costa Rica
Missed the meeting 9/13/23? Here's the REPLAY
All Adults Spanish Immersion Info Meeting Ecuador & Costa Rica
Missed the meeting 9/20/23? Here is the replay
Why travel with Common Ground?
Most commonly asked questions about our trips:
We'll have you complete a lengthy Spanish Immersion placement test that will give us a good idea of what class you should be in and who your classmates should be.
Classes average 4-6 people. They could be as large as 8 and as small as 1:1, but the average is in the 4-6 range.
Yes of course. Let us know early on if that's your preference so that we can help you arrange a convenient and reputable place.
We usually offer a few different start date options. It's usually a good idea, if you can make it work, to start in the first week of the program. That helps you go through all the natural stages of cultural adjustment along with your peers and helps you feel in sync with others. But if you can't start the first week of the summer program, no problem at all, we'll help you get integrated into the group and up to speed with everything.
Yes of course, please just communicate early with us about your schedule and we'll help you make sure all of the details of your trip are accounted for.
Immersion is always the best way to learn Spanish in the shortest period of time regardless of your starting level. That said, the more you know before you travel, the faster you learn while you're there. So, the short answer is that we will work with you at any level of Spanish. We also encourage you to do whatever you can to work on your Spanish before you travel and we know that you'll be glad you did :).
There are some small groups of people that travel, but by and large we're a collection of like-minded individuals. You'll definitely make fast friends on the trip!
Normally we have 2 people per family on our Ecuador programs and 1 person per family on our Costa Rica programs.
Absolutely, we welcome your familia and amigos on the trip. We should talk through your plans and the daily realities of the program, so call Rory to discuss!
Yes absolutely! Each program has the option of choosing a "Combo" trip. See the details on each immersion trip.
The general Mon- Fri schedule is 1/2 day of community work or fun activities and 1/2 day of Spanish classes. Your classes could be in the morning block or in the afternoon block but will be consistent during your trip. We usually offer optional excursions on the weekends as well.
The high school trips usually range from incoming sophomores to incoming seniors, but we also invite incoming freshmen and graduating seniors to participate as well.
The family programs usually include parents or grandparents with elementary aged kids.
The adult programs typically range from graduate students to retirees
We're more than happy to transfer 100% of your program registration to another trip if you can't travel for any reason. Refunds are harder. In fact, all of your payments are non-refundable. If you feel you may need a refund, we recommend a cancel for any reason travel insurance policy.
The default is group format, usually with small groups. There's also an option for you to have individual lessons for an extra charge.
If you have a US passport you don't need a visa for either Costa Rica or Ecuador. If you have a passport issued by a different country you'll need to check it directly.
Covid vaccinations are no longer required to enter Ecuador nor Costa Rica.
Costa Rica – highly recommends all regular vaccines to be up to date. If you do the combo program (Ecuador and then Costa Rica) you also need to have the yellow fever vaccination.
Ecuador – you don't need the yellow fever to enter.
Both are known to be good places to learn the language, they have a very clear pronunciation.
Main difference is that in Costa Rica they use the "usted" form instead of the "tú" form exclusively.
General: conversational Spanish, learning all topics.
Teacher: 2 different tracks. One is Spanish Immersion for Spanish teachers that are not native. It's advanced level Spanish, not a lot of grammar but lots of conversation. Second track is Spanish for those that work in dual language immersion schools or have a high percentage of Spanish speaking population. Context of learning is for parent-teacher conferences, behavior, classroom management, etc.
Medical: designed around clinical conversations. It has some general conversation learning as well.
Yes, you just have to let us know beforehand you want to be paired up.
Ecuador – yes, they actually use the US dollar as their currency.
Costa Rica – yes, they use Colones but there are several ATMs in town.
Yes, along with a pre-departure course.
Yes in most establishments. Only local indigenous villages or directly with artisans only accept cash.
Yes, we send the information about a week before your arrival.
Cuenca, Ecuador – CUE is the airport code, you may need to book to Quito – UIO and then book a separate domestic flight.
San Jose, Costa Rica – SJO is the airport code.
No, it's not. Anyone who wishes to improve their medical terminology is welcome.
No, not necessarily, there's no faith component to our programs.
Primarily they work with children and do interactive/educational activities.
Yes, your first payment is a deposit and you have until 40-45 days before your program starts as the deadline for your final payment.
A bit of both. There is a curriculum that can be tailored to the students' needs.
Not necessarily, we have all levels of medical classes as well.
It's very similar (except for a few colloquialisms).
The program days are pretty full but no activity is mandatory. You can always choose to take a break.
No, but you can always bring them a small gift from home or invite them for dinner, etc.
Any course you can do ahead of time would be super beneficial to your learning. We offer online pre-trip tutoring.
We are always monitoring the situation with local contacts.
In Costa Rica just shy of $400 USD. In Ecuador day trips are around $100 USD.
No, the volunteer work is focused mainly on public health education work, you won't be doing clinical work.
The Medical Immersion program is 20 CME credits. For Nursing it can be as much as 20 CE credits per week. Teachers can also get CEUs and PDUs.
Some are Southwest, JetBlue, United.
Spanish immersion program details: