Middle School & High School Spanish Student Travel | Class Trips to Costa Rica & Ecuador
Middle School Student Travel: Spanish immersion for emerging Spanish speakers
10-day spring break trips -or- 10-day – 4wk summer trips
Interactive & communicative Spanish classes at local language school (Pacific coast, Cloud forest or Central Valley locations)

Host family lodging & cultural activities

Adventure tours

Optional community service / service learning using Spanish

Flexible budgeting

Flexible scheduling
24/7 leadership, coordination & support by CGI program leaders

Leaders committed to: safety, creating fun and meaningful language and cultural interactions, and helping your students become comfortable speaking Spanish
High School Student Travel in Costa Rica: Intentional Spanish immersion that builds proficiency
10-day spring break Spanish Immersion -or- 10-day to 4wk summer trips
Interactive & communicative Spanish classes at local language school (Pacific coast, Cloud forest or Central Valley locations)

Host family lodging & cultural activities

Adventure tours

Optional community service / service learning using Spanish

Flexible budgeting

Flexible scheduling
24/7 leadership, coordination & support by CGI program leaders

Leaders committed to: safety, creating fun and meaningful language and cultural interactions, and helping your students become comfortable speaking Spanish
Individual Teen Spanish Immersion Trips in Costa Rica and Ecuador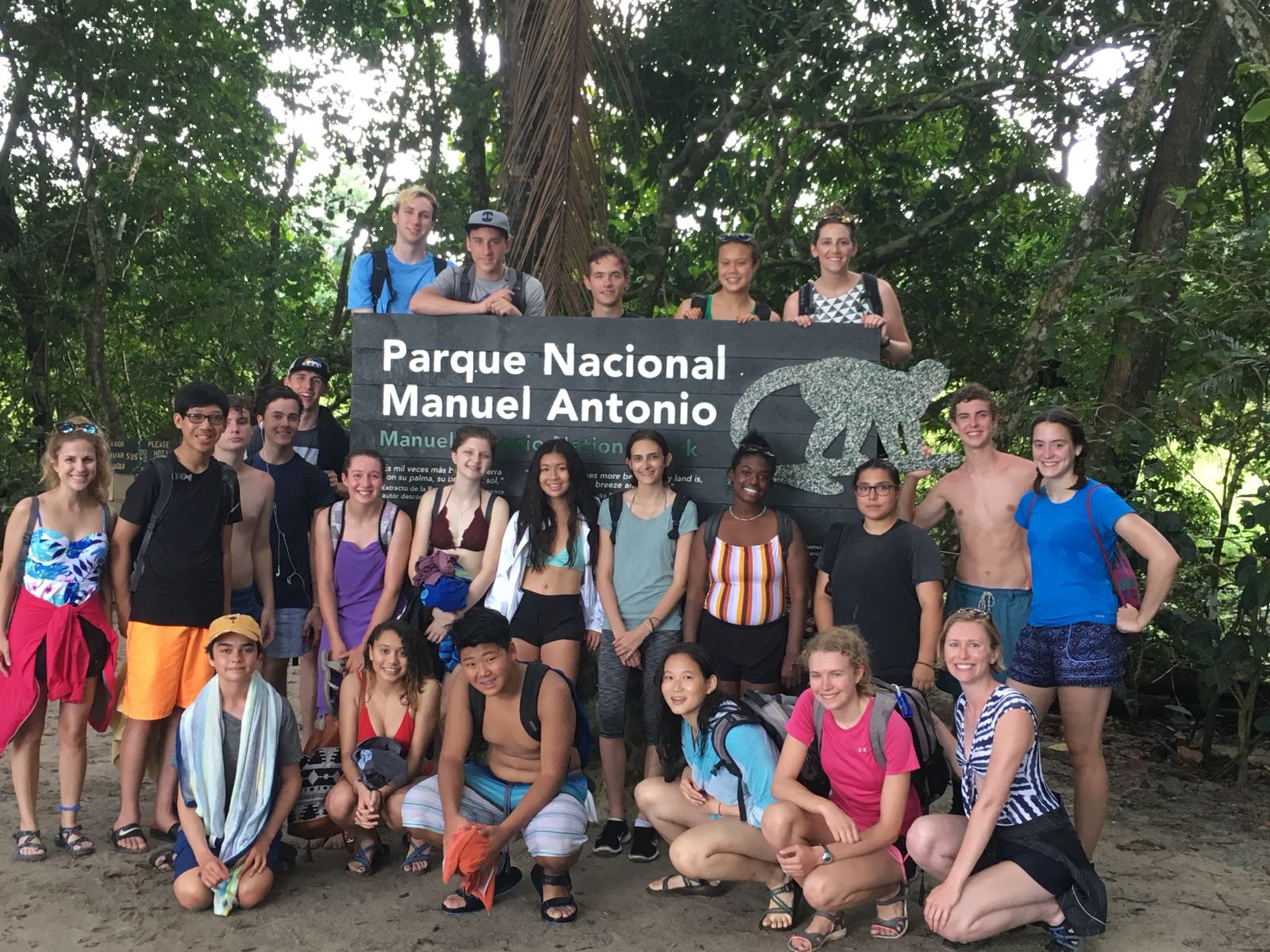 2-week to 6-week summer Spanish Immersion trips to Ecuador and Costa Rica
Earn college Spanish credit

Host family lodging & cultural activities

Up to 30 hours of community service work

Up to 60 hrs of Spanish classes

Adventure Tours

Amazon backpacking adventure

Beach, Volcano & Cacao farm excursions
24/7 leadership, coordination & support by CGI program leaders

Leaders committed to: safety, creating fun and meaningful language and cultural interactions, and helping your students become comfortable speaking Spanish
Customize a student travel program of your own that focuses on Spanish immersion, or travel with your group of students on our standard summer Spanish immersion programs.
Join the High School Spanish Immersion Info Meeting:
When: Thursday, November 17, 2022 @ 7pm Mountain Time (6p Pacific, 8p Central, 9p Eastern)
Where: Zoom Online Meeting – Register below for login details
High School Student Travel Programs:
Frequently Asked Questions about Spanish Immersion Student Travel: FOR TEACHERS
How does it work?
Identify the student travel budget you want to work with
Identify your group of students (minimum of 10 students)
Select your ideal dates for students to travel
Establish your trip objectives, for example:

Students will increase their Spanish proficiency and cultural learning through attending local Spanish classes at their current level and participating in cultural activities.
Students will live with a host family for (period of time) in order to see how others live and get a deeper perspective into the language and culture.
Students will visit the 2 or 3 hot spots to see the biodiversity and adventure that Costa Rica has to offer.
Students will engage with the local community through language rich volunteer work to increase their Spanish proficiency and cultural understanding.

Identify the trip components you wish to include in your itinerary, choose a couple of all of the below options:

Small, interactive & communication Spanish classes
Meaningful and language rich volunteer work with local Costa Rican kids
Host family lodging, hotel lodging or combo
Two or Three 2 to 3 day excursions to the hot spots in Costa Rica
Common Ground supports your trip planning, travel and stay in Costa Rica from the initial parent meetings to pre-departure preparations, packing and in country support. We are your partners to ensure that much of the coordination and logistics are taken care of for you from pre-trip planning to daily needs in Costa Rica.
Have a small class group that you'd like to integrate into our CGI-led summer Spanish immersion programs?
Ecuador Amazon, Science, Spanish Backpacking Trip: June 13-26 or 27, 2024
Costa Rica High School Spanish Immersion:
2-week trip options:

June 27 – July 11, 2024
July 18 – August 1, 2024

3-week trip: June 27 – July 18, 2024
4-week trip: June 27 – July 24, 2024
4 week Combo Program: Ecuador & Costa Rica: June 13- July 11, 2024
More than student travel for teens:
What would my responsibilities be specifically?
It is a free trip to Costa Rica – but you do earn it. Here are few general responsibilities:
Pre-Departure:
Work with Common Ground to set a budget and basic itinerary
Assure it is approved by your school admin.
Work with Common Ground to spread the word to your students/ school via flyers and emails
Work with Common Ground to organize an informational meeting for parents
Set registration deadline and ensure that interested students register by deadline
Arrange flights
Work with Common Ground through the pre-departure lessons and meetings
Common Ground will help you submit program details to school administration for approval, market the Spanish travel program to your students, handle payments from families, and lead the pre-departure preparations. There is a good likelihood that you will want to coordinate some fundraising activities so that all interested students can participate.
During the Spanish immersion travel program:
Be an active, engaged leader to your students while on program
Maintain an immersive environment, by speaking in Spanish to your students and encouraging them to make an effort in Spanish
Supervise your students and ensure that they are upholding the expected behavior guidelines and keep them safe
During the language school (optional), community service, and host family portion of the program you will be with your students and be a language support for them and an encourager
Is there flexibility regarding the itinerary and details of the immersion program?
Yes, absolutely. There is one requirement that we keep for our student travel programs. All of our travel programs are Spanish immersion programs. We can completely customize travel for your group, and Spanish classes aren't necessarily required, but all of our student travel programs in Costa Rica are Spanish immersion focused.
We have some standard travel program formats that we'll share with you, but we'll also provide you with a menu of options so that you can customize the program exactly how you would like it.
How many students would I need to have a viable class trip?
You need 8 students to sign up for the immersion trip in order to make it a viable program.
What happens if I can't don't get enough students to make the trip happen?
The good news is that even if you're working on a customized class trip – we can guarantee your students "something." Our established summer programs that we chaperon are open to your students. If you are unable to reach your minimum number of students, we will encourage your students to travel on our summer high school Spanish immersion program so that no one is denied the opportunity to travel. If you're close and you would still like to travel even though you have not reached the student minimum – it may mean that you would need to cover some of your expenses. In this case, we will work out a fair arrangement that covers as much of your travel costs as possible so that you and your students can still travel.
What is the necessary timing to make this happen next summer?
For class trips, we should be making plans with you in the spring before you go on summer vacation (about 14 months in advance of your summer program). This will allow us to have a firm plan in place for you to present to your students early in the upcoming academic year.
If you already have a Spanish class group ready to go and need to make arrangements in the fall of the year you would like to travel with students, we would be happy to see if we have open dates for your group. Contact us and we'll see what we can put together!
For small group programs where you join our standard summer program dates, you can join as long as there is space in the program!
Contact us for more information.