Spanish Immersion testimonials: Read why students and parents love traveling with Common Ground International!

Student Testimonials:
A lot of new experiences for me that have made me into a better person! A lot of nature, too, so if you're into that, this is good for you. I'm not really into nature stuff, but I still had a great time and the trip as a whole was just amazing!! I made a lot of new friends and saw stuff I might not have ever seen in my life if not for this trip. Couldn't be happier I went. 10/10 would recommend.
– E, Broome, North Carolina
The 2 week Costa Rica high school immersion trip was the best experience I could have ever had- the trip was the perfect balance of fun adventures and learning about culture and the Spanish language. I felt cared for, safe and supported the entire trip. The hotels we stayed at, meals, language school, host family experience, and excursions were all wonderful.
– Anonymous
I participated on a 2 week immersion trip with my high school, Cardinal Gibbons. The experience common ground provided was life-changing; my eyes were opened to a new way of life – pura vida. From Manuel Antonio to Santo Domingo to La Fortuna, my experiences were unforgettable and I will cherish the lessons I learned forever. My interactions with my trip leaders, peers, and the Costa Rican locals were solely positive. Everyone was welcoming and engaging; they wanted to provide you with the best trip possible. My host family was extremely welcoming and made me feel as if I was apart of their family. They took me to the movies, the market, and to try local empanadas. I thought the trip contained a well balanced itinerary of excursions and education. Whether I was in spanish class or on an excursion, I was improving my spanish. Overall, I had the time of my life and if I had the opportunity to go on this trip again, I would!
– C. Damare, North Carolina
I traveled on the 2 week program with CGI, and it was UNFORGETTABLE. Everything was taken care of and each day was planned to the minute so we were prepared each day with our clothes, materials for class or service, and money (we had a SUPER HELPFUL 5 page itinerary). The trip's structure was perfect as well, with the middle week being the "grind" with Spanish classes and host families and the first and last couple of days being excursions and tourist-y activities.
– M.Pennisi, Texas
The program was really great. I really miss the friends that I made on the trip. They were the highlight. The worst part was having friends leave at the two-week mark. My advice would just be to go with the flow. Have fun. For crying out loud, it's Costa Rica. Pura Vida!
– B. McClendon, Texas
The funnest 2 weeks of my life, where I learned so much and grew more wholesome as a person. Don't be afraid of failure and live in the moment because you're going to miss every second of the trip and want to do it again.
– L. Peeples, North Carolina
The 10 day Spanish Immersion Program with Common Ground International was an incredible experience for myself that gave me the opportunity to enhance my Spanish skills and have an experience of my lifetime. The program placed me in normal life situations to use my Spanish and pulled me out of my comfort zone to interact with my host family and local citizens. I would recommend this program to anyone who is ready for this type of experience and who has a fairly strong Spanish vocabulary and comprehension.
– J. Rohweder, Colorado
This trip was amazing . I would say almost the whole trip was a highlight! My favorite part was La Fortuna because it was super fun. It had fun activities which were zip-lining and hot-springs. Kamuk was Cool too. I really enjoyed connecting with the students. It was so much fun, and I learned so much Spanish.
– A. Laughlin, Pennsylvania
I just came back from the 2 week immersion trip with Common Ground. I had an amazing time and wish that I had decided to stay for for 3 weeks or 4 weeks. My host family was great, they were super nice and made sure that I was comfortable the entire time I was staying with them. I would love to see them again sometime. I improved on my Spanish, and I was inspired to become a better more fluent speaker. I would definitely recommend this program to anyone who wants to not only learn more Spanish, but also experience another culture. And make sure to sign up for the surfing class, it was really fun:)
– J. Elkins, North Carolina
This trip introduced students to a new country in a fun way, combining adventure with classroom learning. The trip was like a feast that started with appetizers of exciting beach-going and jungle-exploring, and this course was followed by the "meat and potatoes" of Tican home stay and language classes. The final dessert course was La Fortuna, with zip lines rides, waterfall visits, and hot spring pools at the base of an active volcano!
– V. Shillingsburg, North Carolina
I loved the program. It taught me a lot from being able to worry less about what was happening next to being able to get out of my comfort zone like when we went ziplining and going to the host families or even just holding a millipede. i hope that that was not the last time that i get to experience something like the trip. thank you so much making the trip so amazing!
– G. Studer-Randall, California
I went on the four week program in the summer of 2016. The experience was incredible, and I'd do it again in a heartbeat. Our group was extremely close, and we've all kept in touch since. Before the trip, listening was by far the weakest aspect of my Spanish. By the end of the trip, I could have full family conversations with my host family. I learned so much about Costa Rican culture, and it's impossible to pick out a single aspect of the trip I loved most.
– A. Sheers, New York City
I participated in the 2 week full immersion program with CGI and I LOVED it. I met awesome people, both Costa Rican and American, and I had a really fun time in general. If you plan on going, I highly recommend going on the excursions and going for 4 weeks. The excursions were a blast as was the entire trip. I also learned a lot more Spanish in a safe and fun environment/classroom.
– P. Grady, Colorado
You will learn a lot, be open and patient! It was a trip I will always remember. If you are positive and open it will be a blast!
– L. Lewis, Alaska
My Spanish skills majorly improved, but I also gained new friends (from all over the world) and tons of memories from the various experiences I had on the trip. I got a lot more out of the trip than I ever could have expected and it was amazing!
– J. Barnes, Iowa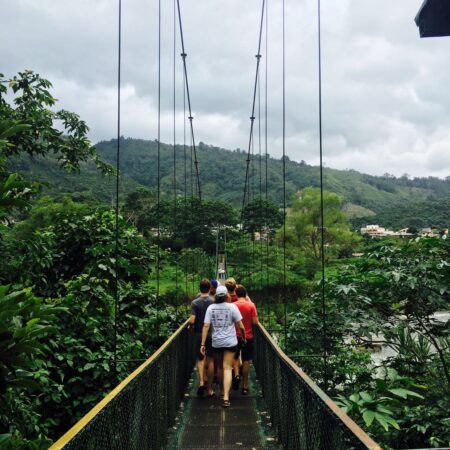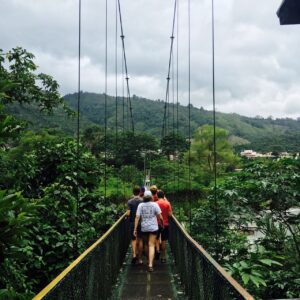 I really enjoyed my trip to Costa Rica on the High School Immersion trip with Common Ground International. From the beach to the host family to Orosi Valley, everything was a wonderful experience. I met other students who I will be sure to keep in touch with and loved spending time with the trip leaders doing all the adventures!
– G. Reis, Colorado
Overall this trip was amazing. It was so much more than just a Spanish immersion trip, and I gained so much from it.
– B. Radek, Colorado
I definitely went through a lot of ups and downs on this trip, but overall it was such an amazing experience that I don't want to go home. I feel like a have a completely new sense of not only Costa Rican culture, but my own culture as well. Bonding with my host family and so many people on this trip really got me out of my comfort zone, and I think anyone who is up for an adventure and wants to try something new should do it!
– M. Metz, Illinois
This is the best way to learn Spanish! One of the most special experiences in my lifetime.
– S. Martin, California
This trip was an experience that I will never forget, and think it is unique as far as these programs go. It expertly blended host family/school with adventure/exploration. Now that it's over, I'm just going around to everyone telling them how awesome it was.
– H. Livingston, Colorado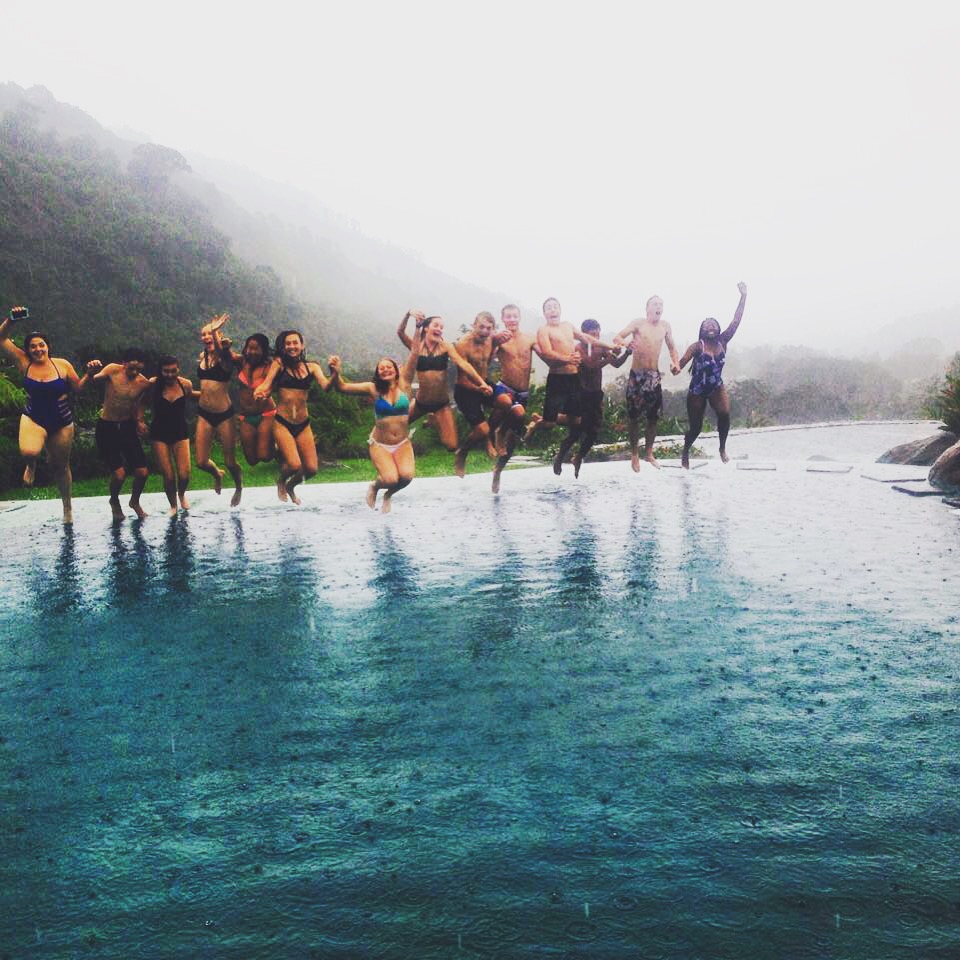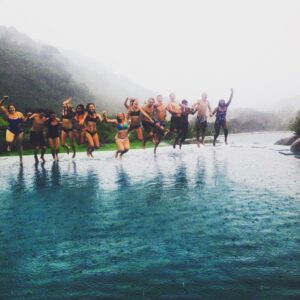 My Costa Rican immersion experience was so wonderful. I want to go back and experience it all over again. It left me with much more confidence in speaking and understanding Spanish and most of all, it expanded my knowledge in a new culture with which I had not known before. From the living with a host family to the volunteer opportunities, the excursions, dance and cooking classes, and outdoor activities, I had a fantastic 2 weeks. If anyone were to ask me if I recommend CGI, I would definitely say "yes" with much confidence and enthusiasm.
–S. Baker, Texas
I think this helped me beyond belief, while it was hard, everything was a new experience and was so fun. Learning about a new culture is so eye opening, but also, my spanish has improved drasticly and I can communicate much better with my grandpa. It was so worth it and a life changing experience.
–S. Copper, Colorado
This trip was an amazing experience. It teaches you so much about yourself and how you are able to adapt to a different culture, your spanish improves enormously and the way your look at your lifestyle when you get home, completely changes for the better.
–A. Barry, California
This trip to Costa Rica was everything that I hoped it would be. When searching for a program for Spanish immersion, I had a few main criterion that I was looking for. I didn't think that any program could satisfy all my knit-picky stipulations, and when I saw that on Common Ground encompassed all of them, I was skeptical. However, the experience that I received was beyond what I had hoped for.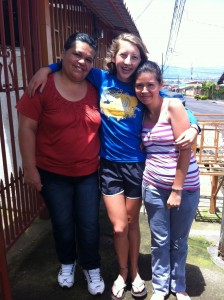 The number one thing that I wanted, of course, was a true immersion experience with a real host family. When we got to Costa Rica and I met my family for the first time I was ecstatic to find that every morning and night would be spent with them. I had expected this from an immersion program and was content, but I got a pleasant surprise to find how loving the families were. After those few awkward moments where none of us know exactly how to communicate, we grew to be a strange, awesome family unit, and I felt at home. And all of the other kids seemed so attached to their families as well. Even a student who had trouble adjusting the first couple days warmed up, and soon her and her host sister were inseparable! When I came back to America to see my friend who had gone on another group trip I was sad to hear that they barely got to know their families.
My next hope was that I wouldn't feel inadequate in my Spanish skills. I was pleased to find that the kids came with all different levels, yet we all ended up on Common Ground (haha?). The trip was small enough that we all got to know each other well and that our coordinators could attend to our needs easily. If I ever needed help I found someone who was happy to assist me.
A girl who went to my school told me that she went on a trip and was disappointed because all they did for volunteering was painting, and she didn't feel that the work was meaningful. I was worried that the same thing would happen to me. I was pleasantly surprised when we worked to help little kids with learning games and were helped by the older kids. Not only did we speak Spanish but we also felt that we made a difference. For all those looking to do four weeks (which I highly suggest; I could have gone even longer than that) the La Carpio trip and chocolate farm were also eye-opening and made me reflect about my life, which I think is an important (and maybe essential) part of traveling that will aide me in having an open outlook on the world.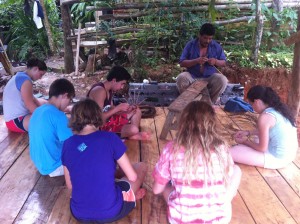 And, of course, I was looking for a program that was fun. It is not to say that this trip did not challenge me or have some days where we worked very hard, but for the most part, my memories of this trip are of having fun. Every day was filled with new sights and activities, and I think that we maintained a good balance between work and play. I will never forget the beautiful sights of the waterfall as I careened through the canopy or of the amazing animals that we saw at the Toucan Rescue Ranch. And, of course, like every other student, I can never forget my familia tica (Costa Rican family). This trip has gained me many new experiences, skills, and friends, and I would highly suggest it for anyone who wants a life changing experience.
–S. Maronick, Colorado
A month in Costa Rica was unlike any experience I've ever had before. The first day, using my rough Spanish, I accidentally asked my Tican mother for a baby instead of a drink. Several awkward moments, a few laughs and some more uneasy Spanish later, I had my drink and my family couldn't stop laughing at my mistake, fully trusting me before they had gotten to know who I was. Even better, after that experience, I never made that mistake again, improving my Spanish every day. Talking went from a slow methodical process of verb conjugation and sentence structures to a steady flow that came as I talked. Pronunciation improved even though I barley seemed to notice it. Learning vocab went from a studious task to using a word over and over again in conversations with others around me.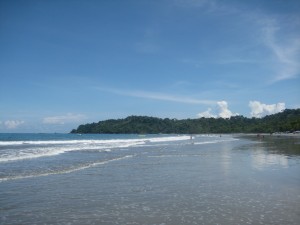 However, not all of my time in Costa Rica was spent dabbling in Spanish. Going to one of Costa Rica's most pristine beaches was a blast, even though a warm rain began to wash our towels into the sea. That moment was also when the special tense for verb commands finally clicked in my brain, as the beach life guard was commanding us to get out of the water, and I was frantically chasing after my other sandal. Nothing that I did during my time was just for fun, or just for Spanish, it was all intermixed. I finally remembered the word mojado (wet) after walking a mile in a giant down pour with a rain jacket that was made for light city showers and not the Costa Rican rainy season. Numbers became easy to say and understand after trying to buy ice cream every day from a bakery. When the trip was over and a sad cloud loomed over our departure, I still had my memories, my greatly improved Spanish, and over 2,000 pictures.
This year my Spanish class has become something I never worry about, (or study for) due to my time in Costa Rica, and just the other day another student told me that I am really the only one in the class who can actually speak Spanish, (other than the teacher and the kid who spends the summer in Panama every year.) My time in Costa Rica taught me more than any Spanish class I have ever taken did. I am now not only able to speak Spanish well, but confident in using it. It was an experience that I will never forget.
–R. Larsen, Colorado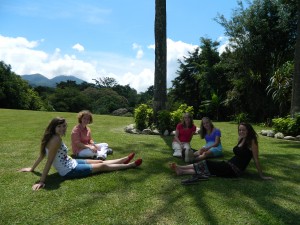 My experience in Costa Rica was amazing. Even before we left, I felt very welcomed by the group. All of the students bonded in the airport, and were pretty close before even landing in Costa Rica. I absolutely loved the Spanish School where we had our classes. It was so beautiful, and the teachers were amazing. Everyone was so nice and patient as we got use to speaking only in Spanish. My teacher took us on walks down the river, and to a house that had a zoo in the back yard to help us talk in Spanish; we also played games like Scrabble, which was so much fun, and so helpful. The family I stayed with was also extremely nice. If I ever had a question on my homework, my Mama Tica would help me out and explain it to me. My Papa Tico told me about the country and sports. Almost every night we watched a soccer game together. I only had one little brother who was 2 years old. I had so much fun playing with him.
In my Spanish class now, I have no problems understanding my teacher, who only speaks in Spanish, and am more confident when speaking in class. I still use the notes I took in Costa Rica on a daily basis. If I had the chance to go to Costa Rica again, I definitely would. It was an amazing experience!
–M. Kepler, Colorado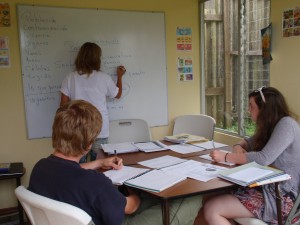 The Common Ground International trip to Costa Rica was one of the most memorable and enjoyable experiences of my entire life. Full immersion is a great way to learn a language, and the trip improved my Spanish skills tremendously. We studied each weekday morning at the language school ELEC. The classes each contained only 3 or 4 students, which facilitated helpful interaction between each student and the teacher, and also among students. The host families were extremely friendly and hospitable. I really enjoyed talking with my family about Costa Rican current events and their perceptions of American culture.
The most fun element of the trip for me was the travel. We visited a surprising amount of Costa Rica, and I felt like I learned just as much about the culture while on the move as I did in San Isidro. The trip was even more fun because we had an awesome group of students and chaperones. I am extremely grateful to have had the opportunity to go on such a trip, and I made memories that I will cherish for the rest of my life.
–B. Jackson, Colorado
I thoroughly enjoyed my time in Costa Rica. Going on that trip was truly a once in a lifetime experience! It is much easier to form Spanish sentences and understand the language now than before I went. It was great to see the culture of another country as well.
–M. Brandt, Colorado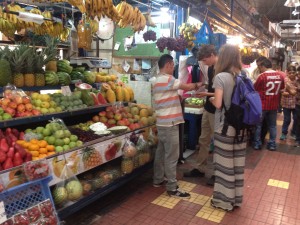 The immersion program for high school students was a life-changing experience for me!! Not only did I get to live in the home and befriend real Ticos, I got to learn about their daily routine, their food, their environment, their music and partake in all of it! In Costa Rica, school was something I looked forward to! My classes were the Perfect level for me, and I learned so much more than I thought I could in a few weeks. It is knowledge I have now taken to college with me. Our program directors (Rory, Leslie, and Percy) did an amazing job of designing a program of learning AND of fun!! The balance was quite perfect. Plus, they are the kindest people and really make the effort to get to know you. I knew if I would ever have a problem, they would be there for me without a doubt! I have endless memories of my Costa Rican experience and think of them often. I returned home with new friends (other students AND ticos), a new vocabulary, and a new outlook on life. Now, as Leslie once told me, I try to "sacar el jugo" or make the most of every opportunity in my life.
–C. Ficke, Nebraska
I got to do things that I never thought I would have a chance too and my Spanish improved greatly! This was definitely a trip of a lifetime!
–A. Larsen, Nebraska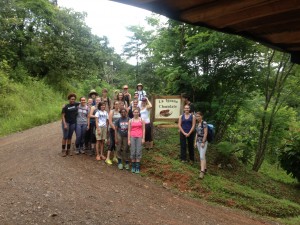 My time in Costa Rica was awesome. I got to bungee jump off a bridge. I got to ride a horse, zip line through a jungle canopy. I saw a volcano erupt. I went to a coco farm. Along the way I learned to speak Spanish. So like I said, it was an awesome trip.
–P. Montine, Washington
Costa Rica for me defined what I need to be achieving in IB. I achieved international mindedness because I had to interact with people from a completely different culture and even speak a different language. It also tied in quite nicely with the CAS program because I achieved creativity, action, and service from my trip to Costa Rica. I was creative in that I had to figure out how to interact with different people and speak with them; if I didn't know how to say a phrase or word I would have to figure out how to somehow still get my point across. I also had to be creative by learning new things about the Costa Rican culture. For action, we did many hikes, we zip lined, and we swam. For service, we helped out a few Costa Rican schools by presenting science projects and also donating school supplies. I feel like I learned a lot on my trip…not just about the Spanish language but also about how to interact with people that are different from me.
–J. Elisberg, Colorado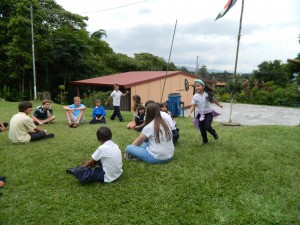 This summer, I had the opportunity to experience an amazing adventure. Traveling with Leslie and Rory Foster, Robin Kazmier, and 14 other high school students, I went to live and study Spanish in Costa Rica for 4 weeks. I stayed with a host family that spoke no English and attended language school with the other students. We traveled into the large cities to do volunteer work and on the weekends, made excursions across Costa Rica. I made great friends and saw some of the most beautiful and exciting places in Costa Rica. Living with a host family was difficult at first, but after the first week or so, living with them felt natural. Conversing with non-English speakers, both at my home stay and in language school greatly improved my Spanish and my confidence with using the language. Common Ground International ( the program I went through) was organized and fun. Leslie, Rory, and Robin were always around to help and answer questions and they worked hard to make sure we were comfortable and happy. Every activity we did with them, and with Percy Piedra, our guide, was entertaining and often exciting. We did everything from painting school murals to rappelling down waterfalls. I would recommend this program to any student without hesitation, so long as the student was willing to work hard, try new things, and have a great summer.
–K. Kitz, Idaho
HS Immersion page Host Family  Classes
Service 
Adventure Travel
Parent Comments:
What a terrific program! I love that Common Ground International is run by a family and treats their students like family. I appreciated the almost-daily emails from Leslie and personal contacts throughout the trip. This is a tremendous opportunity for your child! Because the number of participants is limited, your child gets to experience a personalized approach to studying and exploring. I highly recommend this program!
– T. Michel, California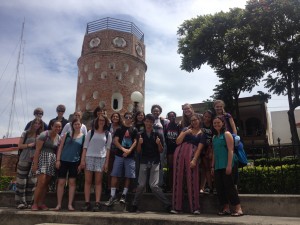 This is an excellent opportunity for kids to practice and learn Spanish in a safe environment that still challenges them to grow socially and academically. I think it is an optimum combination of coursework, language practice and travel that leans heavily toward academics. I would have had no patience with travel alone in a Spanish speaking country. Incorporation of the volunteer activities is an excellent approach for giving students the opportunity to practice their Spanish while giving back to the community and experiencing another aspect of the culture.
– C. Pugh, Ohio
This is a well run program including living with a host family, adventure travel, classroom Spanish, volunteering at a local school. Your child will experience real immersion in another culture. My daughter loved the program. She made friends, loved the school kids she worked with, enjoyed her host family and loved Costa Rica. The Chocolate Farm was her favorite part! –
— T. Metz, Illinois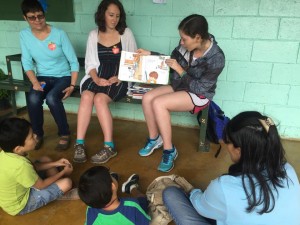 My son had a wonderful time, he loved every moments of his trip. He really enjoyed his family, the excursions, working with the local school. He wanted to stay for the additional 2 weeks.
– V. Ganivet, Colorado
This was a great first experience traveling abroad with Spanish immersion. It was a great mix of traveling, adventure, instruction, host family, volunteering in the community – all the essential components of a great traveling/language experience!
– D. Livingston, Colorado
If you are a parent who feels apprehensive about sending your child to a foreign country for a language and a cultural immersion program, I highly recommended CGI. The experience as a whole, from the professionalism of the staff and the warmth of the host families, was outstanding. My daughter had an unforgettable experience enhancing her Spanish skills while being immersed in a new culture.
–A. Baker, Texas
My sixteen year old daughter loved this trip! It was very well organized, gave her an opportunity to be immersed in the Costa Rican culture and was so much fun.
Her only regret was that she did not stay for the four week program.
–N. Gershman, Colorado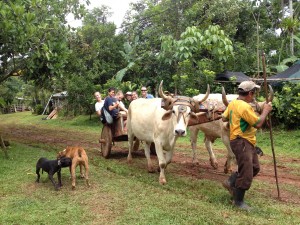 CGI provided a really solid immersion experience to my daughter. The excursions were wonderful, very fun and educational at the same time; the family pairing was done with great care and they will became a part of your kids life (my daughter always speaks about her Mama Tica, Papa Tico and her brothers and sisters :). The language learning experience made her improve very significantly as she took confidence to use what she learned in the classroom but had not had the chance to use in such an immersion program.
–C. Barry, California
Sending your child off to a foreign country, to live with strangers for a month is a scary concept.  I had reservations about over site, the families, the learning experience etc.  I read the  "testimonials", just like you are reading now and thought … "Am I  I really signing up for this?"  I called and received many reassuring emails from former families, I attended the family orientation, but nothing won me over like the first set of photos' Leslie send back.  A picture is a thousand words; the ear to ear smiles, the camaraderie among the students, and the joy in the eyes of the host family.  My son Jordan grew, matured and now has a passion for other cultures.  He has no fear of speaking Spanish, even though his is not perfect.  He appreciated differences in Latin vs. American community life.  He had fabulous weekend excursions.  The most amazing point for me was hearing Jordan's translation of an interview he conducted in Spanish with a Costa Rican businessman.  The nuisances and detail he gleaned from this gentleman were profound, and the conversation was ALL in Spanish.  Rory and Leslie have hand-picked the families, oversight is monitored carefully and the town is small and safe enough the students really get a chance to feel like they "live" in the town.  We were so impressed with the trip our younger son will be going after his sophomore year.
–N. Krywonis, MD, Colorado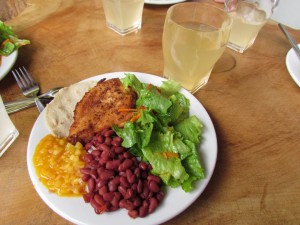 Our 15-year-old daughter participated in the four-week immersion program in Costa Rica with Common Ground and it is frankly the best thing she's ever done. Because we are from the East Coast, our daughter flew down to San Jose on her own and was met by one of the Common Ground staff members. The program is really well structured, no doubt a product of the years of experience the Fosters have. There were fun and creative ways to get the students really involved in the community in an engaged and independent way. For example the scavenger hunt that they used to acclimate everyone to the town, and the community service at nearby schools. The location for the program is excellent– big enough to be interesting, small enough to be safe and friendly. We would highly recommend all the supplemental trips. Our daughter came back a changed person. Not only was her Spanish leaps and bounds ahead, but she cooks meals for us (Tico meals, of course) and is not afraid to manage things on her own. We really have enjoyed seeing the confidence and independence she gained from completing the program. The students all seemed to be respectful and dedicated and this was very important to us. I highly recommend this program.
–R. Harris, Virginia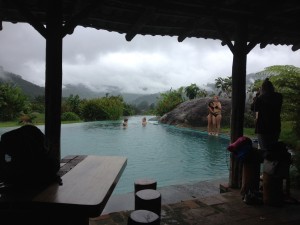 Lindsey had a wonderful time and learned a great deal about other people, their culture and language. Her improvement in Spanish was well worth the expense and time spent. She had some homesickness attacks, but looking back on it she found a new level of maturity. Things you're probably interested in are: before her trip her motivation for studying Spanish was just to pass tests in class; now she wants to learn the language. Also her ability to learn new words and more complex sentences is much easier, whereas before it required tedious hours of study with cue cards. She also made new friends with her trip mates that she keeps in contact with. One notably is her host family's daughter that she keeps in contact by e-mail.
–R. Berger, Colorado
Our 17-year-old son traveled to Costa Rica with Common Ground International (CGI) for two weeks in June 2011, during the summer between his junior and senior years of the Lakewood High School IB program. He learned about CGI from a friend who had signed up to go to Costa Rica with CGI in hopes of improving her Spanish skills through a language immersion trip. From our initial meeting with Rory Foster, throughout the planning phase, through the two travel-weeks, and the post-trip follow up, CGI consistently performed with top-notch professionalism. As parents, we especially appreciated the email updates from the chaperones every few days during the trip and the photos they posted online. These periodic updates gave us great confidence that our son was well supervised, safe and thriving, even when he elected not to contact us directly in his effort to make the most of his growing sense of independence through foreign travel without parental interaction (or, in his view, parental interference).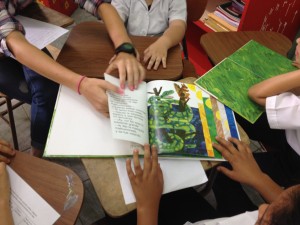 The extraordinary value our son gained from this CGI trip was best captured by his first comment to us upon returning to DIA: "That was about the best experience of my entire life." Though he is not prone to hyperbole, and despite landing in the wee hours of the morning after a full travel day, our usually stoic son spent the next 2 hours regaling us non-stop with stories of his wonderful adventures with his host family, in his daily Spanish classes, through community service projects in San Isidro, and on weekend excursions with the CGI group. Every element of the program resonated with him and added to the overall tremendous personal benefits resulting from the trip. In addition to returning with heightened senses of independence and confidence (great skills to develop in preparation for college), our son came back with an expanded view of global interconnections, a big boost in his Spanish verbal skills, and new friendships. He currently maintains an "A" in 12th grade IB Spanish and recently earned a high score on the Spanish SAT subject test – both academic successes traceable in significant part to his fun summer experience with CGI.
–S. Naylor, Colorado
Thank you for providing this invaluable experience for our daughter. She has grown leaps and bounds in her self confidence and in her Spanish skills. Mariah returned to school this fall with a more positive attitude about her Spanish class and the upcoming IB examinations. She feels the immersion trip solidified and strengthened her Spanish language skills in ways that school could not do. Her Spanish grades are better than before the trip as well!
–L. Kepler, Colorado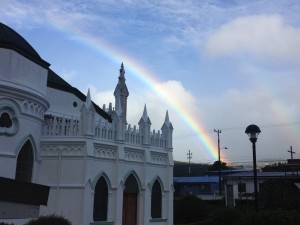 I just wanted to let you know our perspective on our son's Costa Rican Immersion experience. After more than a month at home, he still frequently talks about his adventure in Costa Rica. He still communicates with his Tican family through e-mail and facebook. And now after a week back in school, he is really surprised at how easy it is to speak Spanish in class and he is always trying to get a turn (they must raise hands and be called on) to talk. This experience wa so special for him and thought he enjoyed everything and everyone, La Iguana is talked about regularly.
When we first saw Common Ground's presentation of the program at school, my thought was, "That would be great for him in a year or so, but I think four weeks would be better than a two week experience." His thought was "I want to go NOW!" After much negotiation, the deal was struck. Though he did experience a bit of a letdown when the two-weekers left (because he was going to miss all the other kids), he also admitted that it was a bit of a turning point for him in his Spanish. Those last two weeks really helped cement a confidence in his speaking that is still with him. And of course, he got to go work at the chocolate farm.
We also want to thank Common Ground for all the timely communication and posting of photos. Though we only ever spoke with our son twice in the four weeks, we were completely in the loop. We would definitely recommend this program to other students and their parents.
–L. Larsen, Colorado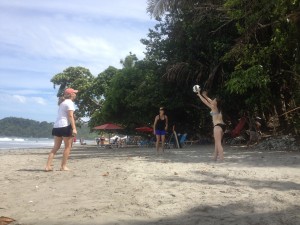 My daughter had an incredible experience with Common Ground. She loved all the adventure stuff, including the bungee jumping, and she really enjoyed the time with her "family". Her Spanish definitely improved, and most importantly, she feels very comfortable using it. She also seems more grown up, which I think travel does for you. I can't think of any way for you to improve the program for the parents. We felt very comfortable sending her off with you. And definitely, use us as references. We will be enthusiastic supporters!
–D. English, Colorado
Our daughter had a fantastic time. It was a very good experience for her and for us as parents. This is reinforced by the fact that our younger daughter will more than likely go next summer for a 3 week session with Common Ground Intl. She liked her host family, the new friends that she made, the excursions, the community service and the classroom. She really spoke positively about every aspect of the trip. As a parent I am used to my kids going to camp and being away. We have even had her in several other countries. We felt very secure in her being with you in Costa Rica. You have a very nice company that creates a great experience for all involved. Please feel free to use this note as a testimonial to any parent considering Common Ground Intl. Thank you very much,
–K. Gordman, Nebraska
We felt the Costa Rica experience for our daughter was all and more than we expected. She absolutely loved everything about it. It was hard as a parent sending her off but I felt you did an excellent job of keeping us posted. She often talks about missing you guys and the people she met and stayed with in Costa Rica. I really feel that she grew from the experience.
–J. Larsen, Nebraska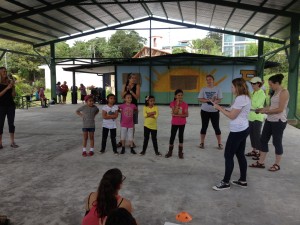 The experience was an extremely positive one for our children and I am an enthusiastic advocate for the program. Both my daughter (Denver School of the Arts grad, 2007) and son (George Washington HS senior this year) made the trip in the summer of 2008. Both still speak often of their experiences with great fondness, and my daughter is convinced she would like to move to CR after college. Both have remained in contact with Rory and Leslie, corresponding in e-mail and Facebook. Although there are lots of great reasons to travel to Costa Rica, increased fluency from Spanish immersion was the outcome my wife and I were most looking for. Our daughter, in particular, gained confidence in her Spanish speaking skills during and following the trip. Both kids loved their host families-the characteristic warmth and affection that one associates with Latin American culture is evident in the many photographs and stories that came back. Likewise, the school visits and interactions with other children were purposeful and well-organized for the benefit of all participants. Maybe I should not have been surprised, but the volunteer service aspects of the trip made as great an impression with our kids as the more tourist-y aspects of the trip. The excursions must have been breathtaking–black sand beaches, volcanoes, waterfalls, jungle canopy zip lines. The best part is that the Fosters are Costa Rica veterans and have long-established, reliable and trustworthy contacts there to facilitate travel. Our daughter remarked she always felt safe and comfortable while traveling–the driver inspired trust and drove safely. Overall, it was a great experience for our children, and I am grateful to have been able to fund the opportunity for them.
–P. Leece, Colorado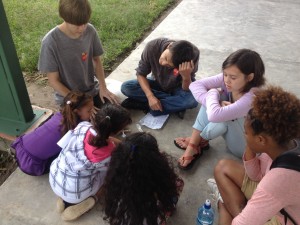 I am writing to recommend to you (for future reference, and other IB students) the Common Ground International Costa Rica "immersion" program for high school students. We heard about this program in an LHS IBPA newsletter a couple years ago and decided to send our oldest, (an IB senior this year), on the program. The program gives the students an opportunity to study Spanish, live with a Costa Rican "host family," perform service work within the local elementary schools, and tour the natural highlights of Costa Rica (the rainforest, national park, volcano area, etc.) Nicholas was within a small group, including three students from Colorado Springs, a student from East High, and a physician's assistant in training. The group leaders included Leslie Foster, co-owner of Common Ground, and an IB Spanish Teacher from CO Springs. Nicholas really enjoyed the experience and, per the group leaders, really improved his "speaking" Spanish over the course of the 15-day trip. We felt that for all he gained, the cost of the trip was a very good value, and we would recommend this to other IB students interested in improving their Spanish skills and learning more about this colorful country.
–A. Walker, Colorado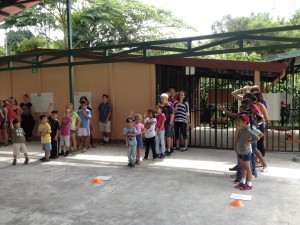 Our family researched multiple language immersion programs abroad, and we are happy that our daughter participated in the Common Ground International summer program. Leslie and Rory Foster's enthusiasm and professionalism are evident in every detail. Communication about the program's structure, goals, schedule, and safety were superb. We had ample opportunity to ask questions and always received timely responses. When it was time for our daughter to leave for the summer, we felt very confident putting her on the plane! Rory kept us updated throughout the four-week program about what the students were doing and how they were coping. When we spoke or emailed with our daughter, she spoke very highly about Rory, Leslie, and Robin and her fellow students. The Common Ground experience exceeded our expectations, we appreciate the opportunity Leslie and Rory have created for students, and we love listening to our daughter's Spanish!
–S. Bender-Kitz, Idaho
Common Ground is the type of summer experience that all high school parents should consider for their teenager. The program provides students with the opportunity to adventure in a beautiful, foreign country while finding a great balance between education and summer fun. The Program offers a wide variety of interesting and exciting experiences from rappelling down a waterfall to visiting a coffee farm to snorkeling with tropical fish to living on a cocoa farm. The Program is extremely well organized; its leaders care deeply that the students have a valuable and memorable experience; and for our daughter, they fully achieved those objectives. 
–P Gordon, Colorado
HS Immersion page Host Family  Classes
Service 
Adventure Travel