Your host family is a highlight of your immersion trip! 
HS Immersion Page Service Classes Adventure Travel Testimonials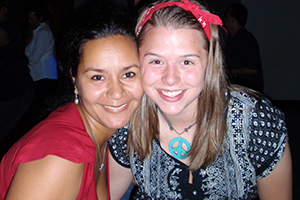 Our Costa Rican & Ecuadorian host families are amazing people and they are excited to get to know you!  Your Spanish skills improve daily as you informally use Spanish in everyday situations.
Host Family Location: Your host family will be within 15 – 20 minute walk of both the town plaza and language school.  Other students will be staying near you as well, and you can walk to town or language school together.
Time with the Family: How much time will you spend with your host family? During the day you have a pretty busy schedule with Spanish classes and community service work, but you'll spend evenings (usually dinner – breakfast) with your host family.  These are fantastic opportunities to get to know the everyday customs of the typical Costa Rican & Ecuadorian family.  We encourage you to always accept invitations to participate in activities with your family and to keep an open mind as you sample life in Costa Rica and Ecuador.
Host Family Accommodations: We only place one student per family on our immersion programs.  We do this on purpose. We want you to be speaking Spanish all day long! As far as your actual accommodation go, you will have a private bedroom, but will probably share a bathroom with someone else in the family. Your family will feed you breakfast and dinner, and wash your clothes for you as needed.
Candid student reactions to their host family:
Meet the Host Families!
We asked a handful of our regular host families to write a short bio to introduce themselves. Here is what they had to say…
Familia Díaz Chacón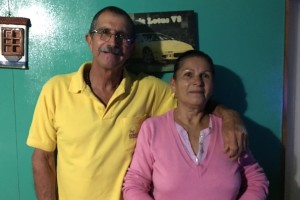 Jose and Marta are the grandparents of a large tica family! Jose used to make maps for a living, but is now retired, and Marta is a homemaker who spends most of her day cooking. They both live in a house on a property where all of their children and their families have built their own homes. There are visits each and every day! They are fanatics of the team Saprissa, which is a Costa Rican soccer team, but they are not crazy about the rain. They also have a favorite television show which they watch each night. Jose likes to learn new words in new languages while Marta enjoys singing and cooking delicious meals.
Familia Ortiz Fonseca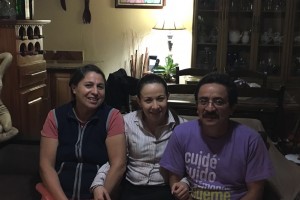 Miguel Ortiz is 53 years old and is a carpenter. He is from San Isidrio de Heredia. He works from home and makes doors and other similar items for people in the community. Lisbeth Fonseca is 50 years old and is also from San Isidrio de Heredia. She is a homemaker. Lisbeth and Miguel were married 25 years ago one Thursday morning at 7am, the 13th of December. After three years of marriage, they had their daugher, Yosie. Yosie is 22 years old. She is a student and secretary. She has been a secretary for 4 years. She is studying administration at the university.