Click the icons below to learn more about each of our Costa Rica locations for Family Spanish Immersion!
Travel any time that is convenient for your family January – December

Our Central Valley location is great for the family wanting to experience day to day life in the small, non-touristic town of Santo Domingo de Heredia, but still be close enough to the capital city to explore & be centrally located to get to all the tourist hotspots on the weekends.

What to pack and what to not? Use this list to get prepared for multiple climates and activities without suitcases busting at the seams!

Located on the southern pacific coast, Manuel Antonio is a great spot for families hoping to catch some waves (or some zzz's on a white sand beach) and see lots of wildlife exploring the most visited national park in the country.

Quito, Ecuador – details coming soon!

Cuenca, Ecuador – details coming soon!

Otavalo, Ecuador – details coming soon!
The perfect Spanish immersion adventure and family vacation to Ecuador or Costa Rica!
Common Ground's Spanish immersion for families in Ecuador and Costa Rica provides a safe yet adventurous time learning Spanish and experiencing another culture.
In 2003 Rory & Leslie Foster (owners of Common Ground International) started running Spanish Immersion Programs for professionals and students, and as they had themselves a growing family, they began learning all the tricks of the trade to traveling to Latin America with their children.
After nearly two decades of travel to Latin America with our children, we have put together the trip that's perfect for the family that wants to weave Spanish immersion into their vacation or travel plans!
[pullquote]
Family Immersion Trip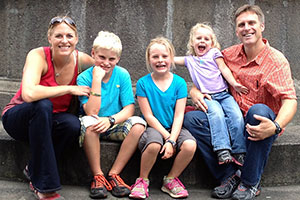 We're a family-run business and we've been traveling with our children to Latin America since the day they were born. Our contacts, the towns we work in, local volunteer opportunities, and all the places we've traveled to, provide amazing Spanish immersion for families!
– Rory & Leslie Foster, Owners of Common Ground International[/pullquote]
How does Common Ground's Spanish Immersion for Families Program work?
The beauty of this program for individual families is that it's completely flexible – we'll customize it to fit your needs. Basically, families that travel and study Spanish with Common Ground pick and choose from a menu of locations that offer different touristic activities alongside native Spanish instruction. The essential inclusions for a solid family Spanish immersion program are:
The ability to visit beautiful vacation spots in Ecuador and Costa Rica while learning Spanish as a family
Safe and fully-equipped lodging. As a unique family with unique needs, you need the option of staying with a host family (depending on the family size), renting a house, or standard hotel accommodations. Whatever best fits your family's needs!
Regular Spanish immersion classes for your family (length and frequency are customized to fit your needs)
Volunteer projects in Spanish (location specific, not available in all locations)
Your Spanish classes will take place Monday to Friday, and you will have time on the weekends to travel or spend with your host families. If you wish to stay in one specific location, there is always the option to visit the other available locations as optional excursions during a long weekend excursion!
When is this family immersion trip available for families?
Our programs are flexible, and we are available to make your trip possible any time of the year! Fill out the form below today and let us know which dates you are considering travel and other details about your plans. [pullquote]
What are the related costs and inclusions for the Family Spanish Immersion Program with Common Ground?
We work hard to keep the program affordable for families because we'd love to share Costa Rica and all it has to offer with you! We break down our costs to per person, per week, and our various locations have varying costs.
Make your family immersion deposit here: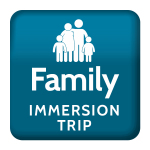 [/pullquote]
These weekly per person costs include:
A week of homestay with a local host family
Two meals per day (breakfast and dinner) with your host family
Spanish instruction by native, certified Spanish instructors (hours defined by the option you choose – 10 or 20 hours per week)
Travel medical insurance
These costs do not include:
Volunteer projects
Optional excursions or overnight, weekend excursions for your family
Transport
We suggest your family rent a car while in Costa Rica, as it is the most convenient way to get around. Volunteer projects, day & overnight trips vary greatly in cost depending on location, length, and guide needs. We'll work with you on a clear proposal for your Family Spanish Immersion program and work within your budget.
What does it take to reserve my family immersion trip so we can begin planning our Spanish immersion?
It takes a non-refundable lodging deposit to reserve your trip. The minimum deposit is $400 so that we can begin planning your Family Spanish Immersion Adventure.
All of our programs include basic travel medical insurance with trip interruption, delays, lost bags, etc. Here is the standard description of coverage for your included travel insurance plan.
If you you have any uncertainties about your upcoming adventure, it might be a good idea to consider a Cancel for Any Reason insurance policy.  We suggest you shop for it here:

How do we get more information and get started?
It's easy to get started – Explore the different locations available for your Immersion trip by clicking the buttons above, and fill out the following form to let us know what you're looking for so we can help you find your best options in Costa Rica! [activecampaign form=129]