Spanish for Educators Summer Immersion Program in Costa Rica!
Apply Today! Testimonials Host Families Optional Excursions Class Trips Download Flier
Whether you are a classroom teacher with a high percentage of Spanish speakers, a dual language immersion teacher or a middle school/high school Spanish teacher, our Spanish for teachers immersion program in Costa Rica is the best way to improve your Spanish over the summer!
Program Goal: The goal of the Spanish for Educators immersion program is to help you improve your Spanish skills and give you insight into education norms and standards in Central America. For many classroom teachers, Spanish has become an extremely helpful tool to connect with Spanish-only parents; and the ability to understand families on a cultural level is invaluable. Classroom teachers benefit immensely from the Spanish for teachers focus on this trip, which helps you gain the ability to connect with your LEP students and parents better.
Spanish teachers benefit as well! It's easy to get into a rut with your Spanish if you're teaching the same levels over and over every year. Spanish teachers know that every 3-5 years they should get abroad to immerse themselves in the language and polish their Spanish. Spanish teachers also attend Spanish classes while on immersion, and they can select either a general Spanish curriculum or focus on tips and techniques for teaching Spanish back home.
Continuing Education: Continuing Education credits are available for teachers who would like to apply for them. Depending on the state that you hold your teaching license in, there may be some paperwork to submit to your state Department of Education for Continuing Education credit approval. Contact us as early in the academic year as possible to make sure that we can ensure your Spanish for Teachers immersion program is fully accredited in your state!

Watch this video to learn more!
Spanish for Teachers Immersion Trip: It's not all work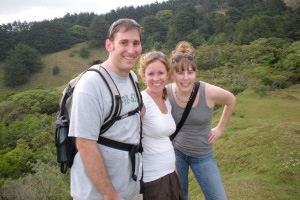 My coming here was more than a journey for professional development; it was a journey of self-discovery, reflection, and acceptance. It's incredible how life is. I am leaving here as a different person because of my experience here, despite the short length of my stay. I learned a lot about myself, as well as a lot of "tips" I need to take with me to the classroom next year.

If you are looking for a wonderful place to visit for language immersion, find common ground, and reflect on your life, come to Costa Rica with Common Ground International. I had great teachers who were welcoming, patient and willing to take you where you needed to go in your understanding of Spanish and Costa Rican culture. Living with a host family is one of the best ways to practice what you are learning or reinforcing. The key to having a successful relationship with them, in my opinion, is to be willing to test your skills, interact with them, and talk to them. Without doing those things, you may have trouble acclimating yourself. Once you have created that bond, you forget that you are not home. Everything starts to feel more natural.




Lodging:

Stay with a Costa Rican host family! This Spanish for educators immersion program is set in a small town of about 4,000. It is a residential community, not a tourist attraction – so there are no hotels in town! Your host family will take care of all of your basic needs: provide you with a private bedroom, share breakfast and dinner with you, and wash your clothes as often as needed. We place you with a host family intentionally to complete the 24/7 immersion aspect of the program. Of course, you probably won't be focusing on Spanish for teachers too much while with your host family, but your general Spanish conversational skills will sharpen quickly!

Spanish for Teachers Immersion Classes: Spanish immersion classes are a central part of this Spanish for Teachers immersion program. Spanish classes are held four hours a day, Monday – Friday. You will take a Spanish placement test upon arrival to ensure that you're working on exactly the grammar topics and vocabulary themes that you need most. As noted above, "Spanish for teachers" can mean a couple of things: Spanish for classroom teachers or Spanish for Spanish teachers. During the pre-travel period, you will define for us which type of Spanish immersion you'd like your classes to focus on.
Our Spanish for classroom teachers curriculum revolves around classroom management and parent conversations in Spanish.
Our Spanish for Spanish teachers curriculum could focus on simply refining higher level communicative proficiency in Spanish, and/or it can include a focus on tips and techniques for teaching Spanish back home.
Community Service opportunities: Our community engagement projects give you the opportunity to practice and improve your Spanish in an educational setting and a real life context. Not only will the community service activities help meet the needs of the under-served in Costa Rica, but they also require teachers to be using Spanish in a practical context to meet certain objectives. This is an important piece to your language development and improving your Spanish. We generally volunteer between 9 and 12 hours per week.
Program Dates, Length & Cost
Learning Spanish well is not a quick endeavor. If you truly want to make progress on your Spanish skills, we suggest a minimum program length of two weeks.
For summer 2016 Spanish immersion dates, we have programs running from June 4, 2016 – with a final ending date of Saturday, August 13, 2016. Our programs run from Saturday to Saturday, and you have the option to choose the duration of your program, from a 2-week program to a 6-week program.
The last start dates for our Summer 2016 programs are as follows:
The last start date for a 6-week program is Saturday July 2, 2016
The last start date for a 5-week program is Saturday July 9, 2016
The last start date for a 4-week program is Saturday July 16, 2016
The last start date for a 3-week program is Saturday July 23, 2016
The last start date for a 2-week program is Saturday July 30, 2016
Discounts apply for groups and individuals on Spanish immersion for 3+ weeks!
Complete the form below to see the Spanish for Teachers immersion costs and inclusions
Great Spanish Resources for Teachers