The leading Medical Spanish resource for the healthcare community is Common Ground International! Since 2001 we've been providing Spanish training and language services that help Spanish-only patients connect with their healthcare providers, understand their conditions and treatment options, and receive better quality care because the medical team they're working with can speak their language.

A few of our valued products and services:
FREE Medical Terminology and Learning Tools: Every month we publish a new free download or sample lesson so that you can study Spanish for healthcare on your own. A lot of the emphasis is on proper vocabulary with these learning tools, but we also touch on useful and high frequency grammar activities for your use with Spanish-only patients. Check it out when you have a minute!
Medical Spanish Blog: We write articles and language tips to help you navigate the responsible use of Spanish with your patients. Many of the blog posts take the form of language tidbits that are frequently asked questions and common mistakes that students make in our Spanish for healthcare classes.
Medical Spanish Books: The best books and study resources for anyone in healthcare looking to learn Spanish. We have curated a list of resources that we approve of, and believe are useful to you as you endeavor to learn more Spanish for your clinical work with patients.
Medical Spanish Certification: A new certification for the healthcare industry is coming soon. This bilingual certification for healthcare is sure to reduce costs an improve the quality of care that Spanish-only patients receive. This is an advanced level certification that blends Spanish linguistic competency with cultural savvy and the ability to do your clinical job in Spanish. This is a certification for clinical staff, not administrative staff.
Medical Spanish Classes (Face to Face): Beginning 1 – Advanced level courses offered 4 times a year in the Denver, CO area. We generally start classes in the months of September, January, April, & July. Each of these Spanish for healthcare courses are focused on teaching you essential clinical vocabulary at your current grammar level. Our goal isn't that you would speak perfectly – we just want you to use Spanish responsibly in everyday medical and clinical settings.
Medical Spanish Classes (online): Live-taught and pre-packaged online courses are currently under development. We'll be posting sample lessons on our free learning tools page as they become available. Stay tuned!
Medical Spanish Forum: Here is where you can get all your Spanish for healthcare questions answered by professional instructors. You don't need to be member of the Common Ground site, nor a current student. This is a free resource that we're happy to contribute our expertise to. Interact with us – we're waiting for a chance to help you!
Medical Spanish Immersion Trips: Open to medical professionals of all Spanish levels. We help you gain proficiency in Spanish while you give back to local communities in need. Immersion trips currently run 2 times a year in Central America (Nicaragua & Costa Rica): February-March and June-July. These are not clinically focused medical missions. Our focus is on language proficiency development while we deliver community and public health outreach to local communities in need.
University Elective Courses: Turnkey courses for universities and healthcare programs wanting to integrate Spanish for healthcare into their curriculum. These courses can be credit bearing or non credit bearing, pass/fail or graded courses. All of our faculty have graduate degrees in Spanish or a related healthcare field, and are more than equipped to become an integral component of your faculty.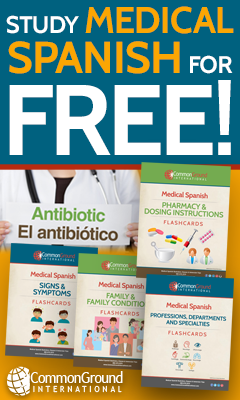 Medical Spanish Interpreter Training: Interpreter training intentionally designed to build industry vocabulary, practice accurate and consistent language conversion, and embody the professional standards of practice and code of ethics for interpreting in healthcare. Many bilingual and highly proficient medical staff are already interpreting in hospital and clinical settings. The goal of this training is to help you (or your staff) interpret more accurately and make sure that all interpretations are aligned with the national standards and ethics for interpreting in healthcare.
Medical Spanish Placement Test: The perfect way to find out which course is best suited for your current Spanish level. This is an online placement test that assesses your knowledge of Spanish in everyday healthcare contexts (not necessarily your ability to speak), and your ability to express yourself in writing. We will the place you in the most appropriate Spanish for healthcare class that helps you learn at your level.