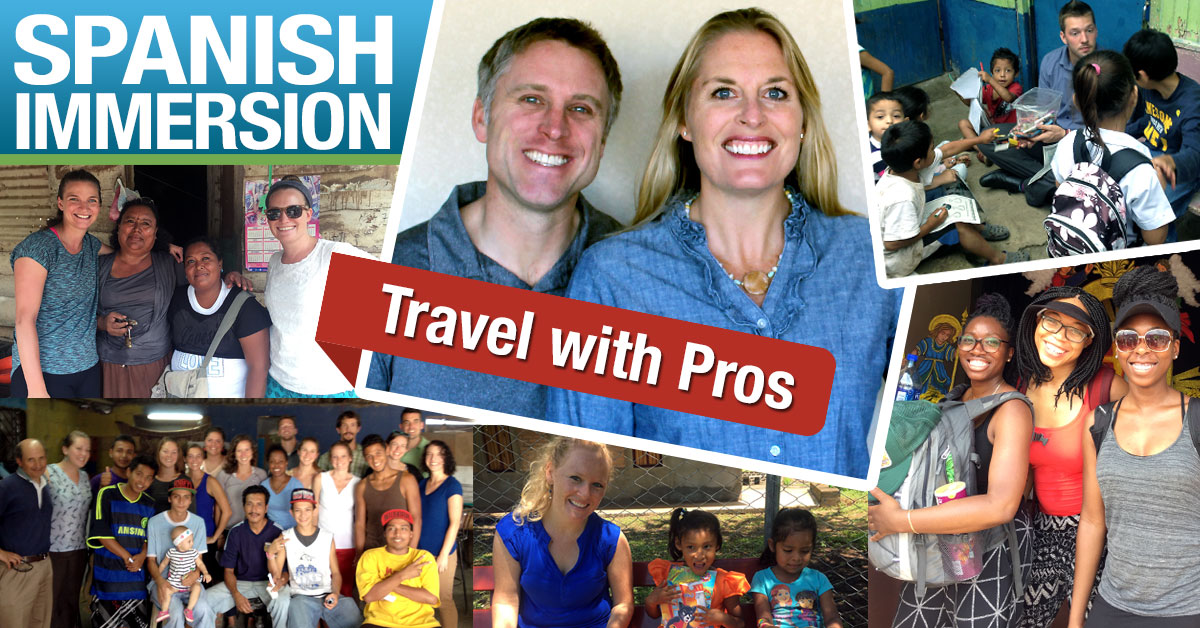 Here are the costs for Medical Spanish Immersion programs.
Ecuador Program
1-wk in Ecuador: $1,725
2-wk in Ecuador: $2,799
Ecuador / Costa Rica Combo Program
2-wk Combo: $3,197
3-wk Combo: $4,097*
4-wk Combo: $5,050*
5-wk EC & CR: $5,975*
6-wk EC & CR: $6,875*
Costa Rica Program
1 wk in CR: $1,725
2-wk in CR: $2,799
3-wk in CR: $3,750*
4-wk in CR: $4,675*
5-wk in CR: $5,675*
6-wk in CR: $6,589*
CME credit for providers and CE credit for nurses are billed separately at a cost of $10/credit. Student rates not combinable with special offers and other promotions
This program fills on a first come, first served basis. If you decide you need to change your travel dates, no problem. Your deposit is 100% transferrable!
If you need a few days to coordinate your schedule… Reserve your spot for 30 days
There's no obligation, just give yourself some pressure-free time to make a decision!
Student Rates apply to 3 week and longer programs for Healthcare degree program students in any phase of training. Email Rory Foster for details on discounted student rates.
This is an investment in yourself and your ability to connect with your Spanish speaking patients. Join us today!
There is no better way to improve your medical Spanish
What is included in the trip cost?
Intentional integration of Spanish language learning into every aspect of the program (CGI teacher/leader with you all the time to capitalize on those "teachable moments")

Breakfast and dinner with host family

Transportation to most volunteer work sites. We may take a public bus, taxi or uber here and there)

Appropriate medical supervision (Onsite preceptors for students on rotation & MD supervision for professionals)

Spanish classes and related materials

Hospital Tours

International rotation paperwork and final evaluations

Guest Lectures
What else should you budget for?
Flights & Baggage fees

Exploring the country on optional weekend excursions (We'll offer some group excursions. You can also choose to DIY weekend travel

Required & Recommended Immunizations

CME & CE credits ($10/credit)

Lunches ($7-$10 on average)

Souvenirs and day to day personal expenses

Donations for charitable work and gratuities for tour guides & drivers on weekends
If you have any uncertainties about your upcoming adventure, it might be a good idea to use extra protection ? .
If you're looking for a Cancel for Any Reason policy, we suggest you shop for it here at travelinsurance.com
Cancel for any reason insurance covers personal things like scheduling conflicts and those crazy things that rarely happen – like global pandemics.
All of our programs include basic travel medical insurance with trip interruption, delays, lost bags, etc. Here is the standard description of coverage for your included travel insurance plan.
If you would like to schedule a time to speak with me about this program and how it may (or may not) meet your needs, I'll be glad to have that call and help you figure it out! Here is how you can reach me: (303) 684-5557 | Email Rory
Ready to join us?
Register today!
Need more time to think it through?
Reserve your spot for 30 days
There's no obligation, just give yourself some pressure-free time to make a decision!
Here is what people think of our Medical Spanish Immersion Trip:
Medical Spanish Immersion Trip
Reviews
Rating: 5 out of 5
This is a well supported Spanish language course, better than a prior one I've done. For those serious about trying to improve Spanish quickly, I would recommend the 1-on-1 lessons to maximize your speaking.
-

David Hubbard
Rating: 5 out of 5
Very happy and grateful for the 3 wk program in Costa Rica with volunteering and language immersion. As you can read in many others' feedback, you can understand what a unique experience it is. Can't agree more that Rory and Leslie go above and beyond for us! Would love to go back to the program in the future.
-

Elaine Fan
Rating: 5 out of 5
Very well organized immersion program. It was busy, which meant it was full of helpful learning and fun exploration. It was a fun and cohesive group as well. Would strongly recommend to others, and hope to come back myself!
-

Jon
Rating: 5 out of 5
I would recommend Common Grounds immersion trips to people at any level of Spanish. Even with an advanced level of the language, I gained so much from the classes and experiences on this trip. Rory and Leslie are genuine, upbeat, and very accommodating. The host families are lovely. If you're thinking about it...just do it!
-

Megan Riederer
Rating: 5 out of 5
I participated in the medical Spanish immersion program in Costa Rica for 3 weeks between my first and second year of medical school and cannot recommend the program enough!! It was the perfect amount of adventure, coursework, learning, and flexibility to get exactly what I had hoped for the summer. I feel so much more confident after the experience and will definitely participate again!
-

Sonja K
Rating: 5 out of 5
I would highly recommend CGI to anyone considering doing a Spanish immersion trip. I took part in the two week program in Costa Rica. I was SO impressed with the organization and coordination of such a big group up students with various focuses (medical, teachers, pharmacy, general etc). Two of my kids were part of the high school immersion program that ran concurrently to my classes. We all had an unforgettable experience! My only regret is that we didn't stay for three or four weeks!
-

Natasha
Rating: 5 out of 5
This trip was exceptional from beginning to end. Seamless in coordination with every day being clearly organized, which I deeply appreciated as someone who has never studied abroad before. Moreover, the team was friendly, supportive and created a genuinely fun environment for everyone there. The Spanish teachers at the collaborating school, Lapa Verde in Costa Rica, were also invested in our progress as students. I recommend CGI to anyone who is looking to learn Spanish through immersion while exploring another country!!
-

Victor H.
Rating: 5 out of 5
I would recommend this program to anyone who wants to improve their Spanish speaking skills. I feel so lucky to have had the opportunity to participate with CGI. This program had everything I was looking for: Medical Spanish terminology, practice with native speakers, volunteering and exploring the beautiful nature. Immersion experiences are difficult but CGI, the host families and Lapa Verde (the Spanish language school) does a great job at helping people feel comfortable at every level of Spanish.
-

Jax Short
Rating: 5 out of 5
Wonderful experience in Ecuador. Leslie and Rory did an exceptional job with organization and problem solving when issues arose. They are both very positive and caring, which helped keep us together and motivated. Preparation for the trip was thorough and helpful. The language school was excellent and our community projects were meaningful, challenging, and rewarding. I highly recommend this program.
-

Lucy
Rating: 5 out of 5
I am writing this review some few months after my return of having some of the best three weeks of learning experience that I've ever had. I am a nurse and I traveled to Costa Rica for a 3 week medical Spanish immersion with CGI in January -February 2023. Rory and Leslie, founders of CGI, Are the most amazing wonderful people whom have a true passion for individuals learning or improving their Spanish. CGI/Lapa Verde school located in the heart of Santa Domingo, Heredia- providing a great opportunity for culture and language experience. Rory, Leslie and the teaching staff were patient, their kind, their wealth of information, and most of all the people of the school who have respect for them. My host family were perfect for me. The side excursions that they offered were extremely fun and great break from the immersive learning in classroom. Though much Spanish practices! If I were to do it all over again, I wouldn't change a thing. I'm so happy that I went and I still talk about it to this day. The learning in Spanish has helped me tremendously my profession. One key thing that people must remember is that they have to be consistent and practice. As with anything worthy of your money and your time you only get out what you put in. It is my high recommendation that you try CGI immersion in Costa Rica.
-

Rosalyn Borunda
Rating: 5 out of 5
I had a wonderful experience on my recent immersion trip to Costa Rica. I significantly improved my facility with understanding and speaking Spanish with greater ease. Wonderful cultural experience as well. Highly recommend
-

Mary
Rating: 5 out of 5
Terrific experience. One of the best ways to spend 4th year of medical school. The teachers were fun, engaging, and really emphasized speaking over just book learning. I went from only doing Duolingo for ~100 days prior to leaving (never took Spanish prior) to being able to communicate comfortably with my host family (with the occasional 'como se dice…'). My host family could not have been more lovely. 5/5 stars
-

Evan Lester
Rating: 5 out of 5
I had an AMAZING time in Costa Rica with Common Grounds International. I am the type of person that gets homesick easily but I actually wanted to stay longer. Rory, Leslie and my host family were so welcoming and truly made me feel at home. I learned a lot and loved how everything was organized for me prior to my arrival. I will 100% be going back again!
-

Meghan Benson
Rating: 5 out of 5
Rating: 5 out of 5
This program is fantastic. I have some experience at teaching Spanish at a university level and the common ground crew has nailed it. The hard truth of learning a language is that it's going to be uncomfortable at times because you're gonna be frustrated with words and situations that you're not familiar with, but the infrastructure that this crew has is very well founded and was very effective in helping me reach my goals. The staff at Lapa Verde seemed to work seamlessly with the common ground crew, and they have a very good program established. I would recommend this to anyone who has the ability and the mindset to devote some time for serious, in-depth immersion training in the Spanish language. I had a great experience and would recommend this to anyone.
-

Jedidiah Petersen
Rating: 5 out of 5
I just finished a 2 week stint with Medical Immersion winter 2023 in Santo Domingo Heredia, Costa Rica, a suburb of San Jose. The classes were through a local school, Lapa Verde. The teachers were excellent and I learned very much and most importantly I spoke and practiced a ton, just what I needed. I'm probably a high intermediate student. For those at a very beginning level, this kind of trip for medical immersion can be a bit harder. But the Lapa Verde and CGI were very supportive for those folks. The side excursions during the week were interesting and enjoyable. The weekend trips also were well prepped and very enjoyable. I did my first ever zip line in La Fontana! The weekend trips were to busy touristy areas, but with our group and the prep by CGI, still very good. My host family was the best. We hit it off very well right away. They were very supportive, friendly, and fun. Talking with them was a great addition to my learning process, not only with the language but with the culture. I will definitely request them in the future; we are friends and will keep in touch. I was lucky there; others not quite as much but CGI did a great job working with those folks to make things go well.
-

Rick Schoen
Rating: 5 out of 5
I did one week of Spanish immersion in Costa Rica and was not even close to wanting to go home at the end of the week. This is huge for me since I am a "homebody" and usually want to go home after a week away. The Spanish immersion course allows you to make significant gains in a little amount of time. I came home with more confidence in my language skills in speaking with my patients. The course itself is a perfect mix of classroom, other activities and many opportunities to speak with others in Spanish.
-

Jackie
Rating: 5 out of 5
I spent 4 weeks in Costa Rica with CGI this summer and it was a worthwhile experience. I went with the goal of taking that "next step" in language learning, which for me was immersion. It's apparent that the Fosters and Co have spent many years getting this program top-notch. From the host family experiences, Lapa Verde the language school, excursions, to the activities for the Medical program. We had the opportunity to create public health projects over themes the community was interested in. As an ER nurse, patient education is super important and I loved the opportunity to develop my Spanish in this way. I wish I could have stayed even longer and had more opportunities to get involved with the healthcare system in CR. If you're nervous because you don't know any Spanish I'd say come! You will be surprised with how much you are able to do and learn if you're ready to put in the work. The teachers in the school are passionate and are there to help us learn while having fun. 10/10 experience. I hope to participate again sometime.
-

Gabrielle Innocent
Rating: 5 out of 5
This program was awesome! I've never had an experience like this. Not only did my Spanish improve, but I made a lot of really great friends along the way. It was great seeing the progression from everyone as well. As long as you sacar el jugo you will improve! I was part of the Ecuador trip where things didn't really go as planned, but Leslie and Rory did a great job with everything. They were working around the clock to make sure we got out safely and it showed. I still had an amazing experience, would definitely recommend.
-

Juan Hernandez
Rating: 5 out of 5
Learned a ton of Spanish (mostly conversational, also medical, but they're equally important when working with patients). Rory and Leslie were great - responsive, thoughtful, thorough, and fun. Went for two weeks - one week definitely would not have been enough for me, and honestly, I wish I'd been able to stay longer than two. 10/10 would recommend, as the kids say.
-

A. Yasemin Goksenin
Rating: 5 out of 5
I went to Ecuador this June for one week and I love everything about it - I just wish I could have stayed longer! Rory and Leslie are great leaders, things were very well planned out. The host family was a great experience - allowing even more time to practice Spanish and the classes were great. I would recommend this group to anyone that has an interest in improving their Spanish. Hopefully will get to go again next year.
-

Sissy Woodard
Rating: 5 out of 5
Very fun trip, and great professors. I got a chance to explore Ecuador and Costa Rica while soaking in a lot of valuable Medical Spanish! My host family was also great! Highly recommend to those interested in learning Spanish in a culturally-inclusive and immersive way!
-

Gina
Rating: 5 out of 5
I highly recommend CGI. It was an excellent experience. The classes were fun and challenging. I learned alot of spanish, met me friends, learned about the communities, and ate lots of excellent foods! I will go again in the future.
-

Miranda Jackson
Rating: 5 out of 5
I attended a week in Costa Rica in June 2022. It definitely surpassed my expectations. I am a nurse, and my Spanish class had four students: two nurses and two doctors. They assigned us to classes based on a placement test, and it was really accurate, because we were all at a very similar level. I had so much fun getting to know all the students! Santo Domingo is a very nice town, easily walkable, and I also Ubered to local towns to explore. My Spanish improved drastically over the course of one week-- I can't imagine how I'd be speaking if I had spent several weeks in the program! I highly recommend this program to anyone who wants to improve their Spanish while exploring a beautiful and welcoming country.
-

heather taylor
Rating: 5 out of 5
I was able to go to Costa Rica for two weeks as part of the Winter 2022 Immersion trip with Common Ground, and it was such an amazing experience! I keep talking about this trip with my coworkers, family, and friends, and I definitely would recommend it to anyone interested in immersion. I got to go on the trip with one of my best friends, who is also a fellow coworker at the hospital where I work. We were able to stay with the same host family too, which Common Ground helped make happen for us. I loved being able to stay with a host family, and I truly felt like part of their family. I also felt like I was part of a family with Common Ground while I was there. Rory and Leslie Foster are amazing at keeping everything organized, so patient and eager to answer any question, and very clearly passionate about Spanish and caring for every single person that goes with them on a trip. The program allowed us to learn Spanish while also giving us opportunities to learn about medicine in Costa Rica, give back to the community, and form community. While there, we were able to work with a local organization called CEDCAS to do short talks on a variety of topics related to the medical field with parents in the community. It was such a tremendous gift and honor to be invited to talk and work with a local health care organization, and they had such amazing patience and grace for us as we tried our best to present in Spanish. We also had excellent Spanish classes that were small in size, which was so helpful in allowing for time to ask questions and practice talking more. I loved our wonderful teachers and the classes! My Spanish grew immensely while on the trip, and it was so helpful that we tried to speak in Spanish with each other even when not in class to really experience immersion. We also had the opportunity to see the beautiful country of Costa Rica while there including Manuel Antonio National Park. This park had so many animals along with breathtaking views of the ocean and jungle. It was truly a blessing to see it and to spend time together with everyone who joined for that experience within the Common Ground group. I cannot say thank you enough to everyone at Common Ground, our host families, teachers, my fellow immersion classmates, and everyone who supported and cared for us throughout the trip. It was a spectacular experience, and I hope that anyone thinking about immersion chooses to travel with Common Ground!
-

Elora Anderson
Rating: 5 out of 5
I went on an immersion trip with CGI in Winter 2022 to Costa Rica. To say it was incredible was an understatement! I had a wonderful time. All my fellow travelers were amazing, Rory and Leslie and their team with CGI was incredible, and the teachers/staff at Lapa Verde were so welcoming and helpful with every aspect of our classes. I really felt like my progress with listening comprehension and speaking ability in Spanish improved during my time with the group. If you are thinking about going on a trip with them, just do it, you won't regret it! I really hope to participate again in the future!
-

Kelsey Gober
Rating: 5 out of 5
My trip to Costa Rica in July 2021 was awesome. I learned so much and had a bunch of fun. There was a lot of attention to detail that was much appreciated. The host family I stayed with was so welcoming and made me feel right at home. I'm not used to staying in other people's homes but this was very comfortable. The trip to Tortuguero was wonderful and seeing a sloth in it's natural environment but up close and personal was so gratifying. There were carefully thought out plans for dealing with the difficulties of covid. I felt like safety was paramount and felt at least as safe in Costa Rica as I do at home because mask wearing was so universal there. My only regret was that I could not stay longer! I had a wonderful time and feel like it was a totally worthwhile investment of my time and my money. I hope to go back in the spring for a second dose of immersion therapy. 🙂
-

Cheryl Gilbert
Rating: 5 out of 5
I'm so glad I went on the medical Spanish immersion trip to Costa Rica. I was a true beginner and got a great jump start on my Spanish. Rory and Leslie plan everything with care and really made the travel and learning experience feel safe.
-

Kameren Owens
Rating: 5 out of 5
The Medical Spanish Immersion program in Costa Rica was very well organized and was perfect in almost every way. I went only for a week and a half but learned a lot in my class and from practicing with the other awesome people in our group. The excursions were very affordable and so much fun! Rory and Leslie are very personable, positive, and made the experience very comfortable and rewarding. I am so happy that I got to have this experience and highly recommend it to anyone looking to be immersed in the Costa Rican culture and further their Spanish!
-

Tiffani Dorn
Rating: 5 out of 5
Great experience! Costa Rican host family was wonderful and I really learned a lot in a short period of time. Would definitely go back and would stay longer; 1 week is not enough. Very well organized and Rory and Leslie are great to work with. My teacher at the language school was very enthusiastic, knowledgeable, and fun to work with.
-

Stewart Tatem
Rating: 5 out of 5
Awesome trip, highly recommend to anyone who wants to improve their Spanish!
-

Talia Scott
Rating: 5 out of 5
This was an amazing trip for me and one I would highly recommend for those people who are interested in learning Spanish. This program was well organized and fun. If you have been thinking about a program such as this, choose this one!
-

Dwyn
Rating: 5 out of 5
This was an incredible experience and I can't recommend it highly enough. I did the medical program and had so many opportunities to work with local communities, my Spanish class was focused on what my classmates and I needed to know and the school the classes are in is a new home. Rory and Leslie are ethical about the work that they do and really care about each person on the trip. If you're thinking about an immersion trip, this one is excellent.
-

Catalyst Twomey
Rating: 5 out of 5
I had a fantastic time on my immersion trip. My host family was incredible, the daily classes were effective and the immersion environment was exactly what I was looking for. I couldn't recommend this program enough.
-

Helen Murphy
Rating: 5 out of 5
Cannot speak highly enough of this program! If you want to be surrounded by a group of people who are all very eager to learn Spanish, stay with an amazing host family who will treat you like one of their own, and have the support and guidance of phenomenal and caring group leaders, this program is for you! Every day is carefully curated for you to have the best learning experience possible. I had only one other person in my Spanish class and we covered a LOT in just a 3-week period. The weekend excursions are designed for you to continue learning, as well as experience the culture and landscape of Costa Rica. Language immersion is challenging and exhausting, and I cannot imagine a better program to provide the support, encouragement, and great opportunities that made my 3 weeks a trip I will never forget and a jump start on my Spanish learning that I could never get from classes alone.
-

Jessy Perz
Rating: 5 out of 5
One of the best experiences I have ever had. I was so nervous to fly to a new country, live with a family I knew nothing about and commit to a program with hopes of improving my Spanish. CGI went above and beyond. My host family was amazing, Leslie and Rory are wonderful people and program coordinators, and Lapa Verde is an awesome language school. Only 4 people in my Spanish classes and the classes are specifically tailored to your goals. I now feel more confident in my Spanish Conversation skills and I advanced farther than I have in any other language courses. I highly recommend the CGI Medical Immersion and I hope to do this again in the future!
-

Haleigh Borneman
Rating: 5 out of 5
Really well organized program! Rory and Leslie do everything they can to make sure everyone has a fantastic experience. Classes and volunteer experiences were great-definitely learned a lot! Very fun trip!
-

Carleen
Rating: 5 out of 5
I spend two weeks in Costa Rica with Common Ground International and had the most incredible experience! The Fosters have the kindest family and make sure everyone is experiencing the best trip possible. My comfort speaking Spanish grew immensely even in just the two weeks. I cannot wait to return to Costa Rica to explore the country more, practice my Spanish, and visit my homestay family!
-

Megan Foy
Rating: 5 out of 5
Experience of a lifetime. Some of the highlights included outstanding tutoring sessions individualized to learning level, visits to health care facilities and interactions with Costa Rican health care workers, visits to CEDCAS community and community health center to teach and interact with local volunteers, excursions to Sibu Chocolate, Manuel Antonio and La Fortuna, cooking classes and interactions with host family. Leslie and Rory are great people and excellent program leaders! Don't miss this incredible opportunity!
-

LEE.DRESANG
Rating: 5 out of 5
A great experience for learning Spanish as well as broadening your perceptions of other cultures--at any age.
-

Caryn Clark
Rating: 5 out of 5
What a great program! The immersion experience allowed for rapid learning and increased comprehension. I loved the home visits with CR community health workers and living with my host family. It was a great balance of classroom learning and community experience. What an adventure and super helpful to my clinical work!
-

cindy.anthis
Rating: 5 out of 5
Yesterday was my first day in clinic after the Common Ground immersion program and the results were clear: better understanding the clients and better ability to speak with them. This was great combination of vacation and learning with an impressive group of teachers and participants from the USA and from Costa Rica.
-

Mark W Morris
Rating: 5 out of 5
Yesterday was my first day in clinic after the Common Ground immersion program and the results were apparent from the very start. Both understanding the clients and speaking with them was much improved. It was very satisfying to see the progress! The best part , of course, was that the experience was also a really fun vacation as well. Very nice people to be with including the participants, the Costa Rican hosts and teachers and the US .directors
-

Mark W Morris
Rating: 5 out of 5
I was very nervous about this program, but also excited to have 2 weeks dedicated to learning Spanish. One of my biggest concerns was living with a host family that didn't speak English, but they turned out to be so sweet and supportive, and very helpful with my Spanish, and definitely a highlight of the trip. I also loved the Costa Rican food I got to experience every morning and evening with my host family. The teachers and classes were fun and I learned so much. The community work was also eye-opening and I am grateful for that experience. Everyone in Costa Rica was very patient and helpful when I spoke my limited Spanish, which helped my confidence in speaking really grow. The weekend excursions were fantastic. I would definitely recommend this Spanish Medical Immersion Program!
-

greggnwendy
Rating: 5 out of 5
This program is an excellent method to improve your Spanish whether your are a beginner with only basic knowledge or more advanced. By the end of my 2 weeks I felt considerably more confident in my Spanish. Learning through immersion - staying with a host family, the volunteer work and even the weekend excursions assisted and reinforced the classroom learning. The classes were fun and informative tailored to the individual needs within the class. The staff at CGI couldn't have been more helpful. I enjoyed my time in Costa Rica and am only sorry I didn't plan for a 3rd week. I would definitely recommend this program
-

Michelle
Rating: 5 out of 5
My time in Costa Rica was one of the best experiences of my life. I participated in the 3 week medical immersion program. The incredible people I met, my host family, Rory's energy and his team's helpfulness...all SO amazing!!! The morning are filled with community time and the evenings are for class. The weekend excursions were a blast and Rory has them masterfully planned to see and do the very best things to maximize your time there. During this trip, I was able to challenge myself and step outside of my comfort zone while having fun, and improving my language skills. It was such an amazing way to improve my Spanish to better connect with my patients and community. If you are looking for a way to study, have fun, meet new people, explore, give back, and experience TOTAL adventure...Spanish immersion with CGI is it!
-

Chelsea C.
Rating: 5 out of 5
The Spanish Medical immersion trip with Common Ground is easily one of the best experiences I have had. I loved every aspect of it from the host families to Spanish classes to health related activities. It is incredibly well run and Rory's enthusiasm provides the perfect environment. Days are well balanced with classes in the afternoon and health/community activities in the morning. Weekend trips were excellent and clearly had been refined to give us the best experience in each place. My Spanish clearly improved at a rate that would not have been possible without the full immersion experience. I hope I will be able to return in the future.
-

Kelsey S.
Rating: 5 out of 5
2019 Winter Spanish Immersion trip was superb. I met my goal of this trip more than I expected. The program was very well organized and also very individualized for the purpose of each student. I really appreciated that Rory accommodated my needs not only with the classes but also with the weekend trip. I liked everything about the program. I would like to join this trip another time.
-

Hwa
Rating: 5 out of 5
If you wondering if this program is right for you-I can assure you that is definitely is! This program is designed for beginners, intermediate, and advanced learners. Before I came, I had taken 2 classes at a Community College, but the focus was on writing and reading. Therefore, I had a decent vocabulary, but I wasn't able to speak in sentences. This program focuses on speaking, which is the most important piece in communication! I also realized it's okay and expected to make mistakes. After the program, I am much more comfortable using my Spanish and making mistakes. Without this program, I don't think I wouldn't been able to gain the confidence I needed to practice more. Plus Rory does a great job at making learning fun! I
-

Laura Johnston
Rating: 5 out of 5
I found CGI through a basic Google search for medical Spanish immersion programs offering CEUs. I took a leap of faith and will never regret it. This program was exceptionally well tailored to the medical professional wanting to learn Spanish with any level of prior knowledge. Folks in the general program also looked like they had a blast learning! As someone with an intermediate level before the course, I was able to advance my command of the language to a functionally communicative level by the end of my two weeks, but my confidence improved immeasurably. I loved the homestay aspect of the program and the gentle encouragement of the leadership to use Spanish to interact with other students in the program throughout our stay. The weekdays were well balanced with community activities in the morning and small-group Spanish classes each afternoon. The schedule was both varied and predictable, and the weekend excursions offered the right balance of respite and continued language practice! Not even half-way through the trip I knew I couldn't wait to share my experience with my colleagues and encourage them to attend.
-

kristinkjacobson
Rating: 5 out of 5
This is the first review I have ever written in any context, but the mission, program, and my experience with C.G.I. certainly deserve the time of a positive review. I would go on every immersion trip with C.G.I. if I could, and am already working on figuring out a way to go on another trip in the near future and bring some of my family with me. MY BACKGROUND: I completed 4 amazing weeks in Costa Rica with C.G.I on their Medical Spanish Immersion program immediately after graduating from school to become a Pediatric Nurse Practitioner. Prior to my immersion trip, my last formal Spanish class was over 15 years. At its best, my Spanish was a beginner-intermediate level (I made that level up just now), but I hadn't used any Spanish in at least 10 years. I was interested in the program, because I wanted to be able to connect better with my future Spanish speaking only patients and families. THE STAFF/PROGRAM: Rory, Leslie, and all the C.G.I. staff have clearly been perfecting their program over many years of experience, feedback, and collaboration. Everyone I interacted with through the program was supportive and non-judgemental and helped me to realize the only person who might be judging my level of Spanish was myself. The pre-departure course and the program staff prepare you and set you up to maximize your immersion experience by setting forth realistic expectations, common challenges with practical ways to address these obstacles, and continual, individualized support throughout the program. The variety of language immersion experiences through the program - volunteer projects with vulnerable populations, becoming part of a host family, language classes, weekend trips and interactions with other program participants - create an incredible opportunity for personal and professional growth that cannot be matched! WHO THIS PROGRAM IS FOR: I highly recommend this program to any student or health care professional who wants to improve their ability to communicate and connect with Spanish-speaking patients and families. Even if you don't interact with any Spanish speaking patients nor anticipate doing so in the future, I recommend this program for anyone seeking professional and/or personal growth.
-

Liz Allshouse
Rating: 5 out of 5
This 5 week immersion program in Costa Rica was amazing! Costa Rica is a beautiful place like no other. My host family was like my own family and really made me feel at home. The program is set up to help people succeed in learning Spanish. The Spanish classes really advanced my learning. Even if you don't know a lot of Spanish prior to this program, it will still effectively help facilitate your learning. I would do it another year if I had the time to. I would recommend this program to everyone if I could. Truly a once in a lifetime experience!
-

Ali
Rating: 5 out of 5
CGI is one of the most amazing programs I have worked with in my life. It gave me the opportunity to fully immerse myself in Spanish - from living with a host family to working with different organizations every week, I have learned so much, gained so much perspective, and mi español - estoy súper cómoda a hablar con cualquier persona / paciente ahora! What's more is the people who have created this program - Rory and Leslie are so helpful, responsive, in every way possible. If you have the time or opportunity to work with CGI & are having doubts... Doubt no more because you have found the right program to grow your Spanish with the most amazing people. 6/5 would recommend!!
-

Jennie Chang
Rating: 5 out of 5
I did the Medical Spanish Immersion trip this summer for two weeks and do not regret a thing! I did the trip even with very little experience with Spanish and feel like I was still able to have a great experience. I learned a lot of Spanish and about the culture in Costa Rica all while staying with a great host family who made me feel at home. The program overall was very organized and Rory and Leslie were very great and kind leaders! I would not have chosen any other program!
-

Hope Irwin
Rating: 5 out of 5
My 5 week pharmacy rotation in Costa Rica was an incredible experience. I loved my host family, Spanish classes at the language school, and the weekend excursions. The variety of medical activities provided an opportunity to learn about various aspects of the health system and to interact with many healthcare professionals and members of the community. I feel much more confident in my ability to communicate with Spanish-speaking patients as a result of this program, and would highly recommend it to everyone!
-

Kelsey Turner
Rating: 5 out of 5
If I could, I would do the CGI program twice a year. It is complete immersion in a very welcoming, non-intimidating environment - thanks to Rory and Leslie and Lapa Verde (the school) where the program is based. My Spanish class had the perfect number of people (3-4) to really enhance the learning experience... and my Spanish teacher made learning so applicable and fun. I literally looked forward to going to class every day and didn't want to miss it even when I wasn't feeling well. The community service activities are meaningful and done in a socially responsible and conscious way. I left feeling much more confident in my Spanish and a great foundation to build off of.
-

Janie Pak
Rating: 5 out of 5
Going to echo many sentiments - CGI is a highly polished experience that Rory and Leslie have perfected over their 20 years going to Costa Rica. There is really no better way to learn Spanish than the educational volunteerism in the mornings and afternoons packed full of Spanish class (not to mention sightseeing every weekend that is built into the schedule). I've never left a "vacation" feeling so accomplished, and it was quite affordable as well. ¡Gracias Rory y Leslie!
-

cmillhouse
Rating: 5 out of 5
So sad my immersion trip is over! I just got home from my 6-week Medical Spanish Immersion trip with Common Ground. I spent 2 weeks in Nicaragua and 4 weeks in Costa Rica. And it was ABSOLUTELY amazing!!!! I would 100% recommend Common Ground to everyone and am ready to sign up for everything possible with them. Prior to this immersion trip, I studied Spanish in high school and then have done one medical Spanish class (also through Common Ground) 3 years ago. I previously could have a very basic Spanish conversation and could stumble my way through an easy clinic visit in Spanish. I would love to be fluent someday but also want to improve my Spanish as many of my patients speak Spanish. I chose Common Ground for many reasons. The first being that they have all the logistics and planning done for you... (I am not a planner nor have time to plan 2 months away while working full-time in clinic!) They had every detail planned to a T and held pre-immersion Skype conference calls to prepare us. Leslie and Rory are so knowledgeable about the two locations in CR and NR and know the best places/things to do. Also the weekend excursions to Ometepe and Manual Antonio were fabulous. Great little get-aways and gorgeous places! Secondly, I was also very interested in the organizations they work with in both NR and CR. I like that we didn't actually do clinical practice but had community public health talks instead. The public health outreach work was both fun and meaningful, for both our group but also the locals who we were interacting with. Every organization they picked was inspiring. My short experiences doing the outreach work in two of the most poverty-stricken neighborhoods in CR and NR really opened up my eyes and definitely has put some things into perspective for me. Next, I knew home stays would really improve my spanish, and it absolutely did. While I was nervous and a little uncomfortable thinking about staying with the same family for 4 weeks in Costa Rica, it ended up being one of the highlights of my experience. Both my family and I cried when I had to leave! Leslie and Rory are a great team. They are down-to-earth people and everyone in our group loved them both. They are great leaders and were supportive and encouraging. Both of them encouraged us all to speak Spanish to each other the entire time and provided a comfortable and open environment to practice (and mess up) speaking! Also they are very fun people and we were all constantly laughing. The immersion trips are absolutely worth it. I was a little hesitant about the cost before I signed up, but I think it was definitely worth this once-in-a-lifetime experience! I think to have everything planned, home-stays, 20 hours of Spanish class/week, and Rory or Leslie on site, the cost was worth it. My Spanish and confidence in speaking has improved tremendously. I've already seen the difference with my Spanish-speaking patients in during this past week of being back at work. The immersion trip was an excellent jump-start for my Spanish and I'm excited to continue learning and practicing!
-

emhutson1
Rating: 5 out of 5
I am so happy I chose to do a medical immersion trip with CGI. I spent 2 weeks in Nicaragua and 1 week in Costa Rica, and at the end, I wished I would have been able to stay longer. Everything was incredible - the staff, professors, host families, students, non-profit organizations, and especially Leslie and Rory. They are so supportive and make you feel comfortable no matter what your level of Spanish. I had such a wonderful experience and hope to do another program with them in the future. I would definitely recommend it!
-

Bri W.
Rating: 5 out of 5
My experience with CGI was better than I could have imagined. I did 2 weeks in Nicaragua and 2 weeks in Costa Rica and didn't want my time to be over. I feel much more comfortable speaking Spanish and feel like my Spanish definitely improved during this time not only because we got 20 hours of classroom time a week and lived with a host family, but Rory and Leslie do an incredible job of creating a non pretentious and fun learning environment. The program was extremely well organized, but any challenges that arose were no problem for Rory and Leslie who are super leaders and always find a solution. You truly cannot find more supportive, fun and genuine leaders out there. They are experts! They have partnered with some really neat organizations in NI and CR that aim to provide sustainable support to the communities they serve. I am grateful to have been introduced to those organizations and their missions and left feeling inspired after our short contact with them. I love that CGI has a service aspect to their program. During my search for a medical spanish immersion program, I was kind of torn between CGI and a few organizations out there that might be a little more DIY and cheaper, but after my experience, I would strongly strongly recommend CGI if you are considering immersion!
-

Michaela Steinborn
Rating: 5 out of 5
CGI Medical Spanish Immersion in Nicaragua is an excellent way to learn Spanish regardless of your current level. The immersion environment was the best way to do it. It was a cultural experience. The friends made will leave a lifetime of memories.
-

Michael D Johnson
Rating: 5 out of 5
I have done two separate immersion programs with Common Ground International and both were amazing experiences. In February 2018 I joined them in Nicaragua. Rory and Leslie do an amazing job of providing/coordinating a well rounded experience for professionals including Spanish language education, meaningful outreach work, host family stays and weekend excursions. Both experiences were life changing and rewarding and helped me improve my Spanish language skills so that I can better communicate with my patients. I'm already thinking about how I can do another immersion program in the near future.
-

Gail Spiegel
Rating: 5 out of 5
My experience in Costa Rica as part of the Medical Spanish Immersion Program with Common Ground was educational, enriching, and lots of fun. I would recommend this trip to Spanish Speakers of all levels and healthcare personnel of any field or level of training. Everyone can learn something during this trip! Rory and Leslie Foster are incredible managers and leaders. The trip was incredibly well-organized and they truly take care of each participant. They also foster a culture among the group that is positive, inclusive, and friendly. I had a wonderful experience with my host family and with teachers and administrators at the school. I could go on! Five stars!
-

Annie Wattles
Rating: 5 out of 5
I had such an amazing time with CGI in both Nicaragua and Costa Rica. I learned a ton in my classes and homestays and feel much more ready to have patient encounters in Spanish. I also had a ton of fun on the program led activities! Leslie and Rory are beyond supportive and there to help if you run into any problems. Definitely recommended in general and specifically to medical students looking for an international rotation.
-

annelee602
Rating: 5 out of 5
Great program. Well organized with top notch teachers, interesting and instructive excursions, and some fun built in. My only regret is that I could not spend a third week.
-

Tim Lombard
Rating: 5 out of 5
This was a great experience, with a combination of classroom learning and cultural activities. The home stay was a delight. Activities were well suited to the learning and were remarkably trouble-free. I am grateful to Common Ground for creating this Spanish Medical Immersion trip. I hope to be able to do further trips with Common Ground to continue to learn Spanish. Thank you to Rory and Leslie and everybody at Lapa Verde.
-

Jim Stageman
Rating: 5 out of 5
Learning Spanish through CGI is probably the best way to learn Spanish (and I have tried it all, my friends). I started with Spanish classes in school with CGI but what really put me way ahead of my PA peers, was this immersion program. Not only did I get to spend three weeks in a beautiful country with a lovely host family but I increased my Spanish level from beginner to early advanced while making some great friends and having fun adventures. Living with a host family contributed to the total immersion of the program as well as increased my vocabulary, cultural awareness, and provided that warmth and comfort that one needs at the end of a long day! Best of all the Foster family (owners of CGI) are there every step of the way and care about each and every one of their students and their experiences. I'm looking forward to going back soon!
-

Christine Cork PA-C
Rating: 5 out of 5
CGI's Medical Spanish Immersion in Nicaragua is truly a wonderful experience. Not only was I able to strengthen my Spanish skills, I also gained a better perspective on working with communities of different cultural backgrounds. It was great being able to stay with a host family and being able to practice speaking Spanish each day with them. And most important of all, the volunteering portion of the trip was a rewarding experience and worked really with the day-to-day schedule.
-

Berna V.
Rating: 4 out of 5
Overall this has been a great immersion program. The best part about this program for me was being able to strengthen my Spanish speaking skills and learning more about medical Spanish. This will help me so much in my career as a pharmacist in communicating with my Spanish speaking patients. It was also such a great experience to be able to discover and learn about Nicaragua and Costa Rica, they are beautiful countries with beautiful people. Staying with host families really helped to heighten my overall experience in the program and helped to learn so much about what life is really like in these countries. Rory and Leslie did a good job with planning the whole program and guiding us along the way.
-

Eniola Tuby-Lukan
Rating: 4 out of 5
I absolutely loved the program. We were given a tour of a local hospital where we got to see the intensive care unit up-close and personal, the chemotherapy treatment center, the hospital pharmacy, and more. Other medical experiences included following a medical team through a poor barrio to give vaccines to infants and toddlers and visiting a rehab center to have informative conversations with patients their about sexually transmitted infections. Although these experiences were absolutely wonderful, I would've liked to participate in even more of these type of activities during the month that I was there. Apart from this, the language school, my host family, as well as Rory and his family were amazing and I loved getting to meet everyone and be a part of this experience.
-

Eric Johnson
Rating: 4 out of 5
I traveled to Nicaragua and Costa Rica as a pharmacy student for one of my rotations. I improved my Spanish language skills, particularly my medical Spanish vocabulary. I also gained a greater understanding and appreciation for the healthcare systems of these two countries. The highlight of my trip was my host family experience! I had a wonderful family who encouraged me to keep practicing my Spanish and who taught me many things about the culture of Costa Rica.
-

Leanne Ertle
Rating: 4 out of 5
Now that I'm back at work as the nurse for a high needs middle school, I can see that my immersion experience paid off incredibly well. The first day of school I stayed till 10P entering health conditions, and understood most of what the Spanish speaking parents had entered for Asma, triggers, symptoms, seizure vocabulary. I have a new 6th grader who was diagnosed with Diabetes Type 1 in June. My "just enough Spanish to be dangerous" is helping me with teaching her how to do developmentally appropriate diabetes management, working towards independence when she graduates high school. When I am able to reach parents, my efforts at Spanish are received warmly and building trust in their child's school nurse. Thank you CGI
-

Sherry Hodges
Rating: 5 out of 5
This program was an amazing experience! We were fully immersed in the language, culture, and country but fully supported. I had a little Spanish going in, but improved beyond my expectations. It was hard work, but so much fun! I could not have asked for a better program!
-

Alice Hearn
Rating: 5 out of 5
The Common Ground immersion program was a fantastic experience for me. I had always been saying that I wanted to learn Spanish so that I would be able to communicate with my future Spanish-speaking patients, and I have absolutely met that goal. The home-stay experience was excellent, and although I was nervous about that part of the trip, the family was very accommodating and actively helped me daily so that I could explain myself better and carry on a conversation with them. While it was expensive, I don't see how I could have created an experience like this alone, especially with the level of Spanish growth. I absolutely recommend!!
-

Karly
Rating: 4 out of 5
While I wish I had had more of a foundation of basic Spanish on which to build prior to my trip, I gained a monumental amount of ability to understand the language and a great beginning to speak Spanish. I work in a clinic that treats mostly Spanish speaking patients and I can interact with them in their language for most of the basic functions. I was very surprised at how effective the concept of "immersion" truly is. I loved my local family. They were so kind and supportive. The staff at Common Ground is so helpful and professional. All in all, a great experience!!!
-

Molly Moon
Rating: 5 out of 5
The Medical Spanish Immersion is an excellent program. It taught me many things about cultural differences, people, language whether spoken, written, or unspoken, and about myself. It was a time of self evaluation, time of learning to depend on others for their strength, time to discover your greatest strength and gathering all strength to bring something beautiful in community service. The Spanish courses are challenging, fast paste, yet well organized. The outreach programs teaches you how to work with others for the greater benefit to all involved. The Common Ground staff are very knowledgeable, easily reachable, very supportive and fully dependable even through the time of stress. They have been more than available through my severe hypoglycemic crisis, and kept me safe as my body was adjusting to the very hot temperatures in Nicaragua. I was skeptical whether someone close to 50 could learn a new language when I got on board the program. Now, I know that anyone willing can get a lot of learning through the program with an excellent support team such as Common Ground. I recommend without hesitation to go for it, and learn the new language. You will not regret it since you'll carry home more than what you bring to the program. You will be richly blessed.
-

Maria Lee
Rating: 5 out of 5
Such an amazing program. I participated in the Medical Spanish Rotation. My Spanish grew leaps and bounds! The entire CGI team is so supportive and helpful especially in moments when I or others on my trip felt overwhelmed with the immersion. Although this program is a bit more expensive than a DIY trip, believe me it's worth it. It's nice to have all the logistics worked out for you and a plan in place to see also this different places and participate in the various activities. I would whole-heartedly recommend this program to anyone who wants to increase their Spanish proficiency. There is absolutely no WAY that you will leave this program the same way you entered it :). If you're a medical student outside of the University of Colorado, like me, don't hesitate to join this program or you'll be missing out on an opportunity of a lifetime!
-

Yolanda Paylor
Rating: 4 out of 5
For me this trip was: Culturally rich, efficient for language learning, insightful, valuable and meaningful. It exposed me to new sights, people, & ideas. I was able to grow, add to, and hone my language skills and my confidence, & abilities using Spanish. It also exposed me to some of my stereotypes, weaknesses, & close minded comfort zones.
-

Ruth Schwietert
Rating: 5 out of 5
Common Ground International provided a wonderful learning experience for the two weeks I was in Costa Rica. They have a wonderful school in Santo Domingo, for us to learn. I feel much more confident with my Spanish language skills following this experience. Also, while on the trip Rory & Leslie where there to always help & be accessible if needed for anything. Immersion trips can be difficult & intimidating, but with Common Ground on your side - you can succeed!
-

Erin
Rating: 5 out of 5
I have just returned from the CGI Costa Rica and Nicaragua Medical Spanish immersion trip. I was able to spend three weeks in these two countries to improve my Spanish language skills. The staff of CGI is amazing! Each person is truly concerned about the experience each student is getting. This concern started with the pre-departure preparation work and continued each day I was on the program. While I did not encounter any issues with host families or professors, I do know that other participants did encounter small problems. These issues were dealt with immediately by the CGI staff with courtesy and with good outcomes in all situations. The host families and language professors were top notch in both countries. I was fully immersed in Spanish and did not have to encounter English the entire three weeks I was on the program. The venues in both countries were amazing! There is ample time to do a bit of tourism. Going to the Sibu Chocolate Company was a highlight for me. Peering into an active volcano took my breath away. The people hired to drive us were all professional and competent. The opportunities to do outreach with local health and educational groups were rewarding. I can honestly attest to the fact that I am a better person as a result of being a part of these outreach efforts. CGI orchestrated these with careful planning. I will be forever grateful for the efforts of the CGI staff for making my time in Central America wonderful. It has been an experience that is beyond what I had expected. I wholeheartedly recommend this immersion program to any health care professional or student in any field of health care who wants to improve their Spanish language skills. It can be beneficial to the beginner or the advanced Spanish language student. It is one of the best investments I have ever made.
-

Lenise Mellott
Rating: 5 out of 5
I first encountered CGI in pharmacy school when I took a Spanish class for healthcare professionals. It was there that I learned about their travel immersion program to Costa Rica. My first trip to Costa Rica with CGI was in February 2010 for 6 weeks during my final year of pharmacy school. I had a fantastic experience through the program; it expanded my vocabulary and comfort with the language, and increased my confidence in speaking Spanish. At that time the program was structured a little differently, we set up small clinics to see and educate people, worked in a community pharmacy, did home visits in a very poor village of Nicaraguan immigrants, took Spanish classes, and did a few excursions to get a taste of Costa Rican culture. After the program, I finally had the confidence to consider myself fluent/bilingual, and I continue to use my Spanish almost daily in my current position. I had the pleasure of participating in the immersion program to Costa Rica again in July 2015, this time as a preceptor for pharmacy students. I also had the privilege of taking one-on-one Spanish classes to fine tune my Spanish, my teacher at ELEC was wonderful! I was very impressed with the hard work and changes CGI has done to make the program even better. They now include visits to hospitals, give educational presentations and discussions within the community to improve patient understanding and focus on disease prevention. The program improvements really help give the traveler/learner a greater, well-rounded appreciation for what healthcare is like in another country, healthcare standards, patient access to care and understanding of diseases, especially in more underserved areas. CGI does an amazing job of pairing students with host families to ensure everyone feels comfortable and safe. Lastly, I have to applaud CGI and ELEC for the hard work they do to ensure that students are in the appropriate level of Spanish classes to maximize their learning in the program.
-

Brooke W
Rating: 5 out of 5
It has been 4 years since I spent 5.5 weeks in Costa Rica with CGI. I am reminded daily of my experience when i use my medical spanish to communicate with my patients in the pharmacy. I still keep in contact with my Costa Rican family. I enourage pharmacy students to go experience this beautiful county with common ground international.
-

Monica Zorman (Evans)
Rating: 5 out of 5
I went on the Spanish immersion trip and stayed with a fantastic caring family. Not only did I learn a lot of Spanish but I made life long friends with the family. They happened to live about 200 meters from the language school, so I lucked out in how far I needed to walk to get to the school. In the small town we lived in, everything was close and I felt safe as well. The program was well run and the instructors placed each of us with the group that best suited our learning needs. Finally, the weekend trips were AWSOME!!!
-

John Pope
Rating: 5 out of 5
In just about 5 weeks I'll be graduating with my Doctorate in Pharmacy, and I've found myself reflecting heavily on the past 4 years or grad school. One memory that I consistently find myself reflecting back on, is my 5.5 weeks in Costa Rica with CGI. I went with the goal of improving my Spanish (ok... and having fun) in order to more confidently interact with my patients, but I left with so much more! Not only did it make me a much more confident Spanish speaker, it made me a better communicator as a whole (and counted as a block of credit for school!!). Prior to this program, I had never experienced another country's health system. With CGI we were able to tour hospitals, perform outreaches for the disenfranchised, and I got to work in a community pharmacy! I now have such a better understanding of the hardships that a Spanish-preferring patient would face navigating our health system here in the US, and I can honestly say this has affected my practice. It was a true lesson in understanding, empathy, and patience. And the staff was great!! It was obvious that everyone part of the program, whether it be my host family, Rory and Sapphire, or the teachers at ELEC, wanted to ensure I had a safe, educational, and FUN time! We even spent a weekend with Rory and his family surfing at an awesome beach rental! (anyone visiting CR should to go Nosara!... in fact, google image search it now!). Reminiscing on these good times makes me want to go back; an experience I'll never forget. PURA VIDA amigos! Take the plunge!
-

Jason P
Rating: 5 out of 5
My 4 weeks in Costa Rica with Common Ground were amazing! I learned so much Spanish on the trip and had a blast doing it. My skills before going were minimal, but I left being able to carry on a conversation. I lived with a wonderful host family and enjoyed learning medical Spanish through immersion.
-

Genevieve
Rating: 5 out of 5
I spent 4 weeks in Costa Rica with Common Ground, my Spanish was very limited when arriving. I did not know many of the basics and was concerned I would be left behind due to my Spanish ability. Rory and Sapphire do a great job welcoming everyone and help make a conductive learning environment. My Spanish was tested in numerous ways but surprised myself in accomplishing things I never thought would be possible, such as holding numerous conversations in Spanish and educating medical information "charlas" to specific communities in C.R. The program is well balanced with fun, learning and lots of practice! I would recommend this program to anyone!
-

Elle Killingsworth
Rating: 5 out of 5
When I went to CR with this group in Feb 2015, I had an amazing experience. Each day was well planned and full of Spanish learning, cultural experiences, tours, and fun too! The host family I stayed with was more welcoming than I could have ever imagined and allowed me my own bedroom, bathroom, and an always inviting seat at their family table. They spoke no English, which was a great opportunity for me to practice my Spanish with them and they were great teachers as well. On the weekends when there was no formal Spanish training, the group arranged excursions to see other parts of the country and spent lots of time in the beach, hiking, and time in the sun. The 3 weeks I spent there were incredible and I hope to return sometime!
-

Camri
Rating: 5 out of 5
My time in Costa Rica with Common Ground International was fun and incredibly productive. Before my trip, I had a fairly high level of comfort in medical situations, but I still struggled with confidence and with complicated verb conjugations. Thanks to the small class size (myself and one other high-intermediate student in my class), we were really able to focus on the areas we individually needed to improve. We also had really rewarding experiences working in health education in high-need neighborhoods around San Jose, and living with a Tico family helped expand my Spanish learning to a broader vocabulary than just medical (plus, seeing my host sister's posts on Facebook keeps me up on the Tico slang!). All this, plus the optional weekend excursions to take advantage of the natural beauty, made my trip an unforgettable experience! Rory and Leslie are kind, comfortable people, and I would highly recommend their program.
-

Laura K
Rating: 5 out of 5
I went Costa Rica for 2 weeks with CGI. I wish I could have stayed the entire time though. The weekdays were pretty busy with classes, trips around other communities and hospital visits. However, there would always be time to hang out in San Isidro for some fun. We went salsa dancing 2 times and we had an opportunity to go to a Costa Rican fùtbol game. Rory & Sapphire helped our group book lodging accommodations and transportations to our weekend excursions, which was very helpful with our limited Spanish. Coming home to my Tica family was always fun. Our personalities clicked immediately and they made me feel at home. I still keep in touch with them on Facebook and was told if I'm ever in San Isidro again, I had a place to stay. I loved learning Spanish from Rory, Sapphire, and the entire staff at the school. They were all very patient with each of us and are very good teachers. If my job and new baby allow for a visit back ever, I would definely go! It was truly a wonderful experience and I highly recommend it to anyone looking for an immersion course.
-

Amber G.
Rating: 5 out of 5
Best experience by far! I highly suggest the 4 week program! I went a few years ago with very limited speaking ability, understood and read a bit more comfortably but left feeling so muc more comfortable with the language and moved into a job where I use it daily! The staff and teachers are amazing, exposure to the culture was fun and exciting with a variety of experiences to be enjoyed and the exposure to their medical world and ability to make an impact made for invaluable experience and an overall well balanced trip! You never feel alone and you become like a family while you are there. I could not recommend it more!
-

Catherine
Rating: 5 out of 5
I traveled to Costa Rica with Common Ground in the summer of 2013 (when I was a nurse practitioner student), and it was such a wonderful experience! The immersion experience helped my Spanish language communication conversationally as well as medically. I started at an intermediate level of Spanish from high school and college and built upon that. The language teachers and group leaders were phenomenal. One unique part of this experience is that we helped teach public health "charlas" (like small education lessons) to locals in a poor area. Not only were we bringing a certain expertise and allowed the locals to ask questions, we had to communicate in Spanish to others, not just among ourselves. Costa Rica was a beautiful country too and worth spending a little extra time seeing! Overall, I cannot believe how much a grew as a practitioner and person through this experience.
-

Tiffany Stoddard
Rating: 5 out of 5
This was such a great 3 week experience! I was worried that, like a lot of foreign medical trips, I wouldn't feel like the work I was doing was sustainable or helpful to the community, but I really feel like CGI did a great jo of working within its area of expertise. The home stays were wonderful and this was a great group to go with. I learned so much Spanish and gained a ton of confidence that I hope I can pass onto my patients!
-

June
Rating: 5 out of 5
I attended the winter 2016 course for two weeks of immersion, and would do it again in a heartbeat. I was worried that two weeks wouldn't be enough time, and while ideally I would have been able to spend a lot more time, the two weeks were immensely productive and worth the money and effort. The time in Costa Rica is perfectly managed, allowing for maximization of learning while we are there, and the multiple years of experience that all of those involved have are readily apparent. Just when I thought my mind would explode, we shifted gears, and the learning came from a different direction that I was better able to absorb at that time. Everyone I encountered was kind and helpful, and a pleasure to be around. I can't recommend this experience enough.
-

Jennifer
Rating: 5 out of 5
I've been trying to learn Spanish for YEARS, but at some point I hit a plateau, and I just couldn't learn any more. I had the chance to spend a month in Costa Rica during pharmacy school, and it was absolutely an amazing cultural and educational experience! It can be a little daunting at first, but everyone is friendly and very accommodating. The town is small, yet accessible to San Jose and the surrounding attractions. Most importantly, I was able to significantly improve my Spanish skills by practicing with my host family, and taking daily Spanish classes. There is a special emphasis on medical Spanish which really helps for our work in the medical field! I very much recommend this program. The staff is very organized and helpful and will help ensure a fun, educational, and safe experience!
-

Amber
Rating: 5 out of 5
This is a fabulous program to improve upon your Spanish , at whatever level you start. I was only able to participate for two weeks, as I am a practicing surgeon. I started out with a very basic Spanish, very beginner. Rory and his staff were amazing, able to tailor the program to my particular level and desire for an intense immersion experience. The host family was helpful and encouraged me to practice. The town was a perfect setting. I could "go shopping" daily after school and practice with the townsfolk, who were also so friendly and kind. The experience was well-organized, safe, and attentive to the needs of all the students. You get out of it what you put into it- -Rory and staff made it all happen. Excellent program.
-

Marian P. McDonald MD FACS
Rating: 5 out of 5
The medical spanish immersion trip with Common Ground was such an amazing experience. Leslie and Rory are excellent leaders. Learning Spanish in Costa Rica and the program that is set up through Common Ground is an opportunity that every medical student or provider should participate in. I had such an unforgettable experience. I felt safe, supported, and challenged through my time there. Best cultural and life experience!
-

Maia Uli
Rating: 5 out of 5
My Medical Spanish immersion program experience with Common Ground was amazing! All facets of the experience helped me improve my Spanish speaking ability and vocabulary. I was able to return to my work with patients in Denver with an improved ability to communicate, understand and educate them! It is a very well organized program! Living with a host family was an invaluable cultural and language learning experience! My classes taught by a very skilled teacher at ELEC, our volunteer work and optional trips on the weekend all contributed to an amazing learning experience! I would do it again!
-

Gail Spiegel
Rating: 5 out of 5
This program was a wonderful experience and a great way to improve my medical Spanish skills immensely. My host family, the school, the teachers and the weekend excursions were all awesome. Definitely a once in a lifetime experience!
-

Chelsea puente
Rating: 5 out of 5
The Spanish Medical Immersion trip through Common Ground is a rewarding experience. Whatever level of Spanish you start with, you will walk away with invaluable knowledge to comminicate with yours Spanish speaking patients. This program is organized and supportive to guide you through your cultural and language immersion experience.
-

Sue Covington