Medical Spanish Crash Course: Free 10-Day Class
Returning: February 16, 2024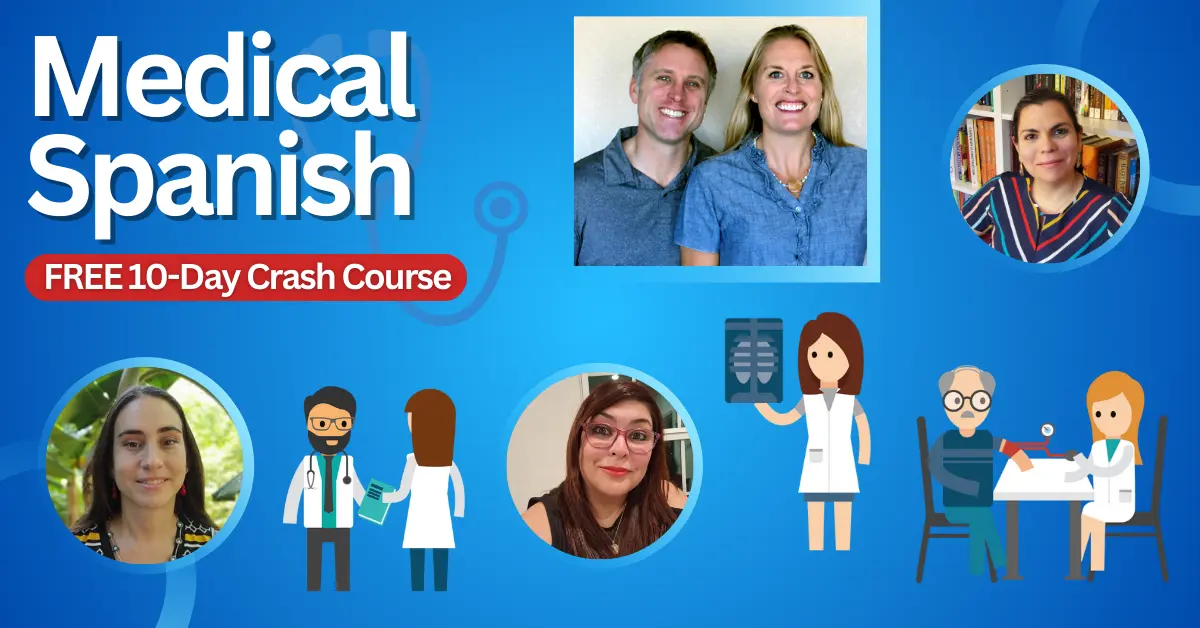 Full 10-week Fall MMS Course is open for Registration – Lesson 1 is Tuesday 9/19/23!
FREE 10-day Medical Spanish Crash Course & earn 4 Category 1 CME / CE Credits!
Most healthcare professionals who are wanting to learn Spanish face a few common obstacles:
Finding a course that fits your level and actually helps you communicate better with patients.
Finding a class with content that is relevant for your profession!
Finding an encouraging community of Spanish learners that are trying to learn Medical Spanish also.
Hoping 🤞🤞🤞 that the course fits your full schedule & the instructors know how to make an online class engaging, active and will actually help your COMMUNICATE!
Finding a study buddy to practice with between class sessions so that your learning actually sticks!
We've solved these problems for you, and we invite you to join us and hundreds of healthcare professionals and students for a free 10-day medical Spanish crash course!
Important Dates:
1st Lesson Opens: Friday, Feb 16, 2024 (online – complete on your own time)
1st Live Practice Session: Monday, Feb 19, 2024 (Zoom practice session: 7p Mountain Time)
2nd Lesson Opens: Monday, Feb 19, 2024 (online – complete on your own time)
2nd Live Practice Session: Thursday, Feb 22, 2024 (Zoom practice session: 7p Mountain Time)
3rd Lesson Opens: Friday, Feb 23, 2024 (online – complete on your own time)
Free 10-day Medical Spanish Crash Course: Sign up here to join us
Register for the Medical Spanish Crash Course
In this course you'll LEARN medical Spanish at your level … and you'll be able to PRACTICE it as well with your new friends from across the country. Specifically, you'll learn how to:
Take a medical history in Spanish
Conduct a physical exam in Spanish
Customize a Medical Spanish Blueprint to keep your Spanish moving forward week by week without backsliding and without getting rusty.
10 – Day Medical Spanish Crash Course with Common Ground. A quick message from Rory & Leslie
Meet Your Medical Spanish Crash Course Teachers:
Important Dates:
1st Lesson Opens: Friday, Feb 16, 2024 (online – complete on your own time)
1st Live Practice Session: Monday, Feb 19, 2024 (Zoom practice session: 7p Mountain Time)
2nd Lesson Opens: Monday, Feb 19, 2024 (online – complete on your own time)
2nd Live Practice Session: Thursday, Feb 22, 2024 (Zoom practice session: 7p Mountain Time)
3rd Lesson Opens: Friday, Feb 23, 2024 (online – complete on your own time)
Free 10-day Medical Spanish Crash Course: Sign up here to join us
Register for the Medical Spanish Crash Course
What is it like to learn Spanish with Rory, Leslie & the Common Ground team?
A lot of times when I go to talk to patients, I feel lost or don't know where to start. These live lessons gave me a formula to start talking to the patient and asking questions about what is going on. I didn't realize that I can figure out a lot of the vocabulary I need because I use it everyday in English. Then I just make a list and look it up or look up a Quizlet to study that area. I haven't put in as much time as I would like to practice but I will try to spend more time in my schedule. I like that we only have to focus on 30 terms because that is doable for me. It is slow progress but at least it is progress.

I really appreciate the medical spanish masterclasses because it is very difficult to find a Spanish tutor that knows about medical terms or understands when I try to explain something in English to translate it. There are not very many resources out there for functional medical Spanish. I really appreciate what you guys are doing. I was really surprised how simply everything is and I have already knew more than I thought I did.

Kasey H, The Villages, FL
As you said, I would love to be able to communicate kindness and empathy in Spanish just as I do in English. Just seeing the relief on my patients' faces when they have an interpreter has fueled my desire to remove the barrier of my lack of ability to speak Spanish.

Shanna M, Raleigh, NC
Thank you Rory and Leslie for creating such an amazing class. I have gained additional knowledge in my effort to work and treat my Spanish speaking patients. The class structure and the use of time was perfect. I still have a ways to go, but I can honestly say I am a bit further along, due to attending your classes. Bless you both!

Eugenia A, Kissimmee, FL
If you're looking for an easy way to jump back into Spanish, look no further! Rory and Leslie, you have made this masterclass fun and engaging and the best part, you have given us the chance to practice with other speakers of our same level! The blueprint I now have to talk with my patients in L&D is so helpful! I love your strategy so much! Yo encontre una pareja desde unos de los Live sessions y vamos a practicar cada miercoles por Zoom para la proximas 3 o 4 semanas! Wahoo! Muchisimas gracias a ustedes! Que divertido!!

Jane A, Denver, CO
Muchas gracias para estan lecciones gratis. Ya aprendo mucho en corto tiempo, especialmente la frases para dar intrucciones , medicamentos y frases con "si". Soy enfermera de los pacientes de la hospicio. Tambien necesito aprender frases comun sobre suporta emocional para los familias de pacientes muy enfermos. Se que hospicio no esta muy comun pero espero que hay lecciones /fraces como asi. The best that I heard was to not be afraid to commit mistakes. You have indeed provided a safe venue for us to feel confident that here we can make mistakes and it's ok. and we can pick it up one by one and build from it. More power to both of you!

Maria A, Vallejo, CA
I recently came across Common Ground through Video Viernes & have had the chance to watch a few lessons. They are truly practical and distilled bullets of information!! Lots of relevant info presented in an efficient and friendly manner. Thank you!!

Monica S, Park City, UT
I own a private outpatient physical therapy clinic. Speaking spanish would mean a growth of my business. I have had more than one patient not be able to receive care because they didn't have an interpreter. I have also had patients where my lack of spanish hurt my ability to be able to educate them about their health care options. My husband and I opened this private practice in order to serve our community, not just the ones who speak english.

Danielle M, Ft Myers, FL
I've worked with Rory in small group lessons through my workplace. He is always very engaging and has great knowledge of medical Spanish. His teaching style makes it easy for even those with very limited prior Spanish language experience to feel engaged and learn something.

Maija S, Denver, CO
I enjoyed the class with Common Ground, I can't wait to get signed up for the online classes!

Samantha N. Morrison, CO
¡Gracias Rory! Creo que su clase fue la mejor parte de nuestro curso, me enseñó mucho. Gracias y que le vaya muy bien!

Oliver B. Denver, CO
Rory is an excellent educator and guide. I was following him on YouTube, and joined his group in Costa Rica in early 2019. I felt extremely taken care of He makes sure everyone's concerns were addressed. Don't let his teaching accent fool you, I was very impressed with his Spanish. He is very engaging, organized, caring, and charming.

Sylvia P. Vacaville, CA
I appreciate how Rory is always reaching out to the community to find out what learning topics would be most useful for us. Also the medical Spanish blog is a very useful resource!

Annalee C. Westminster, CO
Rory is great at laying the foundation for medical professionals who desiure to improve their Spanish medical terminology.

Jonathon F. Memphis, TN
Rory, ¡Muchísimas gracias! Esta clase fue excelente y disfruté cada clase con usted. Gracias por mostrarnos el nuevo mundo. Espero que pueda trabajar con usted en el futuro!

Erin A. Denver, CO
Muchas gracias por todo. Me encanta su clase y aprendí mucho. Seremos mejores doctores por usted. Espero que pueda aprender con usted otra vez en el futuro!

Megan K. Denver, CO
I really enjoy the emails and weekly Facebook posts from Rory. They keep me engaged and make me want to continue my learning!

Michele D. New York, NY
I really like this program. Rory and his team have been so helpful whenever I had questions. The response time was quick and caring, and I was treated as if I were a valued member of their team even though I had tough questions for them. I always look forward to Video Viernes and get a lot of help through them. What an awesome program that just keeps getting better and better. Thank you!

Molly R. Des Moines, IA
Rory and Leslie put a lot of thought and effort into their programs. They engage with you on whatever level you're at. The expectation is to start off in Spanish but if you just don't get it, there's no worries. They are there to jump in and help as long as you put the effort in. Learning a new language is hard but they make it fun and engaging. Plus, they really look after your well-being on Spanish immersion trips, you should definitely do one with them!

Jennifer P. Broomfield, CO
Rory was great in my Spanish I class. He is a gifted teacher. He takes the time to teach material using multiple learning styles making it much easier to learn and remember.

Kami B. Littleton, CO
Rory always has an answer for me! Which makes me think that he will go the extra steps to find your answer if he doesn"t already have it on the top of his head.

Rosie G. Morrison, CO
I particularly like the videos that I can watch in my own time. Very helpful and easy to follow . I am quite new at this and volunteering to help translate and eager to do a good job in the medical translation as well as general speaking /discussion skills . Muchísimas gracias, Rory, keep up the good work.

Petra P. Ontario, Canada
Video Viernes lessons with Rory are a great way to learn to content for my job. The lessons are quick and extremely helpful, as he explains cultural nuances as well.

Lauren W. New York, NY
I really appreciate how open Rory has been with sharing content and posting short, interesting lectures online. He has a great understanding of what language terms and medical topics need to be reviewed

Michelle D. Cleveland, OH
I have not worked directly with either Rory or Leslie, however the lessons on the internet are awesome very educational and informative and I look forward to working with them in the future. Thank you,

Caryn H. Reading, PA
As a busy medical professional I appreciate Common Ground's flexible and varied offerings of Spanish content. They are encouraging coaches and seem to roll easily with the scheduling / rescheduling hassles involved in health care!

Susan A. Greencastle, PA
I got to work with Leslie and Rory for six weeks this past summer and it was actually awesome! I learned so much from them about language, and also about group dynamics. They always met me wherever I was mood wise and helped me to navigate my experiences. I can't wait to work with them again!

Catalyst T. Philadelphia, PA
Keep Tuesdays open in your schedule so you can join us in the next run of our full 10-week Mastering Medical Spanish Course!
Free Medical Spanish Crash Course
Register for the 10-day Medical Spanish Crash Course
FAQs
What is the format of these online classes?
These online classes are both didactic & interactive. The 4 main lessons are pre-recorded for you to learn at your convenience. During our 2 live lessons, we will start our meetings with a brief outline and review of the practice topics, and then you'll break up into groups in virtual practice rooms to practice the content you've been learning with practical scenarios, etc.
What is the time of the online classes?
The live practice sessions are scheduled for 7p Mountain time (9p Eastern, 8p Central, 6p Pacific). The 4 main lessons are available for you starting the day they release.
What if I have to miss a session?
No problem at all – the cool thing is that we record every lesson and post it for you to view when you have a moment. Then, all you need to do is practice with your partner!
Who will be teaching the classes?
Rory and Leslie Foster will be teaching these classes and moderating your small group work in the virtual practice rooms.
What Spanish level is required for these classes?
The short answer is all levels! We are firm believers in helping you take your next step with Spanish regardless of the Spanish level you're starting with. So, all levels are welcome. You will learn at your level during the didactic session and then practice at your level in your virtual practice room.
How / Where online will we meet?
We'll be using the zoom platform for the live practice sessions. You will receive login information for each session.
Is this course accredited for continuing education?
Yes and no. The free 4-lesson Masterclass is not accredited. However, in full disclosure, we plan to invite you to join us in a paid course that is 13 weeks and that course is accredited for Category 1 CME and Nursing CE credits.
More questions? Comment below and we'll answer them for you!