Spanish classes in Costa Rica & Ecuador: Focused learning to maximize your Spanish immersion time.
HS Immersion page Host Family  Service Adventure Travel Testimonials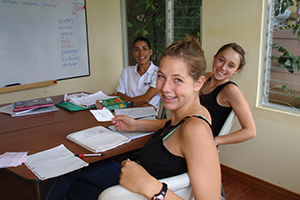 Travel is great, and we have a wonderful time visiting some of the best places in Costa Rica and Ecuador. You have the opportunity to see & experience those areas, but we're in the business of Spanish language immersion.  We want our students to become young professionals that don't need the sort of Spanish classes and Spanish translation services that Common Ground currently provides to the adult generation. Many high school travel programs don't include language classes in their itinerary; but this is a piece that makes Common Ground's Spanish Immersion programs unique.
Here is why Common Ground encourages Spanish classes while on immersion:
You can set up community service work, a travel itinerary, and spend two weeks on "cultural immersion" and you'll still come home with the more or less the same Spanish skills that you left with.  When you add Spanish classes into the mix and language rich community service work that requires you to think about how to communicate for a practical purpose, you now come home with an improved ability to use Spanish in practical settings.
Whereas going into Spanish classes during the school year can seem intimidating (because you know you'll have to speak Spanish), as soon as you are thrown into a true Spanish immersion experience you start to look forward to Spanish class so you can sort everything out that you've been hearing from your host family since dinner last night!