Classroom Spanish comes alive when you give your students real Spanish opportunities. Spanish Immersion trips to Costa Rica: we deliver communication skills for the future!
Do your Spanish students know how to communicate out of the classroom and in real life? Give them the opportunity to acquire Spanish while living and experiencing language and culture in Costa Rica. Join us for our Spanish immersion trips to Costa Rica.
Common Ground International has a long history of helping high school Spanish students become more proficient in Spanish. Our immersion programs are designed to give high school students the confidence to engage in spontaneous conversations with native Spanish speakers. Classroom language learning comes alive and becomes a practical skill as participants cross paths with their host families and work alongside other Costa Rican high school students in our service – learning projects. Contact us today to learn more about our immersion programs.
Our mini-immersion experiences to Costa Rica are more than just educational travel; we are Spanish teachers, so we intentionally weave the four components below into our Spanish immersion programs so that students can say they have Spanish as a practical skill for their futures.
Incredible host families
Language rich service learning opportunities
Adventure travel around the "hot spots" of Costa Rica
With these 4 components, our immersion programs are specifically designed to improve Spanish skills, gain cultural understanding, earn community service hours, and experience the beauty of Costa Rica.
Many high school travel programs don't include language classes in their itinerary; but this is a piece that makes Common Ground's Spanish Immersion programs unique. Here is why Common Ground encourages Spanish classes while on immersion:
Travel is great, and we have a wonderful time visiting some of the best places in Costa Rica to see & experience, but we're in the business of language immersion. We want our students to become young professionals that don't need the sort of Spanish classes and professional services that Common Ground currently provides to the adult generation.
Our Costa Rican host families are amazing people and they are excited to get to know our students! Spanish skills improve daily as participants informally use Spanish in everyday situations.
Service Learning projects are an essential part of Common Ground's Spanish Immersion programs. The kind of work we do varies year to year, but the primary components of our service work remain the same:
We work with local organizations that have identified real needs within the target community.

Volunteer work at orphanage.

We participate in projects that are sustainable – part of a larger project that is ongoing throughout year even when we're not present.
The service learning work we do (in conjunction with High School students from Costa Rica) is "language rich" – which means that you have to be using Spanish to complete the community service tasks.
Costa Rica is known for its beautiful beaches, pristine rain forests, amazing wildlife, active volcanoes, zipline canopy tours, bungee jumping, and many more adventurous activities. The Adventure travel portion of our high school Spanish immersion programs in Costa Rica are usually over long weekends – and we have a blast!
Interested in customizing your own class trip with us or sending some of your students on our set summer programs? Listen to what our participants and their parents have had to say…
"Sydnie loved her experience in Costa Rica-and really enjoyed working with the local kids, and having the opportunity to travel and do excursions. She loved her host family and felt very welcomed. It was a once in a lifetime opportunity that she fully embraced!" (Aimee K., mother of Sydnie, Summer'13)
Are you interested in co-leading your own Spanish immersion trip? Consider the values of designing a class trip down to Costa Rica with Common Ground International:
We take care of the details: although you have plenty of input as to how the itinerary is set up (where you go, which kinds of activities or sights you are interested in) we handle the coordination of all the logistics such as hotel reservations, volunteer work, host families and tours. Typically the customized immersion trips will still maintain parts of the four main components mentioned previously: Host Families, Language Classes, Service Work and Adventure Travel- but the program design is very flexible.
What would we need from you? The minimum number of student in order to coordinate the class trip and provide you with free travel and stay is 8. As the teacher co-leading the trip some responsibilities would include:

Submitting the itinerary to your school administration
Marketing the trip to your students
Assist in leading pre-trip preparations
Fly with and help in supervising the students during the program (a Common Ground representative will co-lead with you in Costa Rica)
Be fun and adventurous!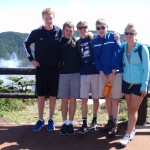 If you have more questions about a customized Spanish immersion program check out our website for more information or get in touch with Leslie Foster or call our office at 303-684-5557