Spanish Immersion in Costa Rica and the 5 C's of Foreign Language Education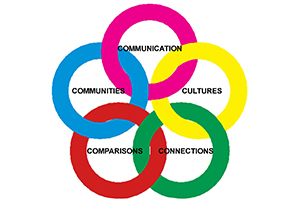 The 5 C's of Foreign Language Education have been developed by ACTFL as the national standard for foreign language teaching,* and have been wholly adopted at the local level by educational organizations, including The Colorado Congress of Foreign Language Teachers(CCFLT). Common Ground International takes these standards seriously in its work with both professionals and students at all levels. As we plan our Medical Spanish Immersion/ Spanish Immersion programs and look ahead to our Summer High School Spanish Immersion Programs in Costa Rica, we'd like to examine the 5 C's of foreign language education, and how our immersion programs apply them:
Communication: Communicate in Languages other than English
This focuses on practical ability to use the language – speaking, listening, reading, and writing – rather than knowing about the language. This is reinforced both formally and informally on our program. Students participate in 4 hours of intensive language instruction each morning with 2 or 3 other students in their classes. After the morning classes, students use the language both with their host families, and their volunteer work in local schools. This routine practice helps a student develop comprehension skills in Spanish as they begin to learn phrases and are forced to converse with native speakers in class and in a social setting.
Cultures: Gain Knowledge and Understanding of Other Cultures
Students are exposed to the local Latino practices and perspectives, and develop an understanding of the cultural norms by participating in them through the course of their stay. Every student lives with a native Costa Rican host family that gives the student a true reflection of local practices and products. In addition to living with local families, our students also experience local practices and products though cooking classes, dance classes, interaction with local high school students, community service and other social activities. They become fully aware of the knowledge of "what to do and where.
Connections: Connect with other Disciplines and Acquire Information
Aside from spending time in a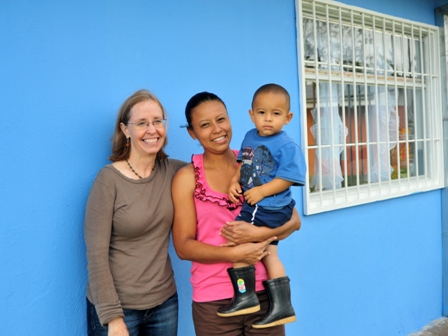 classroom where they are taught the fundamentals of the Spanish language, our students spend time serving the community and interfacing with local students.
The focus of the community service element of our Spanish immersion program is for our students to encourage local students to continue with their education beyond middle school (only about 30% continue studying past 6th grade). The American students begin to understand the forces at work in a society where socioeconomic status determines the future of many from a very young age. By hearing about – and seeing – circumstances and situations that befall a Costa Rican youth, they begin to understand their own perspective by connecting with that of their Costa Rican contemporaries. They learn words or phrases that reveal local realities, analyze the cultural expectations, and begin to think about solutions for their new friends. The students not only leave an impression behind in Costa Rica, but they leave with an experience of having truly interacted with another culture.
Comparisons: Develop Insight into the Nature of Language and Culture
Our high school Spanish immersion participants each show a unique interest in the Latino culture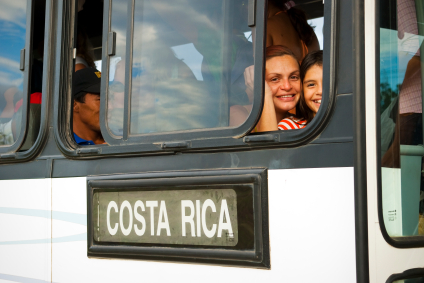 and Spanish language. However, they all share the same native language – English. We place our students with different host families who naturally have different practices. Students tend to share their experiences with fellow American students in English, and in comparison, share their experiences in Spanish with their host families and local high school friends.
This Spanish immersion program allows students to discover perspectives, practices and products similar or different from those they find back home in the U.S. Some students may focus on the comparisons and others may not piece the experience together until returning to their own cultural practices. Nonetheless, the experience allows each individual to relate to a situation in both English and Spanish.

Communities: Participate in Multilingual Communities at Home & Around the World
The foundation of our Spanish immersion program is getting students involved in local communities abroad – primarily through home-stays and volunteer work. However, our program is designed to help students bring their new insights and skills back to their home community and help them engage in new and different ways with English- and Spanish-speakers in their hometown.
One of the natural results of our Spanish immersion program is that students come home with an understanding of the advantages of being able to communicate in another language. They have grown in their confidence with speaking Spanish and have gained cultural understanding. The fact is, Latino culture is present in communities throughout the United States and in countries around the world. Having experienced the culture and language on its own terms, students have gained a valuable insights and a skill set that many choose to further develop to benefit their future on a personal and professional level.
Learn more about our Spanish Immersion programs in Costa Rica – We'd love to have you join us on a Spanish for Educators program a Spanish class trip, or refer your students to one of our high school Spanish immersion programs.