The present perfect verb tense is quite possibly one of the most helpful tenses when speaking Spanish to patients in a clinical / medical context. It allows you to ask useful questions like: Have you…? , Have you ever…? , What have you …? , etc.
It's a compound verb tense just like it is in English (ex. What
have

you

eaten

today?), so we need to identify the equivalent for "have, has" and then how to form the participle of each main verb (ex. eaten).
Here is the medical Spanish present perfect verb tense lesson I taught for video viernes this week:
How to conjugate the present perfect tense:
The present perfect verb tense in Spanish includes the conjugation of the verb "haber" and then you add the participle of the actual verb you want to use. Here are the two steps:
Paso 1: el verbo Haber
Yo: he
Tú: has
Él, Ella, Usted: ha
Nosotros: hemos
Ellos, Ellas, Ustedes: han
Paso 2: el participio del verbo
-AR verbs drop the "ar" and add "ado"
Trabajar > Trabaj__ > Trabajado
Tomar > Tom__ > Tomado
-ER/IR verbs drop the "er" / "ir" and add "ido"
Comer > Com__ > Comido
Sufrir > Sufr__ > Sufrido
Some examples of the present perfect verb tense in medical Spanish phrases:
¿Ha intentado dejar de fumar en el pasado? (Have you tried to stop smoking in the past?)
Sí, yo he tratado muchas veces. (Yes I have tried to stop smoking many times)
¿Qué han comido ustedes hoy? (What have you all eaten today?)
Nosotros no hemos comido nada hoy. (We haven't eaten anything today)
¿Cuántas veces ha estado embarazada? (How many times have you been pregnant?)
Tengo 3 hijos pero he tenido 4 embarazos. (I have 3 children, but I've been pregnant 4 times)
¿Alguien le ha diagnosticado con preeclampsia en el pasado? (Has anyone diagnosed you with preeclampsia in the past?)
¿Ha tenido estos síntomas antes? (Have you had these symptoms before?)
¿Por cuántos años ha padecido de diabetes? (For how many years have you had diabetes?)
Practice #1: (answers below)
Nosotros todavía no _____________ los resultados. (Recibir)
¿Cuántos partos naturales y cuántas cesáreas _______________? (Tener)
Ella _______________ la raquea. (Negar)
El esposo no _______________ (Llegar), hay mucho tráfico.
¿Alguna vez _______________ una reacción negativa a la morfina? (Experimentar)
El bebé _______________ de posición, ahora está de nalgas. (Cambiar)
Irregular present perfect verbs
Paso 1: The verb Haber doesn't have any irregularities… so this is the same for regular and irregular verbs
Yo: he
Tú: has
Él, Ella, Usted: ha
Nosotros: hemos
Ellos, Ellas, Ustedes: han
Paso 2: Here is where the irregularities start to show up.
Abrir > abierto
Cubrir > cubierto
Decir > dicho
Escribir > escrito
Hacer > hecho
Morir > muerto
Poner > puesto
Romper > roto
Resolver > resuelto
Satisfacer > satisfecho
Ver > visto
Volver > vuelto
Practice #2: (answers below):
I have covered. Yo _______________.
The bag of water hasn't broken La bolsa de agua no se _______________.
She has seen. Ella _______________
We have put. Nosotros _______________
Use Quizlet to help you learn present perfect verb conjugations!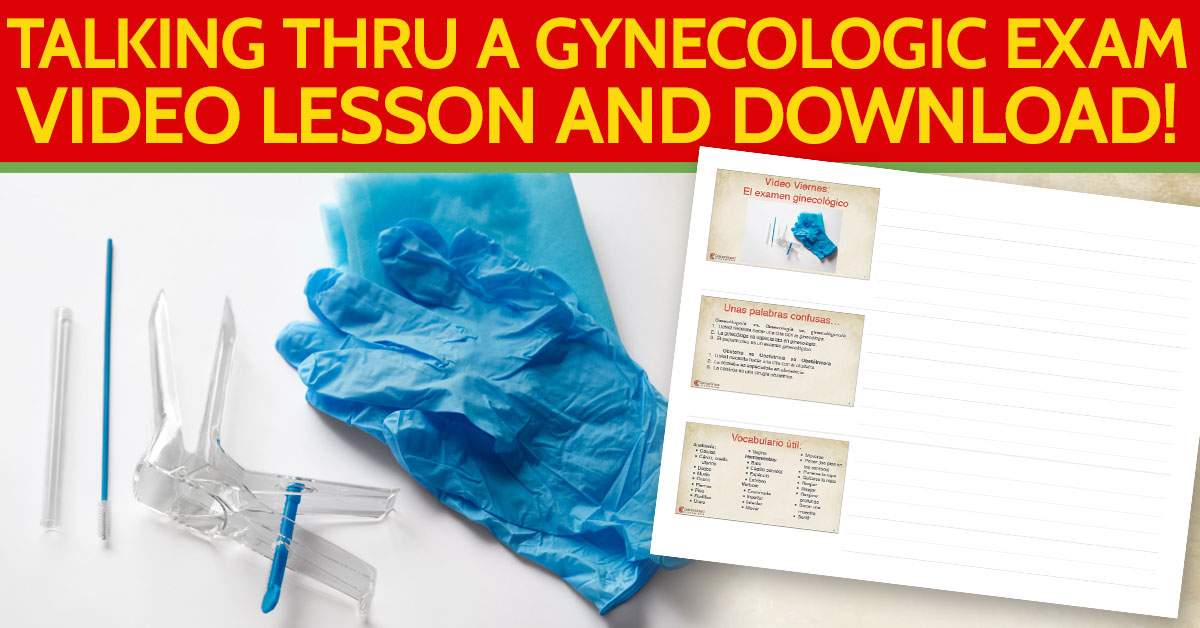 El examen ginecológico | The gynecological exam in Spanish This Medical Spanish lesson includes all the vocabulary and common phrases you need to talk through the gynecologic…
Read More
Answers to practice activities:
Practice 1:
hemos recibido
ha tenido
ha negado
ha llegado
ha experimentado
ha cambiado
Practice 2:
he cubierto
ha roto
ha visto
hemos puesto