Our online Spanish tutors are ready to work with you!
Common Ground International has recently invested in an online Spanish tutoring system to provide extra contact time with professional Spanish instructors from Central America.
The benefits are obvious:
Convenience:

You don't need to drive anywhere
No one has to come into your home
You can schedule your sessions when they fit your schedule
You can log in from your computer, smartphone, or tablet

Professional Instruction:

All of our tutors have worked with Common Ground International in the past – some of them even teach at our Spanish Immersion Programs in Costa Rica
Common Ground makes sure that our tutors are familiar with the latest trends and teaching methodologies and curricular goals for Spanish students

Affordability:

It's very difficult to find a high quality Spanish tutor for $20/hr in a live session. Part of the reason we started this service is that we can't meet with someone personally for less than $50/hr – and this just isn't affordable for the bulk of our clientele.
What you can probably find for our $20/hr rate locally is a person who you don't know (who is probably very bilingual) and who may not be well trained in teaching Spanish as a 2nd language.
We are super excited to offer high-quality instruction to our clients at such an affordable rate!
Get to know our online Spanish tutors: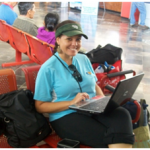 Nathalie:
Nathalie has extensive experience teaching Spanish as a foreign language for more than 9 years at all levels from beginners to advanced students. She has taught at many leading Spanish schools in Central America (mainly Costa Rica and Belize, but also in the USA) and has years of experience with students wishing to learn Spanish for leisure or business purposes. Nathalie is used to teaching both groups and privately as well. She has a college degree in Education, and since graduating she has continued her professional education to ensure that she is up to date on the latest and most effective language teaching methods; which has helped her become a fabulous Spanish teacher. Here is brief message from Nathalie:
"Once I started teaching I discovered what's really important for communication: talking and interaction. I realize that many teachers and schools add a lot of grammar subjects, but it doesn't always help you to communicate. So I decided to be part of this new course online with the SpanishTutorNetwork. If you are studying and you need to learn Spanish quickly, you don't have to travel a long distance or waste a lot of money, you can learn with me now online from the comfort of your own home! I specialize in helping people learn quickly and efficiently so you can master the Spanish language; and my students love me. I hope you'll join me for an online Spanish class soon!"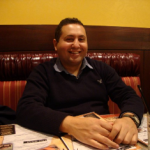 Rosben:
Hi! My name is Rosben and I am originally from Mexico City. I was born and raised in the big city but at 20 years old I moved to Xalapa, Veracruz which is where I call home. I've been fortunate enough to travel to many countries in the world throughout my life as student and as a professional. I found traveling a very fascinating activity, which has given me the chance to meet interesting people and see interesting places while learning about other cultures and languages. I am a very easy-going person and enjoy whatever life has to offer. I also like reading and writing, going for walks, watching movies and above all spending time with good friends. I also have a great love for music and I've been able to take singing classes and participate in amateur choirs. I love music because I believe it gives us strength and nurtures our soul.
I studied languages and technology education and I have been involved in exchange programs and the teaching of ESL and SFL and Mexican culture for 8 years. These are activities I enjoy doing and hope to continue doing them for a while. I'd love to work with you – book a session with me!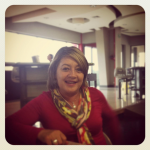 Ana Lorena:
My name is Ana Lorena. I live in Costa Rica, Central America. I studied at the National University in Heredia, Costa Rica, and got my degree as a teacher in English and Spanish as a second language.
I have experience teaching for 20 years in both languages. I enjoying meeting different cultures around the world and getting to know many different people. I love to read a lot, listen to music and walking in the mountains. I also like to enjoy a cup of Costa Rican coffee.
My methodology is teaching conversational language to bridge communication, without leaving behind the grammar as the basis of learning. I'd love to be your teacher, share my country, our language, culture and customs with you – maybe even in person someday!