Schedule your Spanish tutor today!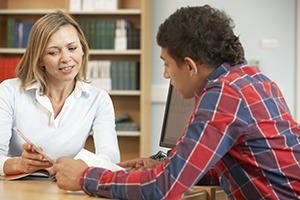 Common Ground knows that individual Spanish tutoring is essential for many Spanish students. We work with many high school Spanish students, college students, and adults every year to help them improve their comfort and confidence with Spanish.  If you're enrolled in a formal Spanish class at the moment (high school, university, professional), our tutors will stay in touch with your instructor to make sure that you're working on exactly what you need for success in class. If you're not enrolled in a formal class at the moment, no problem – you have complete flexibility to work on the topics and conversational practice that you're most interested in!
How does it work?
We want to make sure you click well with your tutor.  You'll meet your Spanish tutor for a free initial evaluation to see if you feel like you'll be able to work well together.  After that initial evaluation, we'll present you with a learning plan.   When you accept the learning plan, we'll collect your initial payment for your first block of 10 tutoring hours and you'll be all ready to get your Spanish lessons started!
When and where do I meet with my tutor?
Our Spanish tutors are flexible.  We will be happy to meet you at your school, in a conveniently located coffee shop around town, at your home or online. It is generally best to have one consistent meeting time and location week after week, but the beauty of your private Spanish tutoring is that locations and scheduling are extremely flexible. Face to face Spanish tutors are currently only available in the Denver, CO area. All individual instruction outside of the greater Denver area are offered online.
Do you offer Online Spanish Tutoring?
Yes, we offer online Spanish tutoring through video conferencing software.  You work with a native Spanish speaker who is a professional teacher for fantastically low rates.  This is a great option if you need to schedule your tutoring at your home, but it is during a time that a parent or guardian can not be present as well.
How do I get started?
It's easy to get started. Fill out the form below and we'll be in touch!