Sugar Beach / Playa Pan de Azúcar
Sugar beach or Playa Pan de Azúcar is among the beaches along the Northern Pacific Coast (the Guanacaste area) and are amongst the most beautiful in Costa Rica. This region is also popular for it's all-inclusive hotels. If you are looking for a secluded, safe, family friendly hotel on the beach that is NOT all inclusive, you have got to try Sugar Beach and the beautiful (and only) hotel on the beach Hotel Sugar Beach.
My husband, 3 kids (ages, 12, 9, and 6) and I have been traveling / working in Costa Rica for over a decade. We are always on the lookout for unique boutique hotels that allow our family to truly relax and at the same time have an adventure of a life-time. We love Hotel Sugar beach for many reasons. Here are our roses (highlights) and thorns (disadvantages) of Hotel Sugar Beach!
Hotel Sugar Beach – Roses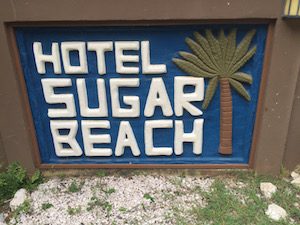 We love it because it is a small establishment.

It's location is amazing, it is the only hotel on this small beach and about 15 minutes (in car) from of the popular tourist town of Flamingo.

The views of the inlets and beach are spectacular, you could sit and eat breakfast for hours looking at beach.

This is far enough outside of town to rest and relax and also close enough to other bigger tourist destinations to take day trips and visit.

The restaurant and staff are fantastic

There is lot's of opportunity to see wildlife, go tide pooling and snorkel at the next beach over (within walking distance)
Hotel Sugar Beach – Thorns
The beach is small and can be rocky depending on the time of year that you visit. It is not ideal for swimming with your kids. However, there are many great, calm beaches to explore within a short distance. This disadvantage does not keep up away.
Hotel Sugar Beach Contact Information
Website: http://www.sugar-beach.com/
Phone Number: (506) 2654-4242
Email: [email protected]
Don't speak Spanish? Let us make the reservation for you for a small fee! Contact me today [email protected]
Our favorite things to do in this area
Besides relaxing on this property and beach and taking it all in, tide pooling, snorkeling and boogies boarding or body surfing…here are some other activities that our family as enjoyed.
Check out Playa Prieta
This is a great beach for snorkeling and it is within walking distance during low tide. It is the next beach south of Sugar Beach and during low tide, put on some shoes and walk through the tide pools to get there. This is a really small beach and easy to hang out and let kids play.
Visit Playa Danta and hike the beach trails
These are some great trails that climb up to cliffs above Playa Danta. There are a bunch a short trails to check out. Make a day out of it and have lunch at Limonada.
This beach is worth the 30 minute drive as it is known for its crystal clear water and see shells (conchas). Depending on the time of year, it can get busy. Also, depending on where you park there is a $2.00 parking fee.
Visit Playa Nacascolo (Gulf of Papagayo)
This is another beautiful beach and it has calm waters for snorkeling. Our kids loved to play in the shallow waters. We also went at a time when there was just two other families there. It is not crowded. In order to get there you have to drive to The Four Seasons Hotel entrance in Papagayo, park you car and take a hotel bus to the beach. This beach is open to the public and you do not have to be staying at the Four Seasons. There are public restrooms and fresh water to shower off.
In conclusion…
If you are looking for a large, all inclusive resort keep looking, this is not your place. If you are looking for a super clean, simple but nice, beautifully located, tranquil boutique hotel with a secluded beach and great service – this is it!
We hope you enjoy your family vacation in Costa Rica! Pura vida and happy adventuring!
Looking for more Costa Rica tips and resources…check these out:
Pre-departure guide
Planning Services
Learn Spanish