Costa Rica Family Vacation: Travel Hacks
Your ticket to a safe, fun, and easy family adventure in Costa Rica that lets you focus on creating memories with your family!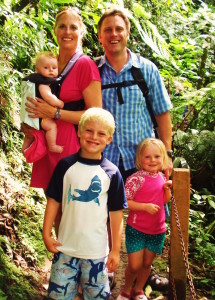 ¡Hola! I don't know you, but I do know that we have one thing in common…Costa Rica!!!
Every year, family, friends and colleagues ask me this question…
"Hey, Leslie, we are thinking about a Costa Rica family vacation and would love to talk to you about how to prepare for the trip and where to go and what to do. When would be a good time to grab a coffee or a cerveza?"
I LOVE this question because our family loves Costa Rica! We have been traveling to Costa Rica since 2002. When our first son was born, we did something courageous as first time parents; we got him a passport. His first trip to Costa Rica was when he was 8 months old. Costa Rica is a BIG part of our lives. Part of our business is in Costa Rica and we have continued to travel with our growing family for over a decade. We have done it with kids in utero, in diapers, nursing, crawling, sick, laughing, in tears and all of these combined. We have done it through the early childhood years and beyond. It is our business and life all wrapped up into our family passions—traveling, speaking Spanish and learning how other cultures live together as a family!
As you know, traveling with kids can add additional challenges and things to think about. Let's face it, we are not in the honeymoon travel stage and are smack dab in the middle of traveling with kids of various ages.
We have shared these resources with family, friends & now YOU! They have been tested and earned the family seal of approval. We hope that you enjoy your adventure and want to hear how it all works out.
Scroll down to get some Free Travel Tools and you will have access to many valuable tips, tools, videos and itineraries. Please be patient as we are in the process of uploading all of our resources and remember to check back frequently for more Costa Rica Family Travel Hacks!
Pura Vida and happy adventuring!
Leslie Foster
P.S. Do you know other families that are planning a trip to Costa Rica? Share this page with them so they can get all the goods too!