Puerto Viejo / Cahuita Area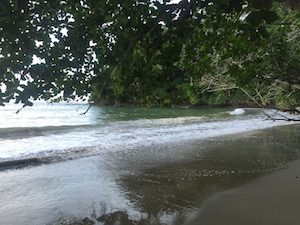 The Puerto Viejo / Cahuita area is the largest tourist destination on Costa Rica's small Caribbean coastline. This small town and the surrounding area is known for its crystal clear waters, National Parks, laid back beach attitude, surf, unique Afro-Costa Rican culture and European influence, and bicycles. Most tourists that visit Costa Rica stick to the pacific coast beaches, thus you will find less tourists here than at other hot spots. However, you might be surprised at the heavy European ex-pat community that resides in this area and own any of the fabulous restaurants and bakeries.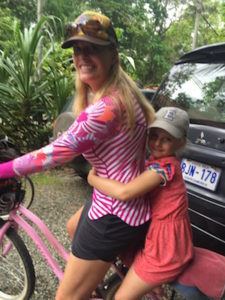 My husband, 3 kids (ages, 12, 9, and 6) and I have been traveling / working in Costa Rica for over a decade. We are always on the lookout for fun, adventurous, safe, quaint small towns that allow our family to truly relax and at the same time have an adventure of a life-time. We love the coastline between Cahuita and south of Puerto Viejo for many reasons; here are our roses (favorite points) and thorns (not so great).
Puerto Viejo / Cahuita – Roses
The beaches are spectacular white sand, turquoise water, great snorkeling and surfing! The flora is also gorgeous as all the shades of green run right down onto the beach. We love this area because it is the ideal place to spend time on the beach with family and there are many things to explore as well. These beaches are great for long walks and you might just have the beach to yourself depending on when you go!
Go to the National Parks! You will not be disappointed. You will see sloths, monkeys and much more! The wildlife is abundant and so are and trails to explore. You can also snorkel, paddle board, surf, visit a waterfall, hike, and more – Just take your pick!
Although there are many tourists, these towns are small and there is one road that leads from one little town to the next. The most common mode of transportation is bicycles, we have had a great time discovering uninhabited beaches by bicycle.
Puerto Viejo / Cahuita – Thorns
At times, the ocean tides and waves can get strong. Our kids have swam in the ocean with no incidents, but you have to use caution. There are great waves for surfing at times and you do have to be careful of the riptides. The beaches in the National Park are more protected calm and great for swimming!
As you are driving there, it might seem like you are not on the right road. Have no fear, you are. There is only one main road that heads down the Caribbean coast.
Our Favorite Things to do in the Puerto Viejo / Cahuita Area
Visit and hike in Cahuita National Park: spend a day exploring the trails and relaxing on the beach. Be sure to being some snackso you can spend more than a few hours! This park is about 16 miles north of Puerto Viejo and is stunning! It encompasses 2,711 acres (1,097 hectares) of jungle set along the sea. Here you can spot bright yellow eyelash pit-viper snakes, sloths, howler monkeys, white-nosed coatis, and many types of birds. If you live diving and snorkeling, visit the protected coral reef just off shore. There are guided tours for this also.
Hike in the Gandoca-Manzanillo National Wildlife Refuge
Visit Caribeans for the bean-to-bar chocolate tour and tasting
Visit the Jaguar Rescue Center: The center is located about 4 miles north of Puerto Viejo center. At this center you can learn about how they rehabilitate injured animals and release them back into the jungle. Meet the vets and see the clinic as well.
Our favorite place to stay
Playa Negra Guest House on Playa Negra in Cahuita is a beautiful property that is located just on the other side of the street from the beach. They have cute cottages with kitchens all linked by paths to the pool and reception. There are only 3 cottages and a few rooms to stay in. From here you can walk right into town and it is also only a 15 minute walk to the Cahuita National Park. It is cute, quaint, clean and perfect for families!
Don't speak Spanish? Let us make the reservation for you for a small fee! Contact me today lfoster@commongroundinternational.com
Looking for more Costa Rica tips and resources…check these out:
Pre-departure guide
Planning Services
Learn Spanish