Monteverde
Monteverde is definitely off the beaten path, which makes it special! Monteverde, sits atop the continental divide at 4,662 feet as is one of the few cloud forests in Costa Rica. There are actually two cloud forest reserves in what people refer as the Monteverde area; Monteverde cloud Forest Reserve and Santa Elena Reserve. There is also a small town surrounding these unique ecosystems called Santa Elena. If you are up for an adventure that takes you away from the beaches and into another world of ecosystems, animal habitats, and adventure you will love Monteverde.
A great lodging option is Monteverde Lodge & Gardens. It is close to town (within walking distance), has short, private hiking trails on the property, a pool for kids to let out some steam, a wonderful breakfast and restaurant.
Here is our Roses and Thorns.
Monteverde Lodge & Gardens – Roses
The rooms were clean and very well equipped. From the great nature patios to sit outside and bird watch to a nicely remodeled bathroom, coffee maker and mini-fridge in the room.

The Property is amazing! It is within walking distance to the center of town (10 min walk), it has beautiful, private trails where you can spot incredible amounts of wildlife, a nice outdoor pool area and yoga patio.

Although there are a ton of activities to do in this area, this lodge has many places to decompress and read and watch the wildlife

There is a butterfly sanctuary in the hotel that our kids loved

There is morning coffee, hot chocolate and sweetbreads in the lobby

The restaurant also has amazing breakfasts and a dinner menu

The attention to detail at the establishment is wonderful

They will also help you book any tours, hikes, park visits that you want and are super knowledgable.
Monteverde Lodge & Gardens – Thorns
Monteverde Lodge & Gardens Contact Information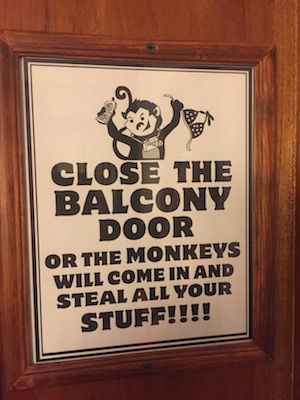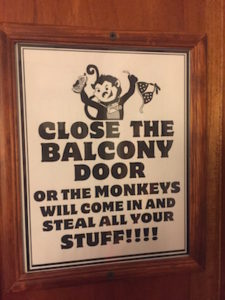 Website: http://www.monteverdelodge.com/
Phone Number: 1 (800) 672-8704
Email: [email protected]
Don't speak Spanish? Let us make the reservation for you for a small fee! Contact me today [email protected]
Our Favorite things to do in Monteverde
Visit the two cloud forest reserves
Monteverde Cloud Forest Reserve is a spectacular place to take in all the flora and fauna of the unique cloud forest ecosystem. Although there are many trails to hike on your own, we recommend going with a guide to ensure you see the camouflaged wildlife. There are set times for guided hikes. You might want to consider going with a guide for the morning tour and then exploring on your own in the afternoon?
Reserva Santa Elena is another park to visit that offers many trails to view wildlife and birds. There are guided walks as well.
Zip-lining, hanging bridges and waterfalls
Sky Adventures is a fantastic adventure company that offers many tour optio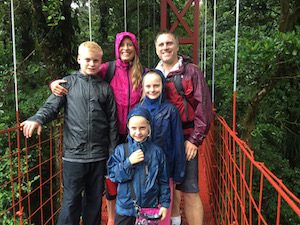 ns for the dare devil and the tame adventurer. Our family favorite tour is the SkyTrek, SkyWalk and SkyTram combo tour. This is a tour filled with zip-lines, hanging bridges and an gondola type ride into the canopy of the rainforest. Be sure to check them out, they are safe, fun and a once and in a lifetime experience!
We hope you enjoy your family vacation in Costa Rica! Pura vida and happy adventuring!
Don't speak Spanish? Let us make the reservation for you for a small fee! Contact me today

[email protected]
Looking for more Costa Rica tips and resources…check these out:
Pre-departure guide
Planning Services
Learn Spanish