Manuel Antonio, Puntarenas Province
The beaches along the Southern Pacific Coast are widely visited by people from all over the world and when talking about Manuel Antonio, it is hands down the most popular beach town in Costa Rica. This town is also known for its great national park and small boutique hotels. If are looking for a great beach to spend the day and want to leave having seen lots of tropical wildlife, you have got to visit Manuel Antonio!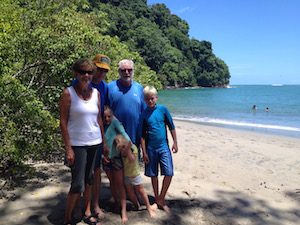 My husband, 3 kids (ages, 12, 9, and 6) and I have been traveling / working in Costa Rica for over a decade. We are always on the lookout for unique, small boutique hotels that allow our family to truly relax and at the same time have an adventure of a life-time. We love Manuel Antonio beach for many reasons; here are our roses (favorite points) and thorns (not so great).
Manuel Antonio – Roses
We love it because it is the ideal place to spend time on the beach with family and you will not get bored with the variety of activities.
There is plenty to do, you don't just have to hang out on the beach! Visit the National Park and you are guaranteed to see so much tropical wildlife and the guides are great at making sure you don't miss a thing. You can also snorkel, paddle board, surf, take a cruise on a catamaran, zip-line, visit a waterfall, hike, and more – Just take your pick!
There is a large array of food and restaurant options, the quality of the restaurants and the variety makes it stand out in comparison to other beach towns. Some of our favorite restaurants are El Avión and La Cantina
The area is very developed and there are also a wide range of hotels to choose from, mostly small boutique options, with great service. You can choose based on your preferences. Check out some of our favorite below.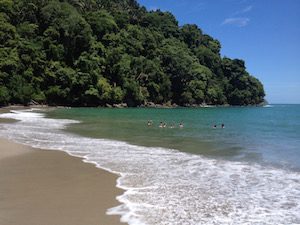 Manuel Antonio – Thorns
At times, the ocean tides and waves can get strong. Our kids have swam in the ocean with no incidents, but you have to use caution. There are some great waves for surfing at times and you do have to be careful of the riptides. The beaches in the National Park are more protected, very calm and great for swimming!
Since is it a well known tourist destination, there are also a lot of people offering you things – from souvenirs, to tours, to restaurants, to name a few.
As many high traffic tourist destinations, the center of Manuel Antonio has a night scene and people come here to party, as well. If you are tucked into your hotel in the night hours, this won't be a problem, but it's good to keep in mind.
Our Favorite things to do in Manuel Antonio
Explore Parque Nacional Manuel Antonio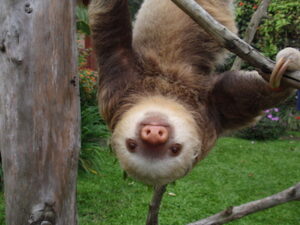 This is a great half day or full day activity. You have two options when you visit the park; you can enter the park without a guide OR hire a guide to give you a tour of the park. Being a independent family, we are a DIY (do it yourself kind of family) however, it is 100% worth it to hire a guide to see the wildlife. They are super knowledgeable about the flora and fauna and know where those insects, arachnids, serpents and animals are hanging out.
Park information and tips:
If you go, go in the morning. Park opens at 8am and you will have a better chance to see the animals and there will be less crowds.
The park costs money to get into. As as Jan. 2017 the park entrance fee is $16 per person and kids under 12 are free.
This is a walking park and there are a handful of trails that are mostly flat. There is a view point trail that goes uphill a bit.
We recommend packing a lunch and making a day out of it.
There are bathrooms by the nearest beach, fresh water to shower and potable water to fill up water bottles
If you cannot walk to the park entrance from your hotel, you will either need to take the public bus to Manuel Antonio center or drive your rental car. If you drive, there is not a lot of parking. There are a couple small lots and you will want to bring cash to tip the parking attendant.
Book a catamaran tour, snorkel tour, book a surf lesson or one of the many other adventurous activities
Catamaran Tour:
The catamaran tour is a beautiful way to end a day, and is truly a first class adventure. You can watch the dolphins and the boat makes a stop to snorkel in the warm waters. The tour includes unlimited soft drinks and natural juices for the kids, and some included alcoholic beverages for the adults, and some snacks on board too, plus a dinner right as the sun sets! We like the Ocean King company and highly suggest the sunset tour!
Snorkel Tour:
If you just want to go snorkeling without all the cruising and extras that come with the catamaran tour, we highly suggest Snorkel Adventure CR and their morning snorkel tour. The boat fits up to 18 passengers and the tour lasts about 2.5 hours. It's a great way to get out on the ocean and into the water with experienced guides who stop where all the fish are! They offer two schedules as well, morning or sunset, and the tour includes transportation, a yummy tropical fruit snack, water and all your gear!
Surf Lesson:
The Tropical Surf School will get you surfing the waves of Manuel Antonio in their two hour lesson, then let you take the board for another hour by yourself. You can contact them on their webpage, or just look for them under their tent on the public beach in the center of Manuel Antonio!
Paddle-boarding:
If paddling away in the center of the ocean down one of Costa Rica's most lush shorelines sounds like the adventure your family would love, then this tour by Paddle9 is for you! If you're up for something different, you can even opt to paddle board in the biodiverse mangroves of Manuel Antonio as well where the water is very calm. This company also has some great morning tours of nearby waterfalls if you're up to explore even more!
Additional Tips:
On all of these tours you will want to be sure you lathered up on your sunscreen, and you've got it in tow to reapply for yourself and the kids. There is nothing worse than a sunburn to ruin a great vacation! Bug spray is another good option for around the beach and mangrove areas.
Our favorite places to stay in Manuel Antonio
Hotel Playa Espadilla has the best location, is nice and clean, service is fantastic and a delicious breakfast is included in the in the price. The actual town of Manuel Antonio is tiny and there are only a few decent options for hotels that are within walking distance to the beach and park. Most of the hotels are located up on a hill with a view of the beach. Our family prefers Hotel Playa Espadilla as it has a fantastic location and we do not have to walk anywhere. You have two options when you stay here, you can stay in the hotel or in the cabins. Both are great and have access to great pools.
Hotel Villabosque is another small, boutique hotel in a great location! Just across the street from Hotel Playa Espadilla. They have nice, clean rooms, a small pool and nice restaurant.
In conclusion...If you are looking for a safe, small beach town that has more to offer then laying on the beach, visit Manuel Antonio and explore the parks, wildlife and diverse activities. Happy adventuring and pura vida!
Don't speak Spanish? Let us make the reservation for you for a small fee! Contact me today lfoster@commongroundinternational.com
Looking for more Costa Rica tips and resources…check these out:
Pre-departure guide
Planning Services
Learn Spanish