LA FORTUNA / VOLCAN ARENAL
The Fortuna area is a family friendly adventure hub! It is a wonderful place to visit for at least 3 days! There is so much to do in this area. La Fortuna is the town that sits at the base of Arenal Volcano. This area is known for it's volcanic thermal springs, many adventurous excursions (zip-lining, hanging bridges, waterfall rappel and more), Arenal National Park, Lake Arenal, lush vegetation, incredible views of the Arenal Volcano when there are no clouds. This is a must see area, that should not be skipped. We love to combine a 3 to 4 day trip to Arenal / La Fortuna with a 4 to 5 day trip to the beach. Then you get best of both worlds.
There are so many options for lodging in this area…Here are two of our favorites
Leaves and Lizards Retreat

Leaves and Lizards Retreat is just that, a retreat! It is about 30 minutes outside of the town of La Fortuna away from the hustle and bustle of the tourists, nestled up on a ridge with a spectacular view of the volcano. It is a small, boutique retreat that offers various sizes of cabins to stay in and fresh farm to table food! It also has a spectacular infinity pool that faces the volcano, private trails and many equestrian activities.
Here are our Roses (advantages) and Thorns (disadvantages) of Leaves and Lizards Retreat
Leaves and Lizards – Roses
It is off the beaten path, away from the tourist bustle

Offers spectacular views from porches of the cabins and from the restaurant, bar, pool area

Private, short hiking trails that are kids friendly

Wonderful, hospital owners and service

If you love horses you will be impressed with Diane and Steve's horses, trail rides, classes and seminars

Safe, family friendly

Great breakfast included in the rate

Our kids loved to wake up and milk the cow, Valentina, in the morning and drink fresh milk at breakfast

Once you get there, it is a slower pace life and can sometimes be hard to leave:)
Leaves and Lizards – Thorns
While you can hire transportation, it is really nice to have a car in order to get to town and participate in the fun, adventurous things that La Fortuna offers

It is about a 30 minute drive into town
Leaves and Lizards Contact Information
Website: http://www.leavesandlizards.com/
Phone Number: 1-888-828-9245
Hotel Silencio Del Campo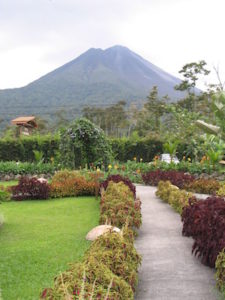 Hotel Silencio del Campo is a another small, boutique hotel that offers individual bungalows set amongst lush gardens. It is centrally located on the main road to town. Here are our Roses (advantages) and Thorns (disadvantages) of Hotel Silencio del Campo.
Hotel Silencio del Campo – Roses
Clean, beautiful private cabins with hot water and AC

Set in lush gardens with spectacular views of Arenal Volcano

Fantastic breakfast included

Wonderful family run business with great service and hospitality

Private pool and hot spring area

Spa Services

Centrally located on main road to town and to various tours, excursions
Hotel Silencio del Campo – Thorns
We cannot think of a thorn?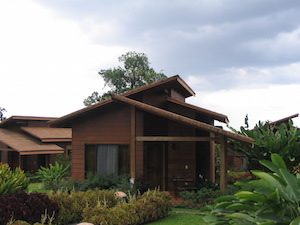 Hotel Silencio del Campo Contact Information
Website: http://www.hotelsilenciodelcampo.com/eng/index.html
Phone Number: 011 (506) 2479-7055
Don't speak Spanish? Let us make the reservation for you for a small fee! Contact me today lfoster@commongroundinternational.com
Our Favorite Things to do in La Fortuna
Visit one of the many Hot Springs Resorts for the day. Our favorite are…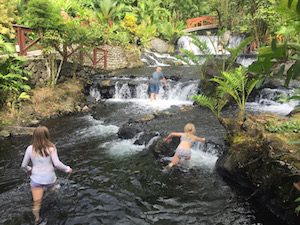 Tabacón Hot Springs We enjoy going in the afternoon and soaking in the pools and wrapping up the day with a delicious dinner full of fresh foods at their outdoor restaurant while viewing the thermal springs and lush gardens
Baldi Hot Springs Claims to be the "largest thermal waters of the world" and has more than 20 hot spring pools to soak in. And two killer water slides for kids. You can also wrap up the day with a delicious dinner at the balcony restaurant.
Do adventure! Go Zip-lining, waterfall rappelling, hanging bridges…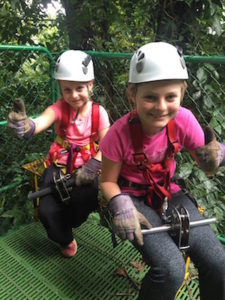 Sky Adventures is a fantastic adventure company that offers many tour options for the dare devil and the tame adventurer. Our family favorite tour is the SkyTrek, SkyWalk and SkyTram combo tour. This is a tour filled with zip-lines, hanging bridges and an gondola type ride into the canopy of the rainforest. Be sure to check them out, they are safe, fun and a once and in a lifetime experience!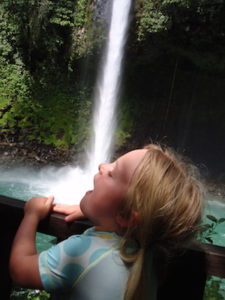 Hike the La Fortuna Waterfall! Be sure to wear your swimsuit, bring a towel and pack some snacks and make a half day excursion out of it. There is a park entrance, but it is worth it!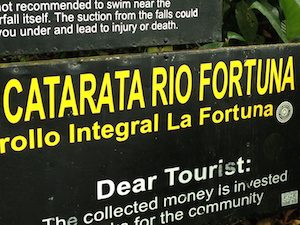 We hope you enjoy your family vacation in Costa Rica! Pura vida and happy adventuring!
Looking for more Costa Rica tips and resources…check these out:
Pre-departure guide
Planning Services
Learn Spanish