The Immersion Fund does fundraising for travel scholarships by partnering with the House of Hope.
The Immersion Fund offers unique fundraising opportunities and student travel scholarships for Spanish immersion participants. We all know that immersion is the best way to learn a language. The students and professionals who go on our Spanish immersion trips learn how to communicate well in Spanish so that they can better serve the Spanish-speaking populations in their own communities.
However, the Immersion Fund is more than simply fundraising for travel scholarships; we are also passionate about supporting year-round the local communities that we visit on immersion trips.To raise these funds, the Immersion Fund is partnering with the House of Hope.
The House of Hope is a place of refuge and new opportunities for women who are leaving prostitution. The House of Hope provides for their physical needs by offering medical attention, education, vocational training, housing and much more. Here the women are also cared for mentally, emotionally and spiritually as they are welcomed into a loving community. We love our partnership with HOH because it helps women find value, dignity, peace and spiritual meaning as they move forward in their lives.
Valerie R. was at the House of Hope June '15 and is returning June '16 with a church group from Calvary Bible Church. Here she is sharing some of her experiences as she witnessed redemption at the House of Hope:
House of Hope is a vocational rehabilitation program for women and their children leaving the world of prostitution and human trafficking. House of hope offers vocational training, a micro grant program for women as well as a residency program and education for residents and their children. At the House of Hope many people from Managua come to receive free medical care each week. On Tuesday Mornings hundreds of women gather around the city to make jewelry and other marketable items as they come together in a loving and accepting community.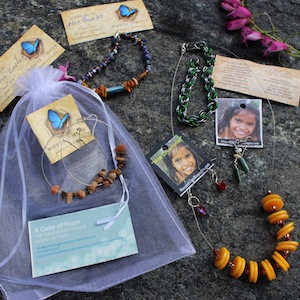 As Valerie says, this is a unique place that offers physical and spiritual hope for many in Nicaragua. We believe that the work being done at the House of Hope is incredibly important and must continue! That is why we've decided to partner with House of Hope by buying jewelry that the women make. All the jewelry that we sell in our Purchase with a Purpose fundraising for travel scholarships come from the House of Hope.
Join with us and help sustain these women by ordering some of their beautiful hand-made jewelry in a Case of Hope. With each Case of Hope, not only do you support these women, but you also help provide travel scholarships for students and professionals who hope to learn Spanish in order to make a difference serving Spanish-speakers in their own home communities.
To learn more about how you can be involved in this unique fundraising program and possibly contribute to student travel scholarships, visit the Immersion Fund.