Can you help us help the under-served in Costa Rica for our medical missions?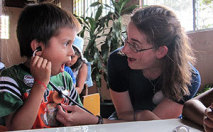 Each year Common Ground International leads a medical mission in Costa Rica for student and professional participants. Over the years the groups who have traveled to Costa Rica have had the opportunity to take donated medical supplies to help re-stock clinics and pharmacies in the impoverished areas where we work to make a difference.
While the trip participants will make a concerted effort to collect donations before the trip, we welcome donations from all of our students and professional partners. If current Medical Spanish students have any items to donate, feel free to bring them to class and your instructor will take them. For non-students, please contact Rory Foster at [email protected] to make arrangements for drop-off or pick-up within the Denver area.
Here are items that we already know are helpful to the communities we visit*:
HIGHLY NEEDED ITEMS
Over the counter drugs for common colds, flu, and pain (Ibuprofen, Tylenol, etc.) for infants, children and adults
Allergy meds / anti-itch cream
Basic antibiotics
Antibiotic ointments & steroid creams
Antihistamines
Eye / Ear drops
Pre-natal vitamins, other vitamins
Birth Control (condoms, condoms, and more)!!
Small sample bags to dispense medication
General needs such as: soap (small bars), shampoo, toothbrushes, toothpaste…
GENERALLY NEEDED ITEMS FOR PRIMARY CARE
Taping and sling materials
Cough syrup
General wound care supplies
Suture kits
Antibacterial cream
Oral re-hydration
Iodine tablets (water purification)
Any other things that you can think of…
GENERALLY NEEDED ITEMS FOR EDUCATION AND PREVENTION
Tools for teaching about sex ed. (condoms)
Tools for teaching about healthy eating and nutrition
Tools for teaching about hygiene (toothbrushes, toothpaste, hand soap…
Any other things that you can think of…
* It's important that all donated items be small enough to fit in a duffel bag.
Questions? Contact us at [email protected] or 303-684-5557 or check out our Medical Mission/Spanish Immersion in Costa Rica Program.
¡Muchas gracias!