What's in store for High School Spanish students who stick with the language…stay on that path bilingual students!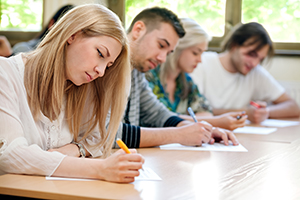 Start studying Spanish in high school – and stick with it – and you'll have an edge that will last a lifetime. Here's a little taste of the advantages that aspiring bilingual students will encounter, in the order they'll come his or her way:
1. Scholarship opportunities
You don't have to be a native speaker to earn college scholarship money for your language skills. In fact, you don't even have to know where you're going to college yet! Your high school may have a chapter of the Spanish National Honor Society, a Spanish Club, or other organizations that awards scholarships to graduating Spanish students.
2. Better study abroad options in college
College study abroad is a life-changing experience for most, and certainly an excellent way to solidify your language skills and start thinking in Spanish and speaking as comfortably as a native. So, should you wait until college to really throw yourself into the language? NO.
Two words: Language Requirement.
While many colleges do offer programs in Spain or Latin America that require one year or less of college Spanish, you could be at a huge advantage by testing into a higher level and completing second or third year level college Spanish before applying for study abroad programs, for three reasons:
More program options. Applying to study abroad with only a year of language can possibly limit you to a) programs that focus entirely on language learning (where you'll be taking Spanish classes with other English-speakers) or b) being enrolled in a university abroad, but only having a select few classes open to you.
More class options. Applying with two or more years of language under your belt often means you're allowed to enroll in a university abroad and take a much more interesting variety of classes, including those that can count towards your major back at home. At the same time, your classmates in those classes will be from your host country, which makes it much easier to make friends!
The cool extra stuff. Does your major require a senior thesis? Would you like to do an internship with a company or organization while studying abroad? Many study abroad programs have built-in options for conducting research abroad and doing internships – if students have well-developed language skills.
3. Fellowship opportunities
Okay, so maybe you've studied abroad and you're graduating from college, but you'd still like to do some kind of meaningful work or research abroad before settling into a career. That's where fellowships come in. Famous fellowships include the Rhodes Scholarship, and the prestigious Fulbright Program, which provides funding for college graduates to study, teach, or conduct research in a country of their choosing.
4. Volunteer abroad – the most rewarding adventure of all.
5. Try a short-term job abroad
From teaching to land surveying toleading student groups, there are plenty of short-term jobs that await those bilingual students looking to immerse themselves in Latino culture.
6. Be more competitive – and earn bilingual pay in top career fields in the U.S.
7. Entire career fields are now open to you…
8. Move to a Spanish-speaking country. Just like that.
Bottom line, if you speak English, you can communicate with roughly 500 million people worldwide. Learn Spanish, and that number doubles. Learning Spanish not only opens the door to communication with people throughout Spain, the Americas, some of Africa, and the Caribbean, but also with all the non-native Spanish speakers across the globe who have made it a second or third language.
So what are you waiting for? Take your Spanish to the next level this summer!