Potential drawbacks of using bilingual employees as interpreters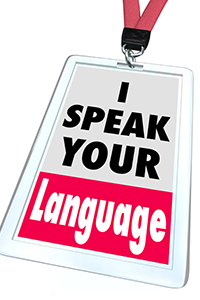 So far we've discussed the intricacies of working with Latino patients in the medical setting, but many of the same language obstacles and cultural values manifest themselves differently in other settings. Bilingual employees can be valuable assets, but sometimes their bilingualism can be misused.
As the Latino population in the U.S. grows, more and more employers find themselves managing a Spanish-speaking workforce and navigating language and cultural gaps as part of their managerial roles. We recently interviewed several local restaurant managers who employ Latinos. The number and roles of Latino employees varied from restaurant to restaurant, but nearly all of the managers had some employees with whom they could not communicate directly due to the language barrier. Across the board this problem was addressed by having another bilingual employee – typically a Latino who speaks both English and Spanish – step in and serve as an interpreter.
Our research showed that many restaurant managers relied so heavily on their bilingual employees to facilitate communication with limited-English Latinos that they made a conscious effort to have a bilingual employee working on every shift. When that wasn't possible, miscommunications would cause a lot of frustration and inefficiency.
While using bilingual employees as interpreters may seem like the most convenient option for managers, it has its drawbacks:
First, it's not safe to assume that just because someone is from Latin America and has lived in the U.S., they speak both Spanish and English fluently. Language ability changes over time as immigrants and their children are assimilated into mainstream culture, and the person who is called on to interpret may not be able to both understand and convey the message clearly.
Similarly, language skills do not necessarily indicate leadership or managerial skills. A supervisor who calls on a bilingual employee to interpret at a staff meeting or assist in resolving a conflict is presuming both leadership skills and the appropriateness of that bilingual employee in the interpreting role:
We saw one case of a manager who was using a bilingual employee as an interpreter in trying to resolve harassment issues among a group of employees at a clothing manufacturing pant. She later discovered that the interpreting employee was actually part of the problem she was trying to address. Thus, her "solution" compounded the problem in a few different ways. Because the interpreting employee was himself guilty of harassment, he didn't give a faithful interpretation of HR's message so as to not make himself look bad. As a result, the seriousness of the message was undermined and the employees that HR was trying to protect were further distanced from HR because of the person they chose to interpret the message.
As stated on HR.com:
Your bilingual employees can be helpful liaisons, but be aware of liability concerns when asking bilingual employees to perform tasks beyond their responsibilities. If you ask your bilingual line supervisor to interpret your sexual harassment prevention training program, you would not be able to verify that his or her translation was correct if you were challenged by a harassment claim.
On-the-spot interpreting by bilingual employees not only compromises the effect and professional tone of the message, but it can create a great deal of social stress for the employee. Just as the people-centered and collectivist nature of Latino culture expresses itself most visibly as familismo in the medical setting, it means that Latinos at work may view themselves first and foremost as part of a group. As such, singling out bilingual employees from the group to collaborate with a manager can upset that person's peace of mind and social standing with the other employees at his or her level.