3 Essential components for a successful English class at your workplace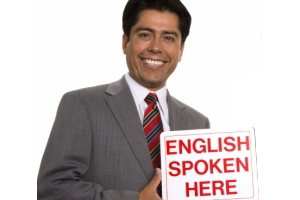 We're always excited when a new client inquires about offering an English classes to their employees, and we're equally surprised by many corporations' willingness to implement a hasty plan and be satisfied with a "trial and error" approach to language training.
At Common Ground we specialize in offering industry specific language classes, and our years of experience have taught us that the following 3 suggestions are essential for a successful language class:
Select your students carefully: Not every employee is right for the English class you are putting together.  You don't have unlimited time, nor do you have an unlimited budget; so you need to identify the group of employees who have the best chance for success within your time frame and budget.  Course "success" can be defined in any way you choose (of course it should match #2 below), but regardless of your goals you want to be sure that your students are as homogenous group as possible (homogenous in their pre-class language ability).  Too wide of a range in language abilities represented in your class is a recipe for failure every time.
Set specific goals for the course: Everyone knows that you need to have objectives for your trainings; but we encourage our clients to get more specific than surface goals like "improve communication on the job", or "increase conversational English", etc.  Your goals can be specific, and ought to be related directly to work responsibilities or problem areas at work.  For example, if one of your common problems at work is the mislabeling of products, then a specific goal of your English class will be the ability to read and understand the commonly used product labels at work.
Offer an incentive for successful completion and consider a penalty for unsuccessful completion: We were surprised by this one initially as well.  However it seems to ring true every time after testing it – and it is not culture specific nor specific to a given socioeconomic class.  This is a training truth that we've observed in our Medical Spanish classes and our ESL classes.  Initially we would offer courses with the "Free English Class" being the incentive, and that seems fair when you look at the cost of offering these language trainings to staff.  However, those classes were always the ones with 40 – 50% completion rates.  As soon as incentive plans and penalty plans are put into place, the average completion rate then jumps up to 80%.
It is definitely possible to offer successful English classes to your staff, but don't leave it up to trial and error to figure out what works best.  Consider implementing the three components above to position your training for success!
Learn more about Common Ground's Industry Specific Spanish and English Classes: