An effective immersion model is educational, fun and inserts students into the community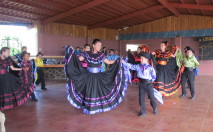 There are a lot of summer programs out there for high school students, with different approaches to student travel and education. Our Spanish immersion program has not only proven to improve language ability, but it's a hit with teachers, parents, and of course, students!
Here are a few reasons why our model for high school Spanish immersion simply works, and achieves more objectives without the hassle & uncertainty:
1. Our students have a more profound experience – and learn Spanish more completely.

Our formula is simple yet surprisingly unique among travel programs:
Intensive Spanish classes
+Family Home stays
+Community Service
+ Adventure Travel
= Comprehensive language program!
Few high school travel opportunities truly balance substantive Spanish education, cultural learning and fun. Students who travel with Common Ground go primarily because they want to improve their Spanish. However, as educators we know that a one-dimensional experience isn't the best way to help our students grow as Spanish-speakers and people. So…we have meticulously designed our Spanish immersion program to balance three crucial components. We are directly involved with the execution of all aspects of the program, to truly sacar el jugo and make it a rich cultural and language experience for your students.
2. Our programs are never canceled.
Ever heard stories of teachers investing tons of time and energy into getting a program to "go" for their school only to fall short by a few students and have to cancel on everyone? Some travel & tour companies have a minimum numbers of students because they're program brokers, and depend on teachers to chaperone students. It's hard for students and families to commit to a trip that isn't a sure thing – and a big let-down for everyone when a trip is canceled.
We aren't program brokers, we are program leaders, and we guarantee that student(s) will have a summer program because we combine students from multiple schools into one! Teachers are welcome to travel with their students as well, and we can help with cost provided they have at least 7 students traveling from their school. If they have less than 7 students, and they'd still like to travel with their kids, we can work out some reduced travel costs for them in exchange for helping us chaperone their students.
3. We specialize in Costa Rica!
Again, Common Ground is not a program broker, we are program leaders. Our team of leaders guides students through pre-departure preparation, every aspect of the trip on-site, and provides returnee support once the program has ended. We don't offer multiple programs in several Spanish-speaking countries. We are very well-connected within Costa Rica, and have a full-time program coordinator living on-site in addition to the U.S.-based trip leaders who travel with the students. By focusing our time and energy on a single destination, we're able to give students a truly unique Spanish immersion experience there.
4. We do the leg-work!
Spanish teachers are already spread thin with their responsibilities at school, so why add program coordinating and recruiting to their load? We only ask teachers to help facilitate classroom presentations or lunch meetings to get the word out to interested students.
There are two ways for teachers to do this:
1) Use 15 minutes of class time and present the program video to all students.
2) Arrange a lunch-hour presentation of the program so that only interested students need attend. Common Ground will be happy to provide pizza for lunch presentations. After the presentation, teachers send us a list of students who are interested in receiving further information, and we take it from there.
We speak with families of interested students, we design the program itinerary, we prepare students through our extensive pre-departure planning steps, we conduct parent meetings and pre-departure meetings, and we chaperone the students (again, we'd love to have teachers join us, but it's not required).
Take a look at the student experience on the 2010 Spanish immersion program: