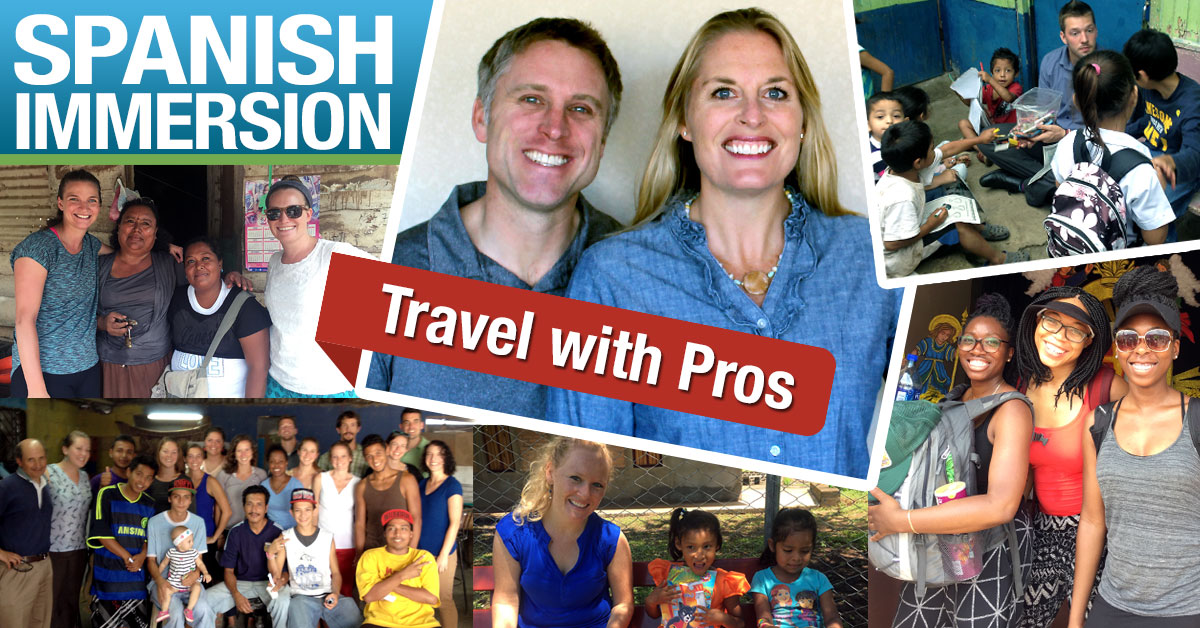 Here are the costs for Adult Spanish Immersion programs.
Ecuador Program
1-wk in Ecuador: $1,725
2-wk in Ecuador: $2,799
Ecuador / Costa Rica Combo Program
2-wk Combo: $3,197
3-wk Combo: $4,097*
4-wk Combo: $5,050*
5-wk EC & CR: $5,975*
6-wk EC & CR: $6,875*
Costa Rica Program
1 wk in CR: $1,725
2-wk in CR: $2,799
3-wk in CR: $3,750*
4-wk in CR: $4,675*
5-wk in CR: $5,675*
6-wk in CR: $6,589*
This program fills on a first come, first served basis. Reserve a spot on the program for 30 days – no obligation – no credit card, just 30 days to help you coordinate your schedule!
Reserve your seat for 30 days
There's no obligation, just give yourself some pressure-free time to make a decision!
Student Rates apply to 3 week and longer programs for Healthcare degree program students in any phase of training. Email Rory Foster for details on discounted student rates.
This is an investment in yourself and your ability to connect with your Spanish speaking students and parents. Join us today!
There is no better way to improve your Spanish
What is included in the trip cost?
10hr pre-departure course

24/7 support and leadership from the CGI team and immersion partners

International health insurance

Intentional integration of Spanish language learning into every aspect of the program (CGI teacher/leader with you all the time to capitalize on those "teachable moments")

Breakfast and dinner with host family

Transportation to most volunteer work sites. We may take a public bus, taxi or uber here and there)

Spanish classes and related materials

Guest Lectures
What else should you budget for?
Flights & Baggage fees

Exploring the country on optional weekend excursions (We'll offer some group excursions. You can also choose to DIY weekend travel

Required & Recommended Immunizations

Continuing Education Credits

Lunches ($7-$10 on average)

Souvenirs and day to day personal expenses

Donations for charitable work and gratuities for tour guides & drivers on weekends
If you have any uncertainties about your upcoming adventure, it might be a good idea to use extra protection ?

If you're looking for a Cancel for Any Reason policy, we suggest you shop for it here at travelinsurance.com

Cancel for any reason insurance covers personal things like scheduling conflicts and those crazy things that rarely happen – like global pandemics.

All of our programs include basic travel medical insurance with trip interruption, delays, lost bags, etc. Here is the standard description of coverage for your included travel insurance plan.
If you would like to schedule a time to speak with me about this program and how it may (or may not) meet your needs, I'll be glad to have that call and help you figure it out! Here is how you can reach me: (303) 684-5557 | Email Rory
Ready to join us?
Register today!
Need more time to think it through?
Reserve your seat for 30 days
There's no obligation, just give yourself some pressure-free time to make a decision!
Here is what people think of our Adult Spanish Immersion Trip:
Spanish Immersion for Adults