Host Family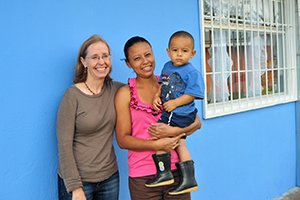 Your host family is a true highlight of your experience on this Spanish Immersion program, and plays an integral role in your Spanish language development.
Adult Immersion Educator Immersion Medical Immersion Study Abroad
When we say that you're joining a 24hr immersion program – that's what we mean! The learning never stops from the time you wake to the time you go to bed. Of course there are options to stay in a little casita all to yourself, or even rent a room in the Common Ground house if you need any special arrangements – but you won't regret your time with your host family! The language development and cultural knowledge you gain by staying with a Costa Rican family that is truly interested in getting to know you is hard to quantify. What can you expect?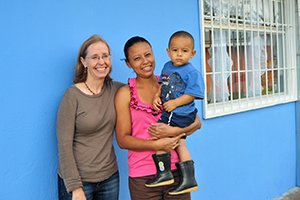 Living with a host family who solely speaks Spanish was a wonderful, occasionally overwhelming, yet beneficial experience. My Spanish comprehension improved dramatically during these 2 weeks, and several of my coworkers have commented on my improved Spanish communication skills. I enjoyed the evenings with the families and felt like a wonderful break having someone else cook and care for me!
Family Meals: You'll share breakfast and dinner with your host family.  ¡Buen provecho!
Private Bedroom: Homes in most of Costa Rica aren't large, but all of our host families have a private space for you to sleep and keep your things (even valuables) safe. You'll most likely share a bathroom with others in the family.  Your host mother will probably clean up a little while you're out during the day in an effort to help you feel comfortable and well taken care of.
Lots of Conversation: This is the main reason we want you to stay with a host family while on our Spanish immersion program.  Your family will want to know all about what you did on a given day and what your plans are for tomorrow.  They will help you learn different ways of saying things and more importantly, provide you with a cultural experience that can't be "learned" – it must be lived to understand.
Meet the Host Families!
We asked a handful of our regular host families to write a short bio to introduce themselves. Here is what they had to say…
Familia Díaz Chacón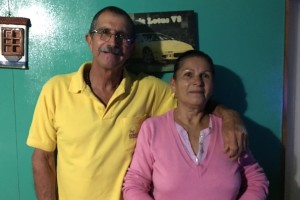 Jose and Marta are the grandparents of a large tica family! Jose used to make maps for a living, but is now retired, and Marta is a homemaker who spends most of her day cooking. They both live in a house on a property where all of their children and their families have built their own homes. There are visits each and every day! They are fanatics of the team Saprissa, which is a Costa Rican soccer team, but they are not crazy about the rain. They also have a favorite television show which they watch each night. Jose likes to learn new words in new languages while Marta enjoys singing and cooking delicious meals.
Familia Ortiz Fonseca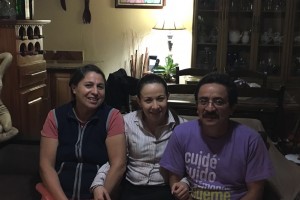 Miguel Ortiz is 53 years old and is a carpenter. He is from San Isidrio de Heredia. He works from home and makes doors and other similar items for people in the community. Lisbeth Fonseca is 50 years old and is also from San Isidrio de Heredia. She is a homemaker. Lisbeth and Miguel were married 25 years ago one Thursday morning at 7am, on the 13th of December. After three years of marriage, they had their daugher, Yosie. Yosie is 22 years old. She is a student and secretary. She has been a secretary for 4 years. She is studying administration at the university.