Workplace English Programs are GOOD for Business!
Workplace English Programs are GOOD for Business!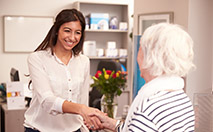 If you have any international or immigrant workers at your workplace, you have likely run into some English communication problems.
Not only is it frustrating, but the time lost and energy expended to keep everyone on the same page certainly takes its toll on morale and efficiency on the job. Speaking English well enough to understand and perform job functions is essential.
Many workers speak English on some level already because they are living and working in an English environment. However, the everyday mistakes they make in both reading and speaking English continue to interrupt daily work functions. You would never know because what you observe are signs of understanding (like nodding heads) that on the surface make you think that everyone knows what they have to do on the job. In reality, many of your international workers may need help communicating with their supervisors the problems and questions they are experiencing.
Most professionals and laborers could benefit greatly from a workplace English class because they are designed specifically to improve their English on the job and help them speak English in their workplace setting. Here are just a few reasons why an English literacy program could be beneficial for your company:
English continues to be our primary language, and the ability to speak English properly is crucial for the well-being of any company employing people from different areas of the world. This is particularly true as we move further into the world of technology.
Misunderstandings among employees and supervisors can cause strife, open the door for workplace accidents, and stir up needless labor problems.
Personnel lacking English language skills can cause critical losses of time, money, and worst of all, YOUR CUSTOMERS!
Customers tell us all the time that they are a company that does "x", they're not a language school. This is 100% true, and this is exactly why they love working with Common Ground for their professional English classes. We don't approach language like a college class, and we don't think your staff needs to be fluent in English to do a good job at work.
We specialize in helping your staff improve their practical English skills and to speak English with enough proficiency to get the job done well. We customize our professional English classes. We tend to recommend 30hr courses spread out over 3-6 months time so that classes are not burdensome.
Contact us! We'd love to hear about your business and how we can help you.