Medical & PA Elective Rotations and Nursing Clinicals in Costa Rica
It's no secret that immersion is the best way to learn Spanish. What better way is there to spend one of your final rotations in Costa Rica learning Spanish?
This elective rotation for medical, PA, and nursing students is an approved international rotation for universities across the United States and is open to any student wanting to learn Spanish and improve their conversational skills for their profession. Apart from being an amazing language, cultural, and community health experience, there is no better way to learn and experience inter-professionalism than to to be working on common goals with students and professionals across the range of health professions while you're all on the same playing playing field working to improve your Spanish while you make a difference in underserved communities.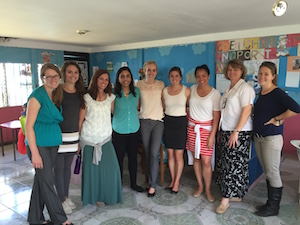 For me, this elective rotation taught me lessons that they do not include in the medical school curriculum. I was able to gain an understanding of the culture of many of my future patients. No other experience in school has taught me this much about another culture, about healthcare abroad, and about myself.
Spanish has been a goal of mine for years, and after this trip I feel that I have finally made some significant progress. It's true that immersion is the best way to learn. I am excited to be able to use Spanish with my patients in a few months to connect with them on an entirely different level than I could have before.
Here are the essential details:
Timing: We run these elective rotations and Spanish for healthcare immersion trips 2 times a year: February & July. See the 4-week medical Spanish immersion program dates here
Length: The full medical elective rotations run 4 weeks. However, students and professionals are able to adjust the length of their rotation to fit their schedules and academic needs.
Day to Day Schedule:
Monday – Friday you can expect to be very busy learning and using Spanish in medical outreach settings. Half of the day you'll be in an underserved community delivering health education. These are topics that the local community has requested we deliver education around, and you will prepare extensively with the other students and professionals during pre-departure preparation. The other half of the day, you'll be in medical Spanish classes at language school. In the evenings you'll head home to your host family and continue improving your language proficiency as you cook together, get to know each other, and participate in your new Costa Rican family.
Weekends are unscheduled. Most participants will make plans for a couple of quick sight-seeing trips on the weekends. Additionally, we always suggest that you make time to stay home with your host family for at least one weekend of your trip so that you can participate in weekend family activities.
Paperwork for Academic Programs: If you are a Medical, Nursing or PA student looking for an International elective rotation, Download & Submit this Course Description to your academic program.
More Information: For more information, see the Medical Spanish Immersion program page