You are a fantastic group of educators that truly cares about the population you serve. It was super evident in your participation in the Spanish for Parent/Teacher conferences crash course.
It really was a crash course! In less than a week we went through at least 3 hours of super relevant and applicable vocabulary that you used right away. And because you contributed and there was so much interest in continuing, I have some next steps to tell you about. So, if you've been asking.. " But, now what? " Hit play and listen to my personal invitation.
¿Y ahora qué? Crash course is over…now what…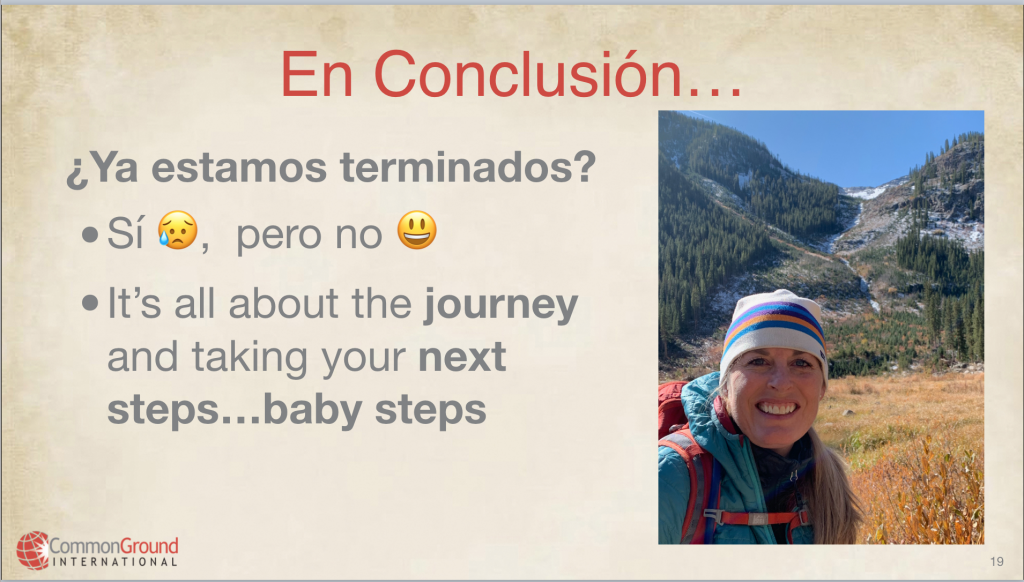 I have a plan for your next steps…Learn more in the video. Time is limited, so click play NOW!
Have questions about this course? Drop down to the FAQ section…
Ready to enroll in this Masterclass with like minded teachers like YOU? Register NOW, enrollment closes on Oct. 28th!
You've got to hear how learning Spanish has helped this incredible 2nd grade teacher build a deeper connection with her students & families.
Listen to what Katie has to say about the impact of learning Spanish, her limiting beliefs that might have delayed her progress and her next steps…
"Learning Spanish has allowed me to have deeper relationships with my Spanish-speaking families. It's opened up a dialogue that I normally would not have and it's made me build those relationships where otherwise there would be a bit of a wall as I would have to rely on someone else to translate the information for me."

"With my students, knowing Spanish has added another layer to the relationship."

"Starting the first day of school when parents are walking their students up to class and I can greet them in Spanish, there is a sense of ease and comfort that comes across them. It let's parents know that I'm not just invested in teaching their kids, but I'm invested in their child and family as a whole because I'm trying to communicate with them in their home language. "

When I asked Katie for her advice for other teachers that might be hesitant about learning Spanish for fear of making mistakes or not saying things perfectly, here is what she had to say to YOU…

"You just have to go for it! The families and students appreciate your effort so much."

"Making mistakes is far less of a problem. Trying to communicate in their home language far outweighs the mistakes you may make."
¿Preguntas? Do you have questions about the class? Drop them in the comment section below or email me at [email protected]
Class enrollment opens on Oct. 23 and closes on Oct. 28th. Class begins on Oct. 30th.
FAQ's–>Common Questions about this Masterclass
Time is one of the most valuable resources we have! I'm a teacher, mom, small business owner as well – I get it! Here are some answers to the questions that might be popping up for you…
Why does this cost $197? Excellent question…
Well, because I can't work for free:) I too am a teacher and have to make a living! I give a ton of lessons, templates, vocabulary and general content away for free. But my time is valuable, just like your time. And things that are super high value, resource rich and transformative have a price. I guarantee you will walk away with an arsenal of Spanish to use in the classroom and with parents. But not just walk away- you are going to apply it right away! And you have my full support and I'm committed to your success!
Let me ask you this…what do you charge for small group tutoring in an academic area? The going rate for private tutoring is between $50 and $60 an hour. Although this is not private tutoring- I'm going to be teaching you around 15 hours of Spanish and I guarantee you it will be the most relevant, applicable Spanish course you will take.
I know for myself, if I'm paying for something and have skin in the game, I'm am going to make MOST out of it. You will too!
When does this class begin and end?
On Oct. 30th, you will have access to the online class lessons.
AND on Oct. 30 is our first live lesson.
Each week, you will be assigned online lessons to watch
Our live lesson dates are: Nov. 7, Nov. 21, Dec. 5, Dec 12
You will have access to the onlines lessons for 1 year and can go back and watch them as much as you want.
What if I already have scheduling conflicts?
You can view the online lessons and do the practice, quizzes and application on your own time
I will record the 5 online lessons and you can also watch them on your own time.
What is the format of this class? This Masterclass is a combination of:
Onlines lessons–> I will guide you through each lesson for 6 weeks and give you a study plan, but you have access to the online learning for 1 year. You can watch them and review as many times as you want.
Live, super-interactive Spanish lessons where you apply what you learn right away and get your questions answered (5 scheduled live lessons with me)
Small group practice within the live lessons
Downloadable class notes, flashcards, quizzes and application activities
Join a community of other teachers who are on your same journey. Connect, collaborate, practice and get your Spanish learning questions answered!
These foundational online lessons give you the necessary grammar and vocabulary to communicate in Spanish about the following topics:
Lesson 1: Culturally appropriate conversations: How to begin a conversation in a culturally appropriate manner
Lesson 2: Communicating assessment of student's strengths & areas of improvement
Lesson 3: How to talk about academic performance, formal and informal assessments
Lesson 4: Communicating literacy and math progress
Lesson 5: Communicating ongoing actions – present progressive
Lesson 6: How to talk about positive and negative behavior characteristics
Lesson 7: Supporting education and student's goals at home
Lesson 8: Answering parent questions and comments
Lesson 9: Putting it all together
Lesson 10: Bonus–> Essential phrases for when things go wrong
Is there professional development credit attached to this course?
I'm working on it!!! But the approval process is slow and will most likely not be done in time. Lo siento mucho! If it does get approved, you will know:)
Are you qualified? Why should I spend my precious time with you:)?
Yes, I'm also a teacher- going on 20 years!!! I have been teaching Spanish and running Spanish Immersion programs since the early 2000's. We have a community of thousands of teachers that we collaborate with and LOVE!
¿Preguntas? Do you have questions about the class? Drop them in the comment section below or email me at [email protected]
My turn to ask questions…I want to know two things from you…
How have you applied the vocabulary from the crash course in your classes and with your Spanish speaking families?
What questions do you have for me?
I'm serious, I want to know. Comment below