TEACHERS!!! Your hearts are HUGE and your empathy flows!!!
Recently, I asked my community of passionate educators this question…

… "If you could take a crash course on learning Spanish for Parent / Teacher Conferences, would you? Why or why not?"

The overwhelming response was YES and here is what they said: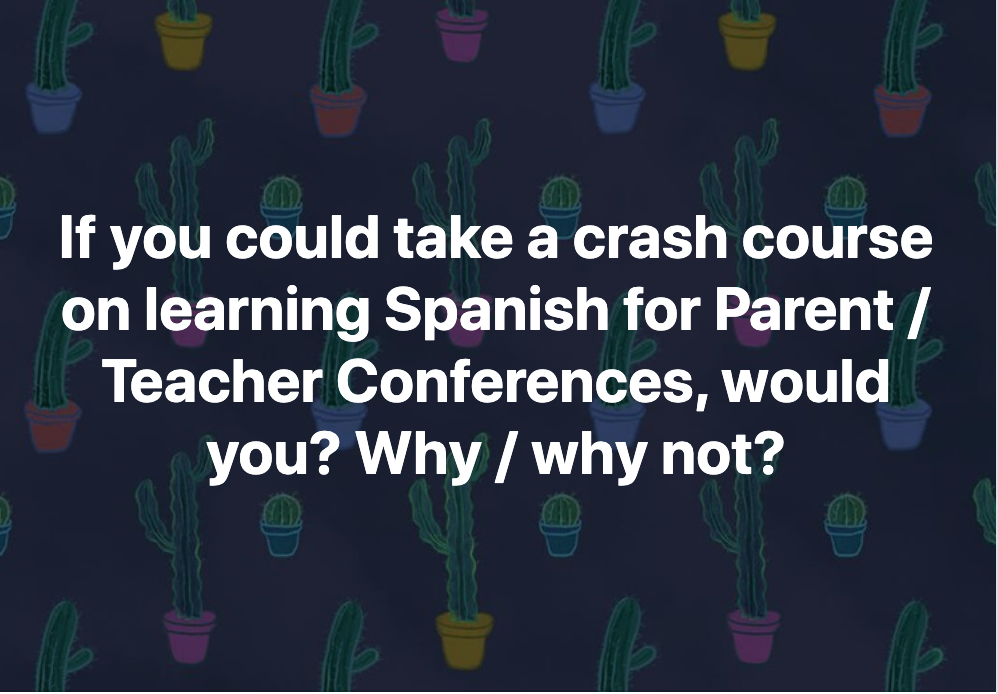 "YES! I really want my parents to see that I'm making an effort to learn and communicate with them."
"Definitely, yes! Because parents care about their kids, regardless of what language they speak. "
"Yes, I want my students families to see that I care enough to try to communicate with them."
"Yes, I would want to be able to effectively communicate with parents who speak Spanish."
"YES! I need this for everyday at school.
"Absolutely because it's important to be able to communicate and I imagine it it would make the parents feel as if you care just a bit more. Imagine what it's like for them sitting listening to you talk and not knowing what you're saying, I know people will say the should speak English. Wouldn't it be wonderful to know that parents are getting the exact message you are delivering and not the translators version of it."
Can you can identify with any of these teachers' sentiments?
If so, I love your heart and your "WHY" for wanting to improve Spanish in order to have a greater impact in your educational community. AND I want to extend a personal invitation to you…Join me for a FREE series of 3 Spanish lessons centered around the Spanish you need for Parent / Teacher Conferences and year-long communication!
Register NOW for the Spanish for Parent / Teacher Conferences Crash Course – Space is limited! Fill out the form below and I will send you the course details.
Parent Teacher Conference Crash Course
Enroll in your Spanish for Parent / Teacher Conferences Crash Course!
The need and desire is there, and here is a great opportunity for you to take advantage of. Take this next step to up your Spanish level in October!
This mini course will focus on the immediate and relevant Spanish you need to know in order to have successful communication as you are interacting with your Spanish-speaking students and their families. So jump in—YOU have a HUGE task…Making sure parents, students and guardians are all on the same page! It's even harder to do it in Spanish.
Join me for this crash course on Spanish for Parent / Teacher Conferences. This is a FREE 3 lesson course happening right now (Oct. '19)
Register for the crash course NOW – Space is limited! Fill out the form above and I will send you the course details.
Time is the most valuable resource we have! I'm a teacher, mom, small business owner as well – I get it! Here are some answers to the questions that might be popping up for you…
FAQ's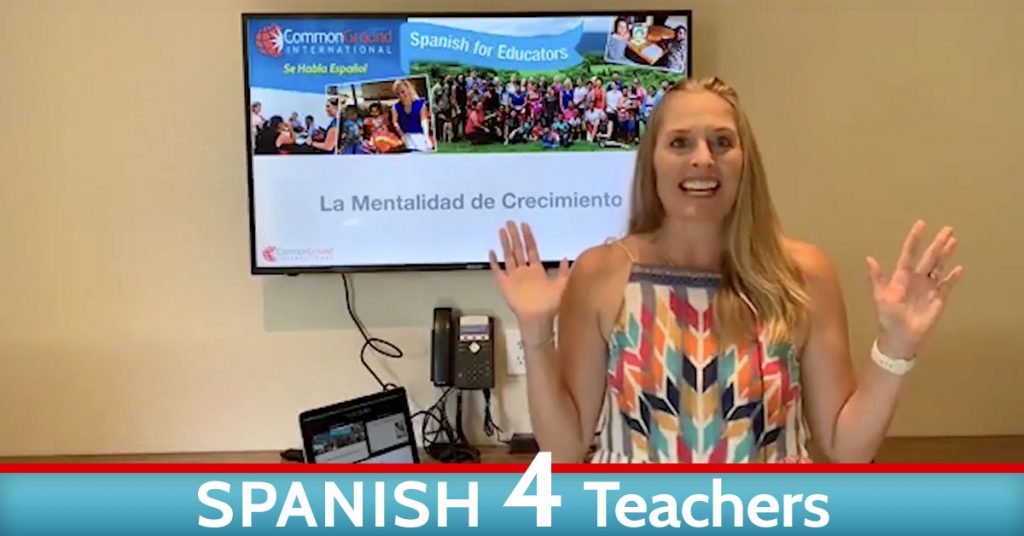 Are these live courses?
What if I have a scheduling conflict?

Don't worry, I'll record them and you can view them later.

How many lessons does this course entail?

There are 3 mini lessons that are jam packed with applicable Spanish for you to USE immediately!

Are you qualified? Why should I spend my precious time with you:)?

Yes, I'm also a teacher- going on 20 years!!! I have been teaching Spanish and running Spanish Immersion programs since the early 2000's. We have a community of thousands of teachers that we collaborate with and LOVE!

What do I need to do to prepare for the class?

Read the welcome email with course details
Take a 2 minute Spanish survey
Join the private facebook group where I will teach the lessons
Save the dates in your calendar
Download lesson notes when they become available

How much does this course cost?
How much time will this take?

This crash course will consist of three 30 to 45 minutes classes!
Hit REPLY in the comment box below and let me know your WHY to this question–> I want to learn or improve my Spanish BECAUSE…
Hit REPLY in the comment box below!