Ser vs. Estar: When to Use the Correct Verb "To Be" in Spanish
Ser vs. Estar: When to Use the Correct Verb "To Be" in Spanish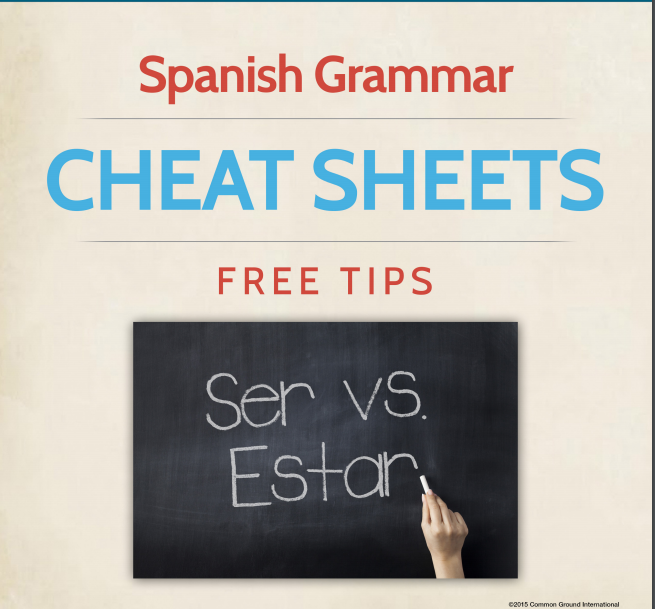 Learn and practice the uses of Ser and Estar in Spanish
Whether you are an advanced Spanish speaker or just starting out learning this great language, this tool will help you wherever you are on the Spanish learning spectrum (from novice to advanced). This month's free resource is all about those two verbs that mean "to be" in Spanish: SER and ESTAR.
Why does the Spanish language have two verbs expressing "to be" while in English there is only one? Well, both verbs have very specific uses, so there is no picking and choosing which one to use on a whim. SER and ESTAR cannot be used interchangeably; each verb has its own context and meaning can change significantly if one verb is substituted for another. Download this cheat sheet to learn about their specific uses.
Check out these examples that show just how different the meanings change depending on which verb you use …
SER = to be
ESTAR = to be

Ella

es

feliz. She is always happy, or a happy person. (an intrinsic, character quality of her)

Ella

está

feliz. She is happy right now, at this moment. (feeling)

Jorge

es

listo. George is smart. (an intrinsic trait)

Jorge

está

listo. George is ready. (his state of being, ready to go at this moment)

Luisa

es

bonita. Luisa is pretty. (an intrinsic trait)

Luisa

está

bonita. Luisa looks pretty. (right now)
So what is the trick for learning the various uses of these two foundational Spanish verbs? Download this cheat sheet NOW to learn the nifty acronym SHARPEN the EDGES for learning when to use the verbs SER and ESTAR to express "to be." Oh, and one more thing, there is a lot of practice in this download. Start mastering these two pillar verbs today.
Thank you once again for visiting us, we are #thankful for all our fans. Follow #thankful and #agradecido and join by tagging Common Ground and telling us why YOU are thankful.