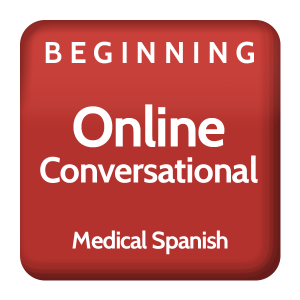 Adv-Beginner Online Medical Spanish Course
Online Medical Spanish classes at your convenience!
10 Class hours: scheduled to fit your needs
Individualized Instruction: 1:1 classes target learning to exactly what you need
Low-stress & high impact learning
Beginning level conversational medical Spanish class: meet online with your instructor!
This course is perfect for the beginning level Spanish student. You should have knowledge of present tense verbs in Spanish, but you do not have to be confident in their use or comfortable speaking…this is what we'll be working on together!
Every class you will dive into vocabulary and clinical scenarios that are relevant to your work with Spanish speaking patients. Usually, these topics tend to include common signs, symptoms, histories of the problem and treatment plans for everyday clinic work.
You will also learn past tense verbs and have specific lessons dedicated to learning and practicing the 2 common past tenses in Spanish (Preterit & Imperfect).
More details about this beginning online medical Spanish course:
This course is delivered over the Cisco Webex platform. You will schedule your class meetings directly with your instructor. Once you've registered with Common Ground, you will receive the link and login instructions to access the online course.
Equipment needed for the online Medical Spanish course:
– Tablet, Laptop or Desktop with: Strong and stable internet connection (WiFi or wired), video camera so your instructor can see you, and a headphone/microphone set to maintain high quality audio between your instructor and you.