Document Translation and Spanish Localization Services in Denver Colorado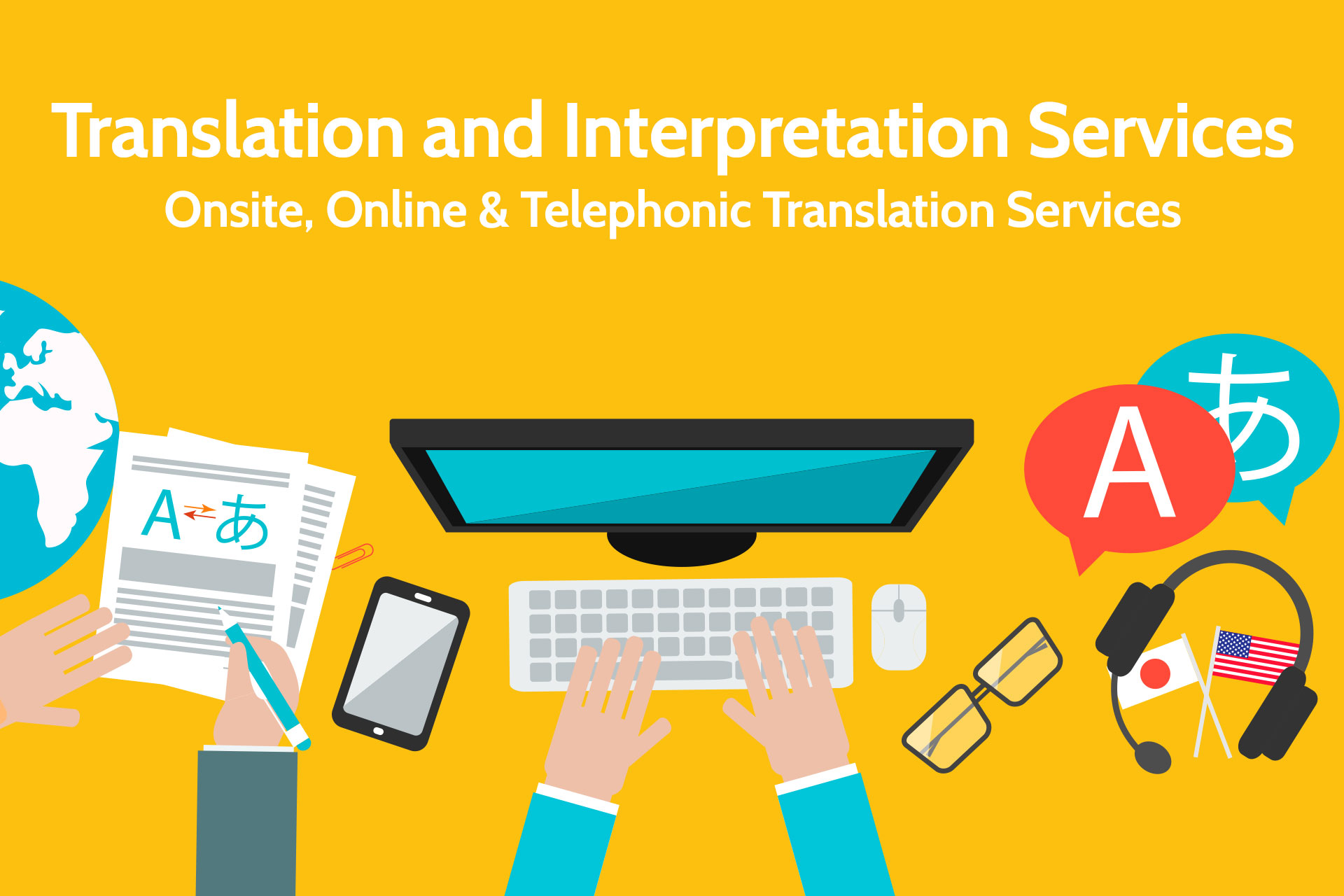 Document Translation and Spanish Localization Services starting at $0.12 a word!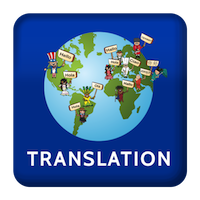 Document Translation | Common Ground Int'l
Translate all your important documents into Spanish, English or any other language
Common Ground specializes in the highest quality translation services for Medical, Legal, Human Resources, Business and Marketing documents.
Our process for document translation follows a standard procedure every time to ensure the highest quality translation for your job. This 6 step process ensures that we provide you with realistic estimates for cost and turn-around time, eliminate errors in the translation, and keeps you a happy and satisfied client.
Here is what you can expect if you request a document translation from Common Ground: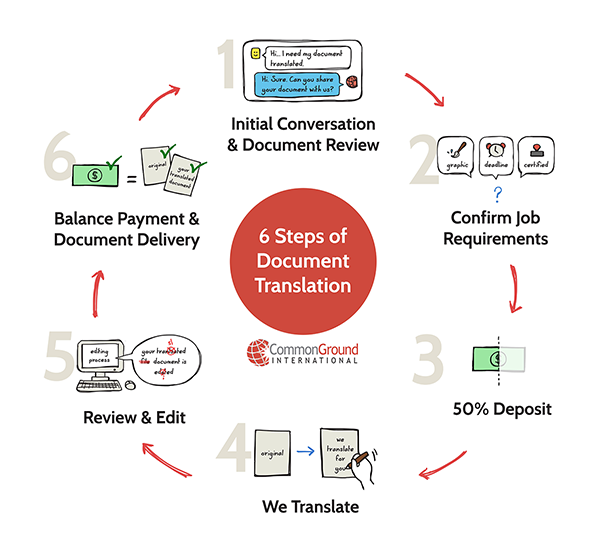 We'll have an initial conversation with you about your document that you need translated and ask you to share your document (or a sample of it) with us so that we can give you a word count and turn-around time estimate.
We clarify your requirements for the job to understand your needs: if you need graphics or layout work with the job, how soon you need your document back, if you need a certified document translation.
You'll make a 50% deposit on your translation job to begin work
Once your deposit is made, we'll complete the translation
We'll run the document through an editing process and make any adjustments necessary
We'll give you the final word count, request your balance due payment, and return your document to you.
Some of our most common document translation requests are to:
Translate academic documents Spanish <-> English
Translate birth certificates Spanish <-> English
Translate contracts Spanish <-> English
Translate educational or marketing brochures Spanish <-> English
Translate employee manuals Spanish <-> English
Translate employee benefits information Spanish <-> English
Translate handbooks Spanish <-> English
Translate immigration papers Spanish <-> English
Translate legal documents Spanish <-> English
Translate marriage certificates Spanish <-> English
Translate signs Spanish <-> English
Translate training videos (and provide professional voice-overs in the target language) Spanish <-> English
Translate websites and identify best keywords & SEO in Spanish <-> English
It is easy to use Common Ground's Translation services. If you'd like to, go ahead and upload your document to us now for an accurate quote. Of course we're happy to take your call as well: (303) 684-5557
---
Document Translation FAQs…
Where is your office?
We're a local business in Denver, CO – but we are happy to work with you wherever you are located!
What kinds of documents do you translate?
We translate all types of documents, but some common document translation examples are: public health brochures, patient consent forms, marketing pamphlets, instruction manuals, employment applications, terms and conditions forms, websites, birth certificates, marriage licenses, health forms for travel visas, etc. We accept all of kinds of document formats including doc, pub, pdf, jpeg, zip, and many more.
How do you bill translation jobs?
The industry standards for billing translation service jobs are to bill by the word in the target language. The "target language" is the language you're translating your document into. The charge per word varies greatly on many factors: complexity of the document, the source language to target language combination, and turn-around time are some of the most important factors. Our rates start at $0.12 per word for general language translation projects (usually personal documents) with a normal 3-5 business day turn around. Small translation jobs incur a $30 minimum charge. If you need a document next day, you can expect to pay around double what the normal charge would be. If formatting and artwork are required, those are generally billed on an hourly basis.
What is the average turnaround time for translations? 
The turnaround for any given translation depends on the length of the document and if any kind of formatting is needed. On average a translator can translate somewhere around 2000 words a day. Additionally, an extra day is usually required for another translator to proofread the content. The following are estimates and can vary depending on the content. To get a more accurate estimate for turnaround time on your job, send us your document:
Under 5000 words between 3-5 business days

5000-10000 words between 5-10 business days

10000-20000 words between 10-15 business days
Why should I choose Common Ground International for my translation needs?
Common Ground International provides efficient and high quality language solutions. We work with a small and experienced group of certified translators who are native speakers of their target languages. These translators not only have years of experience in their industries but also of working with Common Ground and adhering to our high standards of quality.
Who actually does the document translation?
Professional translation jobs require a professional translator.  The industry standard in the United States for professional translators is the certification via the American Translator Association. This professional organization tests and certifies translators in specific language combinations.  A translation "Agency" is a company that brokers translation jobs – they may not do their translations in house.  Many translation agencies choose to work with ATA certified translators who reside in Central or South America.  This approach helps keep translation costs down for the client while maintaining quality translations.
Why not just hire a translator directly for my job?
Working with a translation agency (like Common Ground International) provides you many benefits. Not all certified translators are the same. An agency has deep professional relationships with translators who they have been working with for years. This assures quality, timeliness and predictability. If you have just a document or two here and there to translate, your translation job may or may not be given much priority. You don't know how this person works, you'll have to figure out how to pay them, and you'll be taking a leap of faith that they can deliver on what they're promising you.
Additionally, a professional translation job requires more than one pair of eyes on a given document. If you hire a translator on your own, you'll still need to hire a second set of eyes to edit the document. When you choose Common Ground Int'l as your document translator, we do all of this for you.
What is the value of contracting with an agency?
The cost of working with a translation agency is much less than the value you receive.  Most clients who are looking to have a document translated aren't interested in the business of translation – they just need their document back in the target language!  Our agency takes care of all the "business side" of getting your job done and returns your document to you in the target language.  An agency's 15%-25% margin on a project is usually much less than the value of  your time trying to ensure that you have a solid document translation product.
What are the pitfalls of doing your own document translation in-house?
Many companies and organizations believe that their bilingual employee is capable of completing their translation job, and can be their go-to translator.  This usually results in a poor translation.  A professional translator makes sure that the tone of a document is communicated appropriately (not too casual or too formal – but matching the tone of the source document), can assure you that words have been spelled correctly, and furthermore doesn't have other responsibilities at your company that are being neglected because they're trying to do your translation job which they feel unqualified for.
Why not use Google Translate or another mechanical translation?
Google Translate and other online translators are fantastic resources when you're translating individual words here and there.  They are particularly useful when you are translating a sentence or two into a target language that is your primary language.  This way you can see the translation and make a judgment call on whether or not the program provided you with a translation that makes sense. You can get into serious trouble if you rely on a mechanical translation to translate phrases, sentences, paragraphs and even pages of text into a target language that you're not very familiar with.  You have no way of knowing that the translation is accurate, and these free mechanical translation services and online translators often aren't accurate. It's always best to use a professional translator like Common Ground International.