Document Translation and Spanish Localization Services starting at $0.12 a word!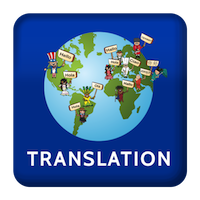 Document Translation | Common Ground Int'l
Translate all your important documents into Spanish, English or any other language
Common Ground specializes in the highest quality translation services for Medical, Legal, Human Resources, Business and Marketing documents.
Our process for document translation follows a standard procedure every time to ensure the highest quality translation for your job. This 6 step process ensures that we provide you with realistic estimates for cost and turn-around time, eliminate errors in the translation, and keeps you a happy and satisfied client.
Here is what you can expect if you request a document translation from Common Ground:
We'll have an initial conversation with you about your document that you need translated and ask you to share your document (or a sample of it) with us so that we can give you a word count and turn-around time estimate.
We'll clarify your requirements for the job to understand your needs: if you need graphics or layout work with the job, how soon you need your document back, if you need a certified document translation.
We'll ask you to make a 50% deposit on your translation job to begin work
Once your deposit is made, we'll complete the translation
We'll run the document through an editing process and make any adjustments necessary
We'll give you the final word count, request your balance due payment, and return your document to you.
Some of our most common document translation requests are to:
Translate birth certificates Spanish<>English
Translate contracts Spanish<>English
Translate educational or marketing brochures Spanish<>English
Translate employee manuals Spanish<>English
Translate employee benefits information Spanish<>English
Translate handbooks Spanish<>English
Translate immigration papers Spanish<>English
Translate legal documents Spanish<>English
Translate marriage certificates Spanish<>English
Translate signs Spanish<>English
Translate training videos (and provide professional voice-overs in the target language) Spanish<>English
Translate websites Spanish<>English
It is easy to use Common Ground's Translation services. If you'd like to, go ahead and upload your document to us now for an accurate quote. Of course we're happy to take your call as well: (303) 684-5557
Continue to the next page for Translation FAQs…