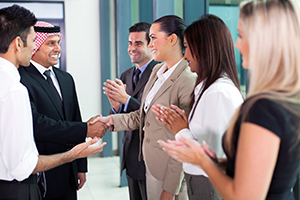 Spanish Interpreter Services
Onsite Interpreting:
Everyone at your next safety meeting, employee orientation or conference call gets all the information they need with our simultaneous, onsite Spanish interpreter services.
When you need to communicate important safety information or orient your new Spanish speaking employees in person, consider a Common Ground International Spanish Interpreter. We provide accurate, high quality English to Spanish and Spanish to English interpreting.
Our skilled, dependable Spanish interpreters are trained in industry specific Spanish and English terminology to accurately interpret in your professional setting. We provide Spanish Interpreters for
Annual Reviews in Spanish
Conferences in Spanish
Corporate Events in Spanish
Safety Training in Spanish
New Hire Orientations in Spanish
Other Business and Sales Meetings in Spanish
---
Telephone Interpretation Services
No matter where you are at the moment, when you can't be face to face with your team or clients, our telephone interpretation services are just one call away!
Telephone Interpretation services give you the quick solution for your Spanish language problem at work.  We establish a 3-way phone call between you and the Spanish speaker you're trying to communicate with, and your language barrier solved!
How does your telephone interpretation work?
It's pretty convenient, but it is not an on-demand interpreting service.  There are no monthly contracts required to use Common Ground's telephone interpretation service, you simply pay for what you use.  We do have a minimum 30 minute block for scheduling calls. You will sign a contract for professional services, and when you're expecting an upcoming meeting or an outbound calling day, you'll schedule an interpreter.
Can you make international interpreting calls for me?
Of course, if you don't want to hassle with international calling on your end, we'd be happy to initiate those interpreting calls for you.  In this case your monthly bill will reflect a surcharge for the international calling tolls.  The tolls range in price depending on the country (because the country sets that fee), but they typically run anywhere from $0.08 – $0.15/minute additional.
---
General Interpreting Questions
How do I get billed for interpreting services?
For new clients, we will collect your credit card information at the time you schedule your first interpretation appointment. Established clients are billed for interpretation services on a monthly basis. Payment terms are 15 days 
Who are your interpreters?
We have a small network of qualified interpreters.  If you have more than one meeting or make more than a few calls a month, you'll definitely get to know them by name, and they'll start to feel like a part of your team before long!
 How can I get set up to start using Common Ground's interpreting services?
Fill out the form below and we'll be in touch soon!  We'll probably want to schedule a phone call with you to get a sense for your level of interpreting needs, operating hours, nature of the calls you expect, etc.  If it seems like we're the right telephone interpreting service for you, we'll send you a contract so you can get started right away!
Complete the form below for more information on our on Onsite and Telephonic Interpreter Services