Spanish Immersion Trips & Programs in Costa Rica
Join Common Ground on the Spanish Immersion program of your lifetime!
Breathe life into your Spanish! Adventure, Service Learning, Spanish Classes, Host Families: the best short-term Spanish Immersion Programs in Costa Rica!
We lead several different Spanish immersion programs to Costa Rica annually. Each immersion trip focuses on improving your Spanish proficiency, giving much needed community service to some underserved communities in the outskirts of San Jose, and having more fun than you can imagine with unique adventure-travel experiences. Register for your next Spanish adventure today!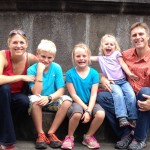 When: April, May, August, September, October, November, December
  Open to: Homeschoolers and Families wanting a Spanish immersion Vacation
---

  When: Spring Break & Summer Break
  Open to: All High School Students
---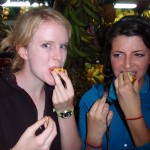 When: Spring Break & Summer Break
  Open to: High School Spanish Teachers as coordinators
---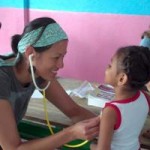 When: February – March & July – August
  Open to: All healthcare students
---

  When: February & July
  Open to: All healthcare professionals
---

  When: Summer Break
  Open to: Spanish Teachers and Classroom Teachers
---
Why have we chosen Costa Rica for our Spanish immersion programs?
Costa Rica is one of the most beautiful countries in Central America. Its lush landscapes and beautifully diverse ecology give you the opportunity to experience the best of Central America's rainforests, jungles, volcanic mountains and beaches all within a few hundred miles. Costa Rica is a small country replete with beauty and invested in conserving its ecology.
In addition to its unmatched beauty, Costa Rica is one of the most stable countries in Central America, and has a long history of welcoming North Americans with hospitality. Its hospitality is matched by an eager willingness to care for its visitors and ensure their safe travels.
Are there minimum language requirements to participate in these Spanish Immersion Programs?
Our only requirement of our participants is the willingness to learn Spanish. We don't have minimum Spanish requirements for our participants, we believe that everyone can learn amazing amounts of Spanish on a high quality Spanish immersion program. And our job as immersion program coordinators is to set up the experience to be manageable for the beginner and still challenging for the advanced speaker.
We are not a tour company that happens to provide trips to Costa Rica. We are Spanish immersion experts. If you're looking for an intentional Spanish language experience abroad, we might be a good fit for you. If you're looking for a travel program without a Spanish language focus, there are probably other organizations that would be better for you to work with.
What is the weather like in Costa Rica?

From about May/June through October/November it is rainy season in Costa Rica. The sun may shine in the morning (and it will be humid), but it will certainly rain in the afternoon (but it's usually not a cold rain). December through April is dry season. It will be sunny, humid, and may rain here and there.

What time zone is Costa Rica?

October – March Costa Rica is on Central Time.  April – September Costa Rica is on Mountain Time.

How safe is Costa Rica?

This is actually the #1 reason we chose to have our Spanish Immersion Programs based in Costa Rica. Not only does Costa Rica have a long history of peacefulness and political stability, Costa Rica hosts over 1.5 million tourists a year. Tourism is a very large portion of the country's economy, which means that in general tourists are treated very well.

Where do we stay in Costa Rica?

The bulk of the time you spend in Costa Rica is in a small town called San Isidro de Heredia. There is another larger town in Costa Rica called San Isidro…so the "de Heredia" part is pretty important to distinguish. This town is about 30 minutes NE of the capital city San Jose. San Isidro de Heredia is a wonderfully typical middle-class Central American town. The church is right in the middle of town, with a soccer field/plaza out front, and all the local businesses and residences within a few blocks walk of the church. The language school where you will walk to every morning is about 800m north of the church on the main road.

What are the host family homes like?

You will be staying in a middle-class home setting in Costa Rica. You can expect the home and your bedroom to be small. Your bed probably won't be as comfortable as your bed is here in the US. Most homes have tile floors, no carpet. Most families do not have dish washers nor clothes driers. You may be given a couple different keys for the home: one for the exterior gate off the street, and another for the actual doors to the house.

Will my host family speak English?

Your host families may speak a little English, particularly if they have school aged children. However, we encourage them to not let you know. The best way for you to continue learning Spanish is to have to use it!

Will I have another student from the trip in the same family with me?

No. We specifically limit the number of students to one per family. This increases your opportunities to speak Spanish. If you're traveling with a sibling we'll make an effort to place you in neighboring host families so that you're at least close to each other. If you're traveling with your spouse for some or all of the time, then yes we can place you in the same family.

How are host families chosen?

Having a student is a significant boost to our host families' income.  Because there are more families requesting students in the town than we have need for, we are selective in who we employ to host you. The host families that our students stay with are screened for various things:

Criminal and/or questionable social activity Suitability of the living quarters that you will occupy General "likeability" and friendliness Availability of a family member at the home during the hours you are scheduled to be there Age and sex of the family's children. We would not place a teen girl with a family that has teen boys for example. Proximity to the language school

Will I be able to go to church?

Certainly, there aren't a ton of different faith options in town, but there is a nice Catholic church in the middle of town with several service times throughout the week, an evangelical church close to the town center center and several other faith worship options in nearby towns.

Will I be able to shower every day?

Yes, you will be able to shower every day. There is no guarantee that your shower will have warm water, but you'll certainly have access to a shower.

Is the water safe to drink?

Yes. You can drink water from the tap almost anywhere in Costa Rica. If you're on our program and we're headed to a place where water is not safe to drink, we'll certainly have bottled water for the group.

Do you have payment plans?

Absolutely. Most of the time the program cost is spread out over 3 payments. If you need other specific arrangements, we can probably be flexible with you. If you'd like to make just one payment, that's fine too. Acceptable forms of payment are Visa, Master, Discover, Check and Cash.

Will I receive a packing list for my Immersion Program?

Yes. Shortly after your register, you will receive a list of clothes, personal items, donations you need to begin collecting, and other miscellaneous items to pack as soon as we receive your application.

How long does it take for a passport?

Typically 60 – 90 days. If you have any questions about how to get a passport, you can find information online.

Do cell phones work in Costa Rica?

Some do, not all. This depends on your service provider and your specific phone, so check with your service provider first. If your specific phone isn't capable, most service providers have world phone rental options. This isn't usually the most economical way to call home when you're in Costa Rica. You can purchase calling cards when you arrive to Costa Rica. We recommend the VOIP program called Skype. If you won't have a computer with you in Costa Rica, your Common Ground trip leader always will and you're welcome to use our computers to call home.

Will we have the opportunity to exchange money?

Absolutely. Of course it's always a good idea to have a little cash on you in Colones (Costa Rican currency), but honestly you don't need much right away when traveling with a Common Ground group. After you get settled into your host family, we'll make sure you have the opportunity to exchange $US for Colones right away. We do not recommend exchanging you money at the airport as they generally have unfavorable exchange rates. Credit & Debit cards are accepted throughout the country, and ATM machines are more and more common every year. The ATM is convenient, and usually provides a good exchange rate. It is important to notify your bank that you will be traveling abroad, and you'll probably want to inquire about any foreign transaction and/or currency fees.

Who are Common Ground's guide and driver in Costa Rica?

You'll be surprised how close you become to our guide and driver during the time you're traveling with Common Ground! Our lead guide has worked with Common Ground Groups in Costa Rica for over 10 years now, taking care of hundreds of our students. We don't always have the same driver, but he is always someone hand-picked by our guide.

What is meant when referring to private in-country transportation in the application form?

You will most likely have the same guide and driver for your group the whole time you are on the program with Common Ground, and our destination is further than walking distance. In the mornings we will head to our volunteer site together (either walking or on the private bus). In the afternoons we will leave the outreach work site and head to the language school. During the weekend excursions we will certainly be on the private bus with guide and driver chaperoning our travels.

What is the proposed tip amount for guide and driver?

A good rule of thumb is $2-$3/day that our driver is shuttling you around, and $3-$5/day that a guide is leading you. They work very hard for you, and we take great pleasure in thanking them generously at the end of our programs.

What if my spouse or partner wants to join me for part of the program?

Many spouses, fiancées, friends and other family members join our groups for a portion of the program. We're happy to arrange this for you with both your host family, and any private hotel accommodations that you require while on vacation portions of the program. If this is something you're considering, we just ask that you let us know early on so that we can make appropriate arrangements for you. This is not a last minute decision that you can make, it does require special arrangements that need to be made at the time you submit your application.

How much extra spending money should I plan on bringing?

One of the biggest mistakes you can make is to not budget enough money for additional expenses. The challenge is that this is a question that depends heavily on your tastes and the specifics of the program you're applying for. To give you an idea of the typical expenses you may be responsible for: a normal lunch will usually run $5.00-$7.00; dinner runs $7.00 – $15.00. Optional excursions are something you should also plan for, but each program is very different. These excursions really add some amazing experiences to your Spanish Immersion Program in Costa Rica. Tips excluded (see tips FAQ question), if you were to not include any additional excursions, and live as frugally as possible for the time you're there, you should plan on $150 for a 2 week program and $300 for the 4 week program. The … Read More »

Do I need any special immunizations or take any other preventative measures?

Of course you need to be current on your standard immunizations. We always suggest that you consider taking some sort of malaria prophylaxis. Additionally, when traveling anywhere in Central America there is also a risk of Typhoid, Yellow Fever, and Hepatitis A and B. We suggest you consult both the CDC website and your primary care physician to prepare for your Spanish Immersion Program in Costa Rica.
By the way, whether you select our programs or not, if you're going to go on a Spanish immersion program, you'll want to make sure you have a copy of the High School Spanish App – it's the best tool for studying Spanish out there & it doesn't require an internet connection!
Common Ground International: Spanish Immersion Trips