Clinical Medical Spanish
Clinical Medical Spanish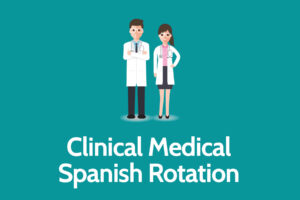 Course Description:
This Advanced Medical Spanish course, tailored for MD students, helps students move from an Advanced level of Spanish to a more precise and formally acceptable use of Spanish with patients. Class instruction will be given almost exclusively in Spanish and students are encouraged to participate as much as possible in Spanish.
Course Objectives:
Upon completion of the course, students will be able to:
Gain confidence and accuracy in using advanced grammar structures.
Provide accurate and succinct verbal or written information that is appropriate for the target audience (e.g. patient, caregiver or other health care professional).
Identify factors (e.g. low health literacy, cultural) that influence effective communication and modify communication strategies to optimize health care interactions.
Display verbal and non-verbal mannerisms that promote empathetic, respectful and compassionate communication.
Assignments:
The following methods will be used to assess the students' abilities and meet course objectives:
Synchronous Learning: will include a combination of didactic lessons and small group practice sessions. The instructor will teach important vocabulary and grammar concepts, and allow students the opportunity to practice using Spanish in realistic healthcare scenarios. The small group practice sessions are essential in helping students acquire key language concepts and the confidence to use them in the clinical setting.
Asynchronous Learning: will be a consistent part of this course. Students will have approximately 90 minutes per class of homework focusing on vocabulary building and grammar practice.
Assessment: Periodic vocabulary quizzes and oral interviews will serve as a primary means for evaluating your progress and proficiency in Spanish.
Final project: Completion and presentation of your scholarly project. More detail to be explained in class.
Grading:
This course is graded Pass/Fail. In order to pass this course, you must…
Attend the required minimum number of class meetings (you may only have 1 unexcused absence)
Participate in class activities.
Complete and pass with a 70% or greater the vocabulary quizzes administered during the course. These quizzes will cover course material.
Successfully complete your scholarly project